A culinary guide to Cyprus – the island with a love for food
[UPDATED 6TH JUNE 2017]. My compatriots may not like what I am about to declare but it's embarrassingly true. To fully appreciate and experience Cyprus' love for food, one has to head off the beaten track, steering well clear of the island's hugely and sadly commercialised resort destinations (which boast gorgeous beaches by the way). That's not easy when you're a visitor and want to saunter out of your hotel into a neighbourhood brimming with restaurants. If you do, you will mostly, be seriously disappointed. Furthermore, don't even consider dining out on anything other than Cypriot, Greek or the more all-encompassing Mediterranean cuisine. So you know where I am going here with this post…but having just returned from a summer vacation in my homeland, I've pulled together a round-up of hidden restaurant gems across Cyprus' various towns and villages, along with must-try dishes and places to stay. *
A heads up, this guide takes in the Republic of Cyprus, not the Turkish-occupied part which incidentally houses my birthplace, the enclaved Famagusta (I am half Greek-Cypriot). We refrain from labeling the Mediterranean island, south and north, as there's only one legally recognised Cyprus – if you'd like to read more on the political situation click here – but otherwise it's food and travel from now on. After all, like many Mediterranean countries, Cypriots' social lives revolve around communal eating.
Cyprus has been occupied by many nations, with bundles of influence on its cuisine from the Arab world and more specifically Lebanon, Turkey, Greece, the Romans and Venetians. Unlike popular perception, there are distinct differences between Cypriot and Greek fare; the cooking style of Cypriot cuisine is less refined and more rustic than its Greek neighbour – simpler dishes with less sauces.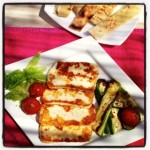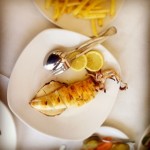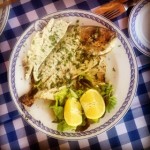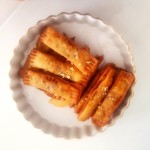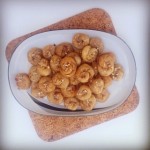 TOP 10 DISHES TO TASTE
This list could be endless, so I've chosen to highlight a mix of must-eats and more unusual fare.
Mezze – 20 plus tasting plates designed for sharing. Usually very meat (and veg) heavy unless you're in a dedicated fish tavern. Needless to say, pace yourself.
Souvla and souvlaki – chunks of meat (pork, lamb and chicken) skewered and grilled on the spit or barbequed over charcoal. Souvla refers to larger chunks of meat, whereas souvlaki is the traditional kebab.
Sheftalia – minced pork sausages, more like meatballs (wrapped in intestine lining) and grilled. Usually accompanies souvlaki and is served with salad in oval-shaped pitta bread.
Kleftiko – slow-cooked lamb shank served on the bone with sliced potatoes. Traditionally cooked in outdoor earthenware ovens, but nowadays also roasted in kitchen ovens.
Ravioles – part of the culinary legacy left by the Venetians who ruled Cyprus from 1489 to 1571. Similar to Italian ravioli, these pasta parcels are stuffed with halloumi cheese and simmered in chicken broth.
Kolokasi and poulles – taro has been grown here since Roman times. Chunks of taro root are simmered with pork or chicken in a sauce of caramelised tomatoes, onions and celery, spiked with lemon juice. Alternatively try the moreisly good sauteed, coriander coated baby taro 'poulles'.
Halloumi – a semi-hard, unripened brined cheese made from a mixture of goat's and sheep's milk, but given diminishing flocks, cow's milk is often used. It's set to receive the EU's Protected Designation of Origin status soon. Wonderful with chilled watermelon slices on a hot summer's day – or grilled with a village salad.
Wild, foraged ingredients – mezze dishes with greens such as kapari (wild capers), karaoli (tiny snails), and game like rabbit, hare and partridge.
Pastelaki – sticky toffee made from carob bean juice and pressed with peanuts.
Loukoumades – mini doughnuts (more dense and gooey than luqeimat) sizzling hot and straight out of the frying pan. Served drizzled with sugar syrup.
TIPPLES TO SIP
Brandy Sour – Cyprus' national cocktail mixing brandy, lemon squash, Angostura bitters and soda water. Read the lovely tale of its origin here.
Wines – Cyprus has a thriving wine-growing industry with the cultivation of its own local grapes – the red Maratheftiko and Lefkada, plus white Xynisteri – along with international varietals. My favourite by far is Vlassides (both the Cabernet Sauvignon and a Shiraz) and Zambartas Rose (Lefkada and Cabernet Franc grapes).
Commandaria – considered to be the world's oldest known wine still in production, a sweet dessert wine (PDO protected), produced in the foothills of the Troodos mountains.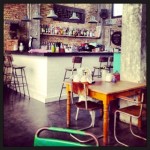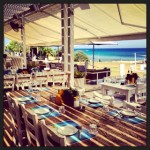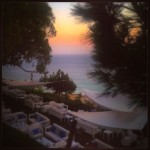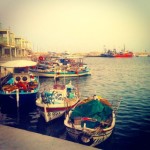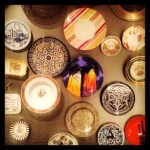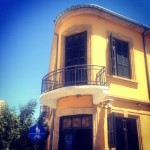 WHERE TO EAT AND DRINK ACROSS THE ISLAND
Nicosia – the capital in the near-centre of the island
East Coast (Famagusta district) – Paralimni, Protaras, Ayia Napa and Sotira
An extra word of warning here related to my opening para – please, please do avoid eating and drinking in the so-called tourist 'strips' of Protaras and Ayia Napa. They are crazily commercialised and seriously tacky. Instead do your research and read blogs (mine included of course) to discover local favourites off the beaten track. I've included some additional reading links at the end of this post. Note, you will need a hire car or taxi.
Rustic tavernas are the restaurant of choice in this east coast district too and my favourite with arguably the best mezze on the island is Mousikos, slightly inland in the village of Sotira. You can't miss it with a mammoth windmill gracing the entrance. The halloumi here is unpasteurised, served freshly churned and still warm with its creamy goodness oozing out – the Cypriot version of burrata :). I flew back with a suitcase full. Other tavernas worth dining in are Vangelis which I have frequented since my childhood, and Kamasias, both in Paralimni village, but note Vangelis transfers to Protaras for summer season pop-ups. Kalamies is my taverna of choice for all things seafood in Protaras overlooking the beach (opposite Golden Coast hotel), and Spartiatis overlooking Konnos Bay (next to the Grecian Park hotel) is also a goodie for some glorious fishporn. Fisherman's Hut may be set in the Grecian Bay hotel in Ayia Napa, but this fish-only gem with just a handful of tables is also set on the coast – expensive though.
The Butchery & Co Grill House – the reason to visit this teeny new restaurant opening in Protaras (the only one of these recommendations on the tourist strip) is for the simple char-grilled meat platters. Not suited for veggies or pescatarians 😉 Raised in a family of butchers this man knows his meat cuts – from succulent souvlakia (pork kebabs), paprika-dusted chicken and pork loin, to sheftalies (home-made wrapped meatballs) and loukanika (wine-drenched sausages).
Alati By The Sea – a pretty Greek-style white-washed restaurant on the Pernera side of Protaras. A la carte with a sea view.
Cocktail bars – Cliff Bar at the Grecian Park hotel between Protaras and Ayia Napa has an oldie worldly charm with its cliff top setting overlooking Konnos bay. Sun sets on the west coast so sadly not a sundowner spot, but all the same, the view is spectacular. Koi is an al fresco lounge and bar in the Capo Bay hotel overlooking the sea. It also houses a Japanese restaurant, but as mentioned earlier, I would refrain from eating anything other than Med cuisine in Cyprus.
A couple of hidden gems – Panikkos – round off your meal with the loukoumades I mention earlier at this glorified roadside shack in Protaras. A shack, To Kafenion, aka coffee shop set on the bay at Vizakia near the Cavo Maris hotel. Think pickled eggs, Cypriot coffee and 'karidaki', a preserved walnut sweet served on a spoon.
Larnaca
This airport town on the south-east coast has an up and coming beat to it with the opening of the Tassos Mitsopoulos beach road, whilst the old district's restaurant and bar scene is buzzing.
Fish tavernas galore here on the south-east coast. I usually pop in upon landing at the airport. My go-to spot is Psarolimano, but you also have the local haunt next door Zephyros.
I also recommend Kritiki Gonia a teeny Cretan joint hidden in the old town with a handful of tables and mezze only with no menu; similarly Mpoukia kai Goulia also offers a no-menu mezze experience; Stou Rousha Tavern with a simple blackboard menu of char-grilled specialities; Kalamaki snack bar on the Kalamies promenade for ordering kebabs by number of skewers; cute cafe To Kafe tis Chrysanthi's for coffee and cake; and Art Cafe 1900. Hire a car and drive just outside Larnaca to the pretty village of Oroklini for mezze at Voreas taverna.
Limassol
On the south coast, the island's most multi-cultural city has been regenerated with historical buildings in the old town boasting an upbeat bar and café scene, whilst a new marina makes for a picturesque stroll. At the latter avoid all the American imported chains and head to the only decent bar (and restaurant), The Yacht Club with glorious maritime views and good Bellinis.
Ta Piatakia – one of the few restaurants on the island still going strong 13 years down the line. Owned by a Greek-South African chef-cum-restaurateur, this cosy concept is all about little plates aka 'piatakia' of Cypriot dishes with a twist, and a walk-in wine cellar where diners are encouraged to choose their own vino.
A couple of foodie recommendations – Karatello Tavern and Library Café Bar.
Paphos
I've not set foot in this west coastal resort recently, but the restaurant at Elea Estate golf resort on the outskirts of the town comes highly recommended for a creative spin on Cypriot cuisine; as does 7 St. George's Tavern in the heart of Paphos for wholesome fare using the owners' locally-grown produce. They even make their own wine 🙂
BOUTIQUE SLEEPING OPTIONS
Agro tourism has flourished since Cyprus' EU entry a decade ago, with heritage buildings lovingly converted into boutique hotels and guesthouses. Here are a couple of FooDiva favourites, and more here.
And now for some travel housekeeping:
FLIGHTS
Emirates flies direct daily to and from Larnaca International Airport on Cyprus' south coast. It's a near-four hour flight. Qatar Airways and Gulf Air also fly to the island.
WEATHER
Cyprus has a Mediterranean climate with the most ideal weather from April to October, peaking to hot temperatures in July and August especially inland in the capital. My favourite time of year is September when the sea is at its warmest and the humidity drops – not that it ever rises to the ridiculously high levels of Dubai – or at Easter which makes for a much larger foodie celebration than Christmas.
A GREEK FIX IN DUBAI
Sadly we have no dedicated Cypriot restaurants in Dubai (anyone want to open one with me – #CyprusDiva perhaps?), but we do have a handful of Greek restaurants of which FooDiva can highly recommend three. Elia at the Majestic hotel where you can get a glass of ouzo too – and the more casual Eat Greek in the Beach mall at JBR (also at Mall of the Emirates and Dubai Mall). The Elia peeps have also recently opened another licensed joint Mythos in JLT. In addition, Little Greece is a charming little deli with a few tables in Barsha Mall.
If this mini guide isn't sufficient, here's a few more features and books on my homeland for some more bedtime reading:
So have I tempted you to visit? Or have you been, and do you have any other gems to share?
Kali orexi!
FooDiva. x
Note – this guide was updated on the 14th September 2016.