FooDiva's first Dubai restaurant tour now live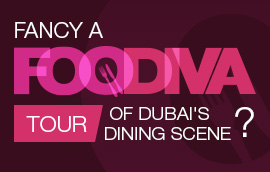 Yes it's here! FooDiva's first restaurant tour of Dubai with the theme 'Fun is the new fine dining' in partnership with social concierge, Lime & Tonic is now live. So what can you expect if you'd like to book a tour? Well here's a peek into the launch evening for eight foodies that we hosted last week. Note, apart from the first restaurant, our rendezvous point, the other four, each offering a different cuisine, were a secret – and moving forward, restaurants can change according to your requirements and of course new openings. We need to keep an element of surprise after all!
Our soirée of feasting kick starts at British Caprice import Rivington Grill, Souk Al Bahar at 6.30 for 7pm – too hot for terrace seating sadly but we glance at the dancing fountains through the glass doors. A welcome cocktail of Pimm's is followed by four signature starters as canapés set on mock picnic tables, with the chef explaining the dishes. Mini scotch quail eggs wrapped in duck meat. Welsh rarebit or posh cheese on toast as I like to call it. Prawn cocktail. Dressed crab on slivers of brown bread. Now I could share the origin of these dishes and a few quirky foodie facts like I do on the night, but I am saving those for the tour. A game runs throughout the evening to guess the next restaurant – with Lime & Tonic experiences up for grabs. 45 minutes in each restaurant, with FooDiva as the bell!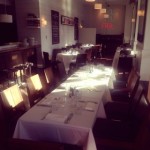 A short walk later (luckily humidity levels are low for the night) and it's onto newly opened Cut, Wolfgang Puck's steakhouse at The Address Downtown Dubai. Here we have an elegant oval banquette table set in a corner of the restaurant. What do we eat? Well we are meant to just taste some New York grain-fed sirloin, Wagyu (both Australian and Japanese), along with Wolfgang's moreishly good mac and cheese special – but Chef Ray and his team dish up so much more – so you never know, you may get a surprise too! Wolfgang's right hand business partner Alex is in town and pops by to regale us with some banter.
Cars then whisk us to La Serre, the home-grown French-Mediterranean concept at Vida Downtown where the kitchen doors literally open out onto the chef's table, so you literally immerse yourself into Chef Izu Ani's steamy action. What a clever idea. Here we savour a couple of grilled dishes – veal chops and sea bass – with the much-loved potato gratin Dauphinois for the sake of indulging.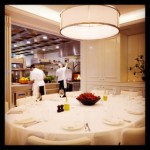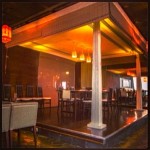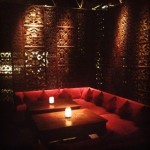 Time to go again with our cars on standby for our next destination – Tomo by Chef Takahashi at Raffles, as close as you'll get to an authentic Japanese experience in Dubai…and one with sake :). Here we sit in a slightly elevated private dining area where we share towering platters overflowing with sashimi, maki and nigiri sushi including my all-time favourite – the buttery otoro sashimi from the fatty belly of the tuna – the Wagyu of tuna. Interestingly this particular species is sourced from Spain.
And the finale, a stroll next door to home-grown Q'bara, for a clever spin on Arabic dishes and ingredients in a stunning, buzzing spot. Fun dining at its best. It's on telly too, as am I on Dubai TV's Out and About show here. This majlis alcove plays host to our dessert spread with pastry chef talent Liz explaining her inspiration. Here's one lady who manages to combine style with substance. A smashed up baklava. A dark chocolate & toasted sesame 'mille-feuille'. A pannacotta spin with milk, honey and saffron candy floss. And a strawberry, hibiscus and rose-water Turkish delight. A sweet ending to the first FooDiva restaurant tour.
So that's enough from me. Click here for details of how to book a 'Fun is the new fine dining FooDiva tour' and see what our foodies have to say about the evening. If you've not yet registered on the Lime & Tonic site, click here for an AED100 FooDiva credit :).
At the same time, like I explain in my initial post, tours can be tailored to your requirements. Some other themes to consider – 'Musical dinners (supper clubs)', 'A taste of Arabia', 'Hidden gems' and 'Café culture'. Tours tend to work better when restricted to one or two districts, like our launch with Downtown Dubai and Wafi. If you have any queries, feel free to drop in with a comment, or a private email here.
Have I piqued your interest? Fancy a FooDiva tour?
A bientôt.
FooDiva. x