Cut by Wolfgang Puck – just another steakhouse, or something more?
Dubai; Sometimes, resistance is futile.  I went into this review as a fully-paid up member of two informal clubs for foodie sceptics; sceptical of the incredibly tiresome cliché that describes any half-decent steak as 'meltingly tender', and sceptical of the cult of the international celebrity chef concept restaurant where the celebrity puts his name above the door, but leaves the actual cooking to someone else. If I'm not quite ready to leave these foodie sceptic membership cards at the door, then Cut by Wolfgang Puck – the new Address Downtown Dubai steakhouse from the namesake Austrian-American chef – has at least made me reevaluate the extent to which my prejudices are universally applicable.
While Cut is the first restaurant in the Middle East from Puck (pronounced 'Pook'), it's not as if steakhouses are hard to find in Dubai. The major point of distinction here, other than than the name above the door, is that the steaks are (quoting the menu) "grilled over hard wood & charcoal then finished under a 1200 degree broiler", which Puck believes gives the meat some smokiness, and is easier to regulate than electric or gas cooking. There are a few mains other than steak on the menu, but the restaurant is going to live or die on the quality of its grilled cow flesh, so we'll go straight to the steak, and leave everything else for later.
My dining companion and I intentionally decided to order from different price points on the menu to allow us to compare various breeds (though it wasn't a perfect experiment since we ordered different cuts). My companion ordered USDA Prime Black Angus filet mignon, cooked medium rare. At AED260, this cut is one of the least expensive on the menu. I opted for Australian Wagyu BMS +8 sirloin, cooked rare; this cut is priced at AED360. Note BMS = beef marbling score.
A quick but important digression on the menu…the online menu lists four grades of beef, the most expensive of which (at AED580-680 a cut) is Japanese Wagyu. Launch interviews with Puck also usually took some care to stress the availability of the latter. At present, only three grades are listed on the actual restaurant menu: there are the two grades we ordered from, plus an even higher grade of Australian Wagyu (BMS +9) offered at a similar price point to the online menu's Japanese Wagyu; but the Japanese meat isn't currently available. Regardless of the types of meat on offer, though, the three available cuts are always rib-eye, sirloin, and filet mignon.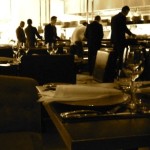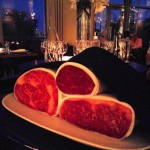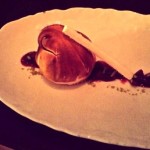 Menu technicalities aside, how was the steak? Well, you get what you pay for. The USDA Prime – and I have never understood the American fetishisation of their highest-grade beef – was very good without being in any way spectacular. Nicely seasoned, properly cooked, and a pleasure to eat, but there wasn't really anything about it that would mark it out as necessarily better than any other good-quality steak from a high-end restaurant. Move up a price level, though…
This is the point in the review where, if my prejudice against describing a steak as 'meltingly tender' had been given free reign, I would have launched into a paragraph-long rant that can probably be summarised as 'it's meat, dammit, not butter'. But, well, sometimes resistance really is futile, because the sirloin really was meltingly tender. I still think that phrase is far too often used as lazy shorthand for "I liked my steak", mind, but Cut did give me a moment of Damascene conversion that's convinced me that you can sometimes use it without being guilty of either a) a silly cliché or b) lying. The sirloin was an extraordinary cut of meat; perfectly seasoned, beautifully cooked, and achingly tender. So when it comes to steak, Cut offers some excellent options; provided you're willing to pay enough  – some animals are more equal than others.
All steaks are offered with sauces, additions, and sides, though all three cost extra. For sauces we tried the wasabi-yuzu kosho butter and the armagnac & green peppercorn. The former was a little underwhelming, the expected touch of wasabi sharpness perhaps a little too subtle. In contrast, the armagnac sauce was excellent, adding a rich layer of flavour perfectly matched to the steak. Given how rich the armagnac sauce was, it was likely a mistake for me to order an 'addition' of bone marrow. The marrow was soft, buttery, and even richer still – to the extent of being too much of a good thing. Another round of wagyu sirloin, armagnac sauce, and bone marrow, and I'll be in a wheelchair seeing a gout specialist; but the primary blame here lies with overambitious ordering rather than any fault in the kitchen. The sides, however, did raise the only disappointing note of the evening. The sautéed broccolini, chilli, sun-dried tomatoes, and fiore di Sardo was nicely musty, and did at least give me a break from the onslaught of animal protein, but the tempura onion rings were a real disappointment. Where 'tempura' had led me to expect something texturally light, instead I was served a bowl of fairly standard (though very thinly sliced) and slightly greasy onion rings; they simply weren't good enough.
Starters (and I do appreciate that I'm not doing this in the right order – but the steak's the thing) of veal tongue with broad beans and wild mushroom tortellini with summer truffle were both very good. The veal tongue was velvet-soft, and nicely offset by a slightly acidic sauce; summer truffles are less intense than their better-known counterparts, but still added some good body to the al dente tortellini. For dessert neither of us could face anything other than ice cream, though there are still good options here. My dining companion's selection of two ice creams contained both salted and smoked caramel and peach and saffron flavours.  Salted caramel's probably gone past trend into commonplace by now, but the smoked flavour was an interesting and successful touch. My baked Alaska with a filling of two ice creams was perfectly cooked – and the portion size well-judged.
Cut's décor is a standard globalised trans-national steel and mirrors look backed up by a 70s and 80s classic rock soundtrack (if you like Fleetwood Mac and Tom Petty, you're in luck), but large panorama windows at least offer excellent views of Burj Khalifa, while the small minority of diners who can't see the Burj have an even better view of the open-plan kitchen. But if the décor isn't particularly original, the staff are superb. The ratio of visible floor staff to customers is probably the highest I've ever seen, but quantity is no real guide to quality. Fortunately, Cut gets both equations right; we were love-bombed from the minute we arrived at the front door, with service attentive without being overly so, the sommelier very helpful if a specific bottle of wine from the excellent list isn't available, and no plate was taken away without a waiter asking if you've finished.  I was asked if I was enjoying my steak before I'd eaten any – a pet service peeve of mine – but this minor misstep was accompanied by a smiling apology so genuine I can't really bring myself to complain. Given the extent to which poor service at Dubai restaurants raises so much discussion, it's worth noting that Cut gets this absolutely spot on.
So if I went to Cut by Wolfgang Puck as a sceptic about both 'meltingly tender' steak and the celebrity chef concept restaurant, I'm a partial convert.  Some steak – expensive, properly cooked steak – really is meltingly tender; some celebrity chef concept restaurants really are rather good.  And much as my sceptical side wanted to find flaws, my fair-minded restaurant reviewing side can't (other than the onion rings).  So it's a four out of five FooDiva knife rating – and be grateful I made it through this entire review without once succumbing to the temptation to pun on the theme of 'it's a cut above the ordinary' or 'making the cut'.
Do you think 'meltingly tender' is ever justified as a description for steak?  Does a celebrity chef name help draw you to a restaurant?
The Man in the White Hat.
So who's FooDiva's anon guest reviewer, The Man in the White Hat? He has an abiding interest in both history and food; his holidays tend to combine an intriguing local cuisine with a UNESCO World Heritage site, and he's eaten his way across some 50 countries in Europe, Asia, Africa, North and South America, and Australasia.  He currently lives in Dubai, where he edits a couple of academic publications.