Sass Café – oui ou non?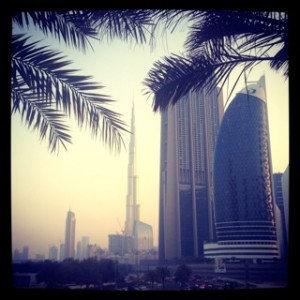 My expectations are low. Firstly, until a PR alert lands in my inbox, I had never heard of Monaco import, Sass Café, a restaurant let's be clear, as far removed from a café as Dubai is from Dammam. Admittedly my one and only visit to Monte Carlo was before its inception I think. But more importantly, Sass Café is operated in Dubai by Bulldozer Group who also run Toko, which when I reviewed didn't live up to sky high expectations. Credit for the name goes to its Monaco owners – Salvador 'Sassa' Treves and son Samy Sass.
Located in Al Fattan Currency House, right next to the main DIFC building (incidentally where Greg Malouf opens in September), Sass is hidden away up some escalators and on a terrace with this rather lovely Burj Khalifa view. Shame there's no alcohol licence al fresco for now given our steam-free days are coming to an end. On that note, the wine list is limited whilst Sass awaits its full-fledged booze licence.
It's much more intimate than I expect, in fact a pretty illuminated oryx bar is teeny – overlapping into the piano lounge and dining room, with a second storey reserved for private booths. The décor with huge fiery red chandeliers is a flashback to Boudoir at the Dubai Marine Beach Resort and a tinge of The Act – sultry, sexy and perhaps even burlesque. The lighting is moody and spot on – at least we can see, and kind-of photograph our food.
Our intention is to have drinks and nibbles but there's no bar menu per se and frankly no space either, so after bubbles, the hostess manages to squeeze our party of five into the restaurant and a banquette table. It's buzzing on a Tuesday night so do book ahead.
The compact menu is French-Mediterranean inspired. With so many dishes appealing, we settle upon sharing a selection of entrées. But first up, a complimentary trio of tapenade, diced tomato and chicken liver pâté which serves as delicious bruschetta toppings. A sea bream ceviche is marinated in lashings of lime, red onion and coriander – a little too zesty in my opinion but that's a personal opinion. A tartare of salmon and avocado arrives with slithers of moreishly good feather light black rice crackers. I can eat these forever. A dense yet smooth foie gras terrine is smothered on toasted brioche with a dollop of apple onion jam – polished off pronto. And on request they kindly oblige with more brioche.
My main course of veal escalopes is cooked a la piccata – coated in flour and browned in butter. Served in a silky smooth lemon sauce oozing with butter – just a tinge of tartness and oh so decadent. A sprig of rosemary and a single roasted cherry tomato makes for a no-frills garnish. I nab a forkful of langoustine risotto and the rice has just the right bite to it, whilst there's no skimping on shellfish. Simple fare all round with quality ingredients.
For dessert, crisp cigarillos ooze with warm dark chocolate but the cinnamon caramel sauce is a little redundant in my opinion. Nontheless, a sweet ending to a surprisingly excellent meal. Its only weak link the rather lacklustre presentation of every dish on boring white crockery.
I have two small qualms with the service – the very obvious upselling of expensive caviar dishes. Consumers have wisened up and don't like to smell the sell, so don't do it or if you insist, weave in a more affordable dish as well. Plus our champagne glasses for a pricey Ruinart Blanc de Blancs champagne (someone is celebrating – merci The Hedonista) are not chilled in advance, and Mrs H is not asked to taste. Issues easily remedied, but for a restaurant of this calibre unacceptable.
Sass Café is not going to rival our top-notch French-Mediterranean restaurant duo here – La Petite Maison and La Serre – but for a reasonable AED300 per person without booze it certainly exceeds my expectations. Here's to a 3.5 out of 5 FooDiva knife rating.
What's your expectation of Sass?
A bientôt.
FooDiva. x