Love at first bite
Dubai; Earlier this year I wrote about one dish worth the drive to Abu Dhabi, well I've now eaten one worth rolling out of bed, wherever you are in the world, Mexico included.
It's goodbye to Baker & Spice's shakshouka for now, even though you'll always have a place in my tummy, and good morning huevos rancheros. Admittedly I scoff mine for a tardy Friday lunch at a new café in Al Manara (next to Jones The Grocer), Bystro – not to be confused with vegan pop-up Bestro at Lafayette Gourmet. More on that soon.
It's a popular rural Mexican breakfast dish translating to 'rancher's eggs' that comes in a few variations, but here it's served in a skillet with a base of two soft tortillas, topped with a couple of fried eggs sunny side up, generous dollops of refried pinto beans made in-house, lashings of tomato salsa with a tinge of sweet chutney I think, and melted Monterey Jack cheese.
Looking at it you may be tempted to share as we do, but this dish is so deliciously good, so wonderfully moreish and oh so nourishing that had it not been for my pending salad I nearly order another one…just for me. And wait for this, it's only AED26. Now surely that's worth getting out of bed for.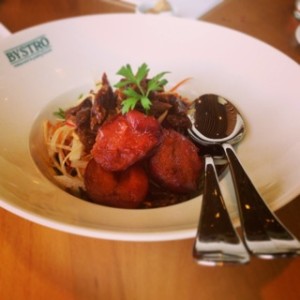 I can also vouch for the luscious beetroot houmous with crumbly, home-made focaccia (AED18) and a crispy confit duck salad tossed with roasted plums, water chestnuts, radishes and sweet chilli dressing (AED56) – the latter gluten-free of which the menu boasts quite a selection. The breakfast menu is extensive and on weekends available all day, sharing the limelight with some quirky burger and sandwich combos, plus mains. It's more international than European. And if you have a sweet tooth, there's a mammoth range of Tuscan pastries from the deli counter (the Australian owner's wife is Italian). For a change, we have a café in Dubai that prides itself on offering a good selection of leaf teas (including white silver needle), not just coffee.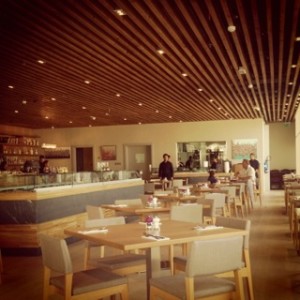 The décor is a tad utilitarian but a clever and impressive design of wooden slats shields the near-exposed ceiling. What it really needs though is more people to give it the buzz it deserves. In case you're wondering as I do about the Y in the Bystro brand name – the story's a little long-winded that I will leave the team to happily regale you with. But let's just say, it's partly inspired by a similar word in Russian which translates to 'quickly' – and quick the service is – as it is knowledgeable, authoritative yet relaxed. But my cover is blown so take that with a pinch of salt…or a portion of huevos rancheros.
How do you like your eggs?
A bientôt.
FooDiva. x