A Latin American evening at Izel
By now, many FooDiva readers will be aware of Izel, the new (if no longer brand-new) Latin American restaurant at the Conrad Dubai. The White Hat's been spotted in both Caracas and Buenos Aires over the last four years, so I was keen to give it a try. Ceviche and grilled meat may be central to South American cuisine stereotypes, but it's a big continent with plenty of regional variation; even more so when, as Izel does, you throw in Mexico's distinctive cuisine for an even more pan-Latin feel.
After the confrontational purple of Nay,  it was a relief to walk into a restaurant with some excellent interior design.  Yes, Izel is dark (as the photographs show), but the primary themes of black, copper, and fire make it a warm and welcoming dark.  I could pedantically quibble about the dominance of Mesoamerican Mexican, Maya and Olmec imagery in a pan-Latin restaurant.  But, well, not every restaurant reviewer (or FooDiva reader for that matter) in Dubai has an archaeology degree, and there's no doubting the Aztec Calendar Stone makes for a striking primary decorative motif.  Izel was busy, too, with the restaurant gradually filling up to two thirds capacity by 10pm.  This makes such a huge difference to the atmosphere.  There are some high-end restaurants in Dubai that are so dead they'd struggle to pack in customers if they served brains during the zombie apocalypse.  Izel, fortunately, isn't one of them; at least not on a Friday night.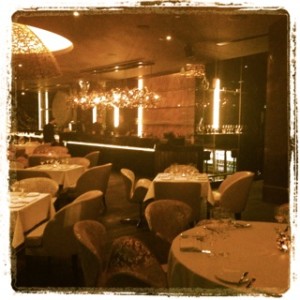 Aside from a very minor misunderstanding over whether Izel's 'grouper' is local hammour (something we never resolved), the service was uniformly excellent.  Staff seem to have been imported from Latin America, and they're certainly easy on the eye (Mrs. White Hat wants me to state, for the public record, that the male waiters are "smokin' hot"), but they're also really good at their job.  It's not just the big things like the friendly greeting at the door or the willingness to help with menu suggestions; Izel's staff have also mastered the little things that so many Dubai restaurants, even at the top end, don't always get right.  The one that impressed me the most – one that too few restaurants in Europe manage – is that when wine is ordered by the glass, the bottle is brought to the table, and a tasting offered before the glass is filled.  That's just one example of many, but it's precisely the type of small detail that shows a restaurant cares about its customers.
Then there's the extraordinary cocktail list…page after page of cocktails both inventive and classic, from a traditional Peruvian Pisco Sour, Cuban Mojito or Brazilian Caipirinha through to an entire list of smoked cocktails, such as a Smoked Agave Sazerac (smoke-infused Sauza Hornitos tequila, stirred with agave syrup, and Peychaud bitters), by way of a list of 'signature' cocktails that manages that rare trick of looking both inventive and inviting.  Traditionalists might raise an eyebrow upon hearing that the pisco sour is served in a narrow flute rather than an Old Fashioned glass, but I can personally reassure traditionalists that Izel doesn't stint on the alcohol; at least not in this drink. Too many Dubai restaurants and bars serve cocktails that seem to consist of fruit juice that's been lightly wafted over alcohol fumes. Izel makes cocktails for grown-ups.
And on top of the atmosphere, the service, and the cocktail list, there's some really good entertainment that adds to the atmosphere rather than detracts from it.  The current band in residence (through to the 27th of June and Ramadan) is the Colombian Kaney International Band, and they've mastered the fine musical line between maintaining a Latin groove (several of the restaurant staff were subconsciously shaking their hips) and remembering that restaurant patrons are primarily there to eat.  The guitar duo who came on later in the evening were also good.
"But Man in the White Hat", I hear you exclaim, "this is a restaurant review. You're some 600 or so words in, and you haven't mentioned the food yet!" Ah, well, you see, there's the rub (to paraphrase Hamlet). There's so much that's really excellent about Izel that when you get to the food, which is 'merely' (if that's the right word) quite good, that it's a minor let down.  Which sounds faintly petty, so let me stress that there's nothing wrong with the food at Izel; it just doesn't hit quite the same heights as everything else.
A starter of beef arepas – a maize corn flatbread characteristic of Colombia and Venezuela – consists of shredded slow-cooked beef sandwiched between thin slices of arepa with a side of 'Colombian sauce' (a citrusy tomato, spring onion, and coriander/cilantro sauce). By itself, the meat seemed perhaps slightly underseasoned, but this may have been intentional given the good overall balance with the sauce. A trio de ceviche consisted of a tasting selection of three different versions of the citrus-cured seafood that's Peru's most famous contribution to world cuisine (discounting roast guinea pig, which – most readers will be relieved to hear – isn't on the menu).  Personal taste is always subjective, but both myself and Mrs White Hat agreed these were a little uneven, with the tuna and bell pepper slivers working better than the grouper or prawn.  All were good, but only the tuna really seemed to rumba its way across the palate.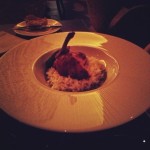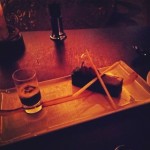 A main of salmon rosado was excellent; two medallions of moist salmon rested on a rich risotto, accompanied by a tomato-based sauce.  One small mouthful of salmon was slightly dry, but for the most part this was a highly accomplished dish. The chicken with green mole was a little more uneven.  The chicken itself was cooked beautifully, but there just wasn't enough mole under the rice.  It was almost as if the mole verde – itself one of the classic moles of Oaxaca – was  apologetic for not being as well known as its dark cousin mole poblano (the one with chocolate).  If so, it was an unnecessary apology; it was a good sauce, though perhaps slightly lacking in punch – there just wasn't enough of it.  A side dish of roasted vegetables was also slightly uneven; the aubergine and onion were good, the squash a little too watery.
Opinions were split over our dessert, a rich chocolate cake called El Venezolano (the Venezuelan).  I loved the triple-set chocolate cake with raspberries, and the chilli-tinged warm chocolate sauce; Mrs White Hat felt it was missing some intangible extra that would have lifted it from very good to excellent.
So foodwise, Izel is very capable and highly competent rather than superb – and that's where it loses slightly on the knife rating.  It seems slightly churlish to write that, given that the food is enjoyable.  But it's the extras, the combination of excellent service, buzzing atmosphere, quality entertainment and what's currently looking like the best cocktail list in Dubai, that make Izel such a good night out.  So overall, I am giving it three and a half FooDiva knives.
Would you be willing to forego the odd food glitch if the atmosphere and service impressed? If you've dined at Izel, would you agree? Where do you head to for Latin American cuisine?
Hasta la próxima,
The Man in the White Hat.
So who's our anon guest reviewer, The Man in the White Hat? He has an abiding interest in both history and food; his holidays tend to combine an intriguing local cuisine with a UNESCO World Heritage site, and he's eaten his way across some 50 countries in Europe, Asia, Africa, North and South America, and Australasia.  He currently lives in Dubai, where he edits a couple of academic publications.