How authentic is Brussels Belgian Bar & Bistro?
So it opened as Bapas in The H Hotel six months ago, but has since rebranded to Brussels Belgian Bar & Bistro. The same ownership remains, but the word 'bapas' didn't resonate with Belgian cuisine and Dubai diners apparently. I thought it was rather quirky, whereas the new name hardly leaves much to the imagination. Oh well, each to their own.
On a Friday evening, after a sundowner atop new rooftop bar 44Kong, we find ourselves ensconced in a rather cosy corner banquette but sadly in a near-empty restaurant and bar which doesn't fill up by the time we leave either. Luckily it's a small joint, with imposing chairs sporting a motif print of Belgian King Baudouin I from a 1984 stamp (thanks Mr K for the verification given our waiter isn't too sure).

On the upside, on Fridays, all wines are half price, French champagne excluded sadly. Scanning the wine list I spot a wonderful South African cap champenoise sparkling vino that I sipped recently at Burj Al Arab of all places – Simonsig. At AED148 only for a bottle, what a brilliant bargain! So smooth, it's easy to dismiss for champagne, which rarely happens to the diva in me.
Bar bites form a huge and the most compelling component of the menu, otherwise divided into the usual starters, salads and mains – plus a selection of moules, currently not in season. I guess the play on tapas with the original name still influences the menu. So we settle upon ordering five bites to share between two. Bites they are not though, little do we expect such mammoth portions. The baguette in our bread basket is stale and inedible…better off saved for the fondue.
Eight mini toasted triangles topped with filet américain as the Belgians say, in principle steak tartare. Evenly mixed with a little mustard and parsley, the hand-cut raw beef makes for a rich flavour which would benefit from being served on its own, sans bread. But I can understand as a bar bite it should be a little more substantial.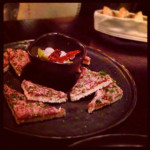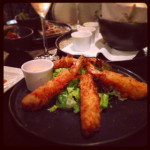 A small pot (but generous enough for sharing) of smooth and velvety fondue with the intense aroma of Belgian cheeses, along with diced baguette so perfectly crusty is a winner. A portion of crisp on the outside and fluffy on the inside Belgian frites served with three dips – tartare, chilli and curry mayo (the latter my favourite) – goes down very well dunked into the fondue…sans the dip naturellement.
Croque monsieur hails from France not Belgium, but here it's just a toasted cheese and turkey ham sandwich (no pork licence) – served as mini square bites. They are ever so lightly browned with butter on the side, but not enough to make for that moreishly good crisp and sticky texture. Plus it's not gratinated with a gruyere-like béchamel. Disappointing. I think we over-indulge with too many bready dishes as well.
On the other hand, our panko-crumbed fried prawns with a spicy aioli dip are exquisite despite its lack of Belgian authenticity. Just the right side of crispy and crunchy before biting into tender, moist flesh.
With such a carb-heavy dinner, there's no room for dessert even though our waiter tries to convince us the dame blanche is worth a taste. The only glitch in the service is the serving of the wrong wine early on (and the lack of knowledge regarding the interior design), but otherwise we are pretty much left to our own devices to enjoy our meal – with none of that over-attentiveness common in Dubai.
Bar bites are priced from AED33 for the frites and go up to AED85 for the fondue – a similar price point to the starters. Given the huge portions, that's good value. Main courses range from AED75-195 of which a couple are shockingly spaghetti bolognaise and a prawn tagliatelle! Strictly speaking not even Italian, let alone Belgian. I can understand adding a modern spin to traditional fare but using ingredients and dishes that are so far from the real deal is beyond me. So whilst Brussels Belgian Bar & Bistro makes for a low-key, affordable dinner, don't expect hugely traditional Belgian fare and any atmosphere. Clearly even the compelling wine promotion does not bring in diners…or drinkers. Perhaps a rebrand to European Bar & Bistro would have been a more appropriate strategy? Here's to a two out of five FooDiva knife rating.
Did you dine when it was Bapas? How does it compare?
A bientôt.
FooDiva. x