Does Rhodes 44 at St Regis Abu Dhabi live up to the name?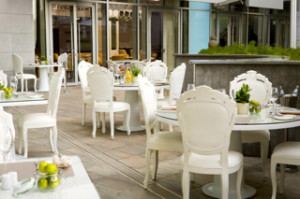 On entering Rhodes 44 at the St Regis Abu Dhabi, I was immediately transported back to my youth carving out a career as a chef. Gary and I go way back, (well let me be honest and frank here, I know of him and he doesn't know of me).  As a young, aspiring chef, I admired Rhodes, and the likes of Ramsay, Bourdain, Pierre White and Mossiman. I spent hours drawing inspiration from their cookbooks, only hoping that one day I could be an inspiration to someone else.  Gary Rhodes – spiky hair, checked pants, very modern British fare (we are talking 20 odd years ago).  That's how I remember him. So never in my wildest dreams did I think I would one day enter one of his establishments to eat his food AND write a review about my experience.
As we walked in on a Saturday lunchtime, we were greeted by a well presented hostess, almost with the grace of her gliding towards us on a magic carpet.  The interior is a mix of modern with a twist on French Baroque. Bright colours matched with even undertones of earthy pantone colours, perfect lighting and equally perfect set tables.  I was expecting Marie Antoinette to jump out from a corner shouting, 'Let them eat cake!' – alas she didn't.  The restaurant was very quiet, but apparently they get busier at night. And there, in the distance I observed the open kitchen; shimmering like a diamond, with fast moving streaks of busy 'chef white clad' chefs.  I love open kitchens, they transport the public into the adventures of the restaurant world's culinary underbelly  – the engine rooms of any well-oiled establishment.
You have the choice of eating inside or al fresco (overlooking the Corniche, unfortunately you don't see much of the Corniche, all you do however is hear it).  Opting for the terrace, we were escorted to our table. Settling into my French Baroque chair, I was handed a menu by the friendly manager. The wine list is well balanced and we opted for a Veuve Du Vernay Rose at AED240 a bottle. What's a lazy lunch without a few bubbles? To my disappointment, it wasn't available.  My bubble burst!  So we settled upon a Kaiken Ultra Malbec 2011 from Argentina.  The Argentinians know how to make a good red wine – silky, intense and elegant.  100% Malbec aged for 12 months in French oak barrels pronouncing the violet and chocolate aromas.  The palate delivered berries and smoky oak with well-balanced tannins.
A bread basket arrived with warm aromas of freshly baked bread.  As I was sipping on my glass of Malbec, I quizzed the manager with my ever enquiring mind, wanting to know why the restaurant was named Rhodes 44.  Well it's because Abu Dhabi is broken up into sectors and not streets with names (only recently have we acquired names for the streets).  So the restaurant at St Regis is situated in the 44th sector. I also asked if Gary was inhouse, but he had just left a few days earlier.  He did however reassure me that Gary does oversee his restaurant often and will return later this month to launch a new menu.
As a chef, I spotted true British cooking and ingredients, married with the traditional French foundation discovered by Georges Auguste Escoffier and Marie Antoine Carême. You could see Gary's culinary training shining through – well rounded with a wide choice. There is a steak section with extra add ons like sauces, vegetables, and side salads for those of you that wish to make up your own meals when dining out. There is a small selection of starters, but again well balanced and some different dishes to choose from.  We decided on the beetroot creamy goats cheese towers and the watermelon, fetta cheese and almond salad. The beetroot towers arrived elegantly plated with vibrant colours – a feast to the eyes.  The marriage of the beetroot and the goats cheese was well executed. The beetroot was cooked perfectly and combined with the toasted pine nuts, pink grapefruit and blackberry vinaigrette, the flavours made a good match. I am not a fan of watermelon and fetta to be honest.  It's pretty much over rated.  Personally I don't like the flavours, but it works for others and that's why we have opinions.
For main courses, we opted for the roasted duck, red cabbage jam and foie gras with red wine blueberry sauce and the slow-roasted belly of pork with buttered prawns and sweet pea purée.  The roasted duck was beautifully cooked and tender, accompanied by a quenelle of red cabbage jam, placed on the tip of my fork with some potato fondant and foie gras. I popped this into my mouth where there was an explosion of tastes – delicious. The Kaiken Malbec accompanied this dish very well. While dining we were constantly seen to by our waitress who was unobtrusive and thankfully didn't come over and ask if we were enjoying our meal when our mouths were full.  Yet she was very attentive and service was impeccable.  The pork belly was an elegant play on 'surf & turf'.  It came very succulently prepared, melting at every mouthful.  The prawns, perfectly cooked, gracefully topped the sweet pea purée, laced in foam. It was accompanied by a jus poured at the table.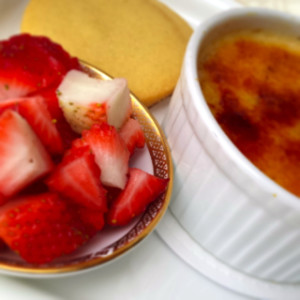 As we sat back with our bellies bursting, a very joyful waiter arrived and enticed us into having dessert, he was so convincing. We ordered the Eton Mess, which Rhodes 44 is well known for at its Friday brunch and a vanilla crème brûlée.  The Eton Mess was accompanied with a strawberry mousse and iced parfait – a very rich dessert but delightfully presented.  The crème brûlée was smooth and creamy and erupted of vanilla once tasted.
At AED625 for two excluding wine, the bill was steep but then you can't expect anything else from a celebrity chef's restaurant in the UAE. It is in the Entertainer book and app by the way. Enjoying the last few sips of my Malbec, I can say that Rhodes 44 was an experience I will never forget. I will return to savour Chef Gary Rhodes' new menu when it launches and hopefully he will be there, along with a few more diners. I am giving Rhodes 44 a four out of five Foodiva knife rating.  Do yourself a favour and tantalise your taste buds with Gary's food. I would love to hear your experience. Watch out for the man himself and give him my regards!
Bon appétit.
Liesl. x
So who's Liesl, FooDiva's new guest restaurant reviewer for Abu Dhabi? "I have been a chef for 20 (odd) years, incorporating my many travels and experience with an intense passion for food.  I have called Abu Dhabi my home for the last four years where I work as a private chef.  I love food, exploring new cultures and people. I will probably die doing what I enjoy best, and that is cooking!"