The French Gateway to India – La Porte des Indes
I was intrigued to find an Indian restaurant in Dubai with a French name. 'La Porte des Indes' which translates to 'Gateway to India' has outposts in Brussels and London. Research revealed that for centuries, France had a strong presence in India. In regions like Pondicherry, the influence of their culture still lives on. I have always enjoyed the idea of fusing cuisines together, ever since my amateurish childhood experiments in the UK of making hummus tuna sandwiches or adding labneh to baked beans and toast. So, interest piqued, I made a reservation to try La Porte des Indes' fusion cuisine.
The restaurant's entrance is conveniently located in a hallway linking The Address Dubai Mall to Bloomingdale's. Warmly welcomed, we were led into a space drenched in blue fluorescent lighting. The dark wooden tables and intricate wall carvings did little to tone down the feeling of stepping back into the 70's (or at least what I imagine that era to have looked like).
Once seated, we focused on the lengthy menu, finally settling on the sharing menu (a starter platter, four mains, three sides and dessert), which had our preferred choices anyway, and a chance to taste a variety of dishes for AED225 each – much less than a three course meal. Prices are on the high side especially in a city filled with cheap and cheerful, authentic Indian food.
After an amuse-bouche of almond buttermilk (creamy and sweet with small pieces of almond), came our slightly watery lassis along with crunchy gram flour sticks and chutney. Good to nibble on while we waited. The starters platter arrived piping hot, with neatly arranged chunks of chicken tikka, chard pakora and murgh malai kebab. The tikka marinated in cream cheese was tender and delicious. The green pakoras were crispy on the outside, and soft inside, with the nutty floury spinach contrasting nicely with the mango sauce drizzled on top. Finally, the lamb kebabs were a dream – finely minced and oh so moist. Every bite was a pleasure – a spicy one, but a pleasure nonetheless.
We were told that the chef would only then begin making our mains to give us some breathing room. Taking a closer look at our surroundings, on a Friday night, the restaurant was less than half full. Tables were nicely spread out creating a sense of space and enough distance to carry a private conversation – albeit in hushed tones. But those lights! I thought my eyes would grow accustomed to them. Instead they seemed to glow brighter as the meal progressed. While I understand the restaurant is trying to create a modern atmosphere, it's a little cold and impersonal. And it drenches my food photos in blue. Onto our main courses, all four of them!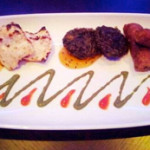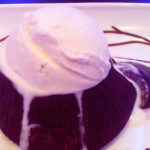 Poulet rouge, a house speciality, was my original choice for a main. I was interested to see how the French influenced version of my go-to Indian dish butter chicken would compare. It had a thicker, richer body and was less creamy with yoghurt adding a tangy saltiness. It was quite a dish and would have been the star of the show, had the chicken not been tough, marring the velvety texture of the sauce.
Kari de mouton was highlighted in the menu as a cherished family recipe. I could taste why. The goat meat was luscious and cut like butter. The smooth tomato-based curry was robustly spiced and flecked with crushed black pepper – only the subtle hint of calming coconut milk explained why I wasn't downing my lassi.  This is the kind of dish that keeps you coming back to a restaurant time and again.
We still had two dishes to try, both vegetarian. Saag paneer, a traditional dish of sautéed spinach and cubed cottage cheese, was well executed but rather unexciting. Rougail d'aubergine, another French-infused dish, looked just like guacamole. The smoked aubergine was delicately seasoned with ginger and green chilli. The fresh green lime ensured the dish had a cooling effect in spite of the aubergine's bite. While a decent dish, it was no match for the first two. The sides were tadka dal (mushy yellow lentils), appropriately fluffy basmati rice and crispy naan bread served fresh out of the oven throughout the meal.
Hot towels were provided in preparation for the cinnamon fondant we had requested instead of the dessert platter. It arrived looking simple yet elegant. Digging in with no time to waste as molten chocolate oozed from the side, we were in awe. The warm temperature of the gooey centre beautifully complemented the cinnamon infusing the chocolate. Here was the best marriage of flavours we'd tasted yet, reflecting a truly French touch. Each mouthful revealed a perfect balancing act, proving it a dessert absolutely worth saving room for.
Throughout dinner, our waitress was knowledgeable – expertly explaining each dish. Service was good, though slightly over attentive. The two times my napkin slipped (sad but true – starched napkins rarely behave on a silky abaya), it was swooped up almost before hitting the floor.
The sharing menu turned out to be a brilliant idea. Not only because it gives you feedback on more dishes but because it took us on a little gastronomic tour that extended beyond the French-influenced cuisine of Pondicherry and into the diverse and fascinating culinary landscape of India.
La Porte des Indes makes for an unusual addition to Dubai's dining scene and whilst the place lacks atmosphere, it's nothing a little warmth (and perhaps less blue) wouldn't solve. For interesting flavours and good service, here's to a three out of five FooDiva knife rating.
Do you like fusion cuisine and if so, what is your favourite?
Reem. x
So who's our new anon guest reviewer with the pseudonym Reem? "I am a proud Emarati, although spending most of my childhood in the UK makes me a bit of a Brit at heart. As much as I loved it there, I enjoyed returning to witness a cosmopolitan Dubai be born. I'm married to a wonderfully traditional man –  a rare breed. We spend our free time exploring our lovely city – new spots, hidden gems and all. At twenty something (don't ask!), I've realised just how much I still have to discover, experience and enjoy."