How does the new-look D&A fare?
Dubai; I am gutted. I am so looking forward to eating outside just to soak up this iconic view, but alas with the shamal and blustery wind sweeping in, we head indoors. Anyhow, we're in D&A, the revamped Dhow & Anchor at Jumeirah Beach Hotel serving British grub.
The website claims advance reservations are not required but oh my for a Sunday evening – admittedly some kind of sport…football, rugby, cricket, who knows, is streaming from the plasma screens – it's packed solid, but we manage to squeeze onto the last high table practically perching ourselves over the open-plan kitchen pass. The weather clearly impacts the covers inside, but I would advise booking.
I never dined here in its previous life, but from what friends tell me, it's one helluva transformation for the better…and posher. The interior has a retro feel with tables scattered around the bar and a corner alcove where the sporting action is streamed.
The menu is pretty traditional, classic fare, with plenty of pork, even though D&A claims to offer modern British cuisine. There's also a different roasted meat special every day, with one of the few spots in Dubai to offer pheasant – on a Saturday in case you'd like to try it.
The portions streaming out of the kitchen are mammoth, so we skip starters despite dishes likes wood pigeon salad, confit rabbit shoulder and wait for this…egg and soldiers calling out to me. We settle for two main courses to share – a signature dish of fish and chips, and a grilled gammon steak. The fish is Scottish haddock (D&A is a firm supporter of Scottish produce recently hosting Chef Tom Kitchin) which arrives as two generous fillets – with the batter a light and bubbly golden crisp. The hand cut chips are chunky and moist – double fried am sure and go down well dunked in the freshly whipped tartare sauce. I am not the biggest fan of mushy peas in general, but the flavours here are relatively mild. The gammon is also served as a double whammy with two steaks, char-grilled well done. Did you know that gammon originates from the French word jambe referring to the hind leg of a pig? I think next time I might opt for it medium (which the waitress does suggest) to give a little more juicy bounce, even though toppings of caramelised pineapple and a sunny side up, free-range poached egg make this dish succulent enough. The same chips are also served here. Oh and there's a lightly dressed mache salad as garnish.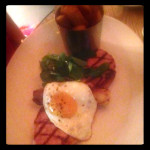 Desserts or rather puddings I should say, cheeseboard included, look highly appealing, but I'll have to save room for the blackberry Eton Mess another time. Definitely authentic British fare at D&A – the modern twist comes with the setting.
Drinks-wise, we steer away from the menu whose cocktails seem a little too sweet for our liking, and order dirty martinis (vodka not gin) happily accommodated by the waitress. Lethally good and some of the best I have sipped in Dubai…admittedly at AED65 a pop.
Service from the moment we walk in to paying the bill, is authoritative, knowledgeable and friendly in a restaurant so busy it's turning over tables throughout our dinner. Our mains are priced AED115 and AED125 respectively – pretty much the average for all dishes. Starters range from AED60-90, whilst desserts are AED45-60. Now for a posh gastro pub which is how I would describe D&A, it ain't cheap, but you get damn good quality fare for your dirhams. Once you've totted up a few drinks it's no cheap and cheerful night down the pub though. But if like moi, you have the Entertainer app (or book), you only pay for one main course, in this case a saving of AED115, with zero hassle thanks to our waitress' efficiency with the iphone redemption.
The new-look D&A joins the Brit gang of Reform and the more upmarket Rivington Grill to deliver wholesome, albeit pricey fare and slick service in a restaurant buzzing with regular punters and in-house guests. Next time, the weather had better hold up for a spot on the terrace. Here's to a four out of five FooDiva knife rating.
If you've dined at Dhow & Anchor, how does D&A compare? Where do you go for your British fix?
A bientôt.
FooDiva. x