Eat Greek…in Dubai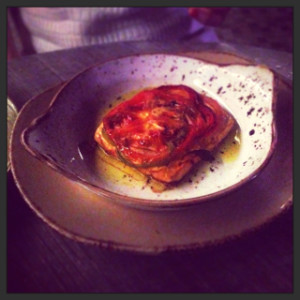 Dubai; I am stunned. I expect a monstrosity of a mall, but instead The Beach Mall is sleek and sexy – a low-level, al fresco space with not a tower in sight. In case you've not visited, it's the newish shopping precint at JBR Walk, sandwiched between the Hilton and Sheraton. Set to bring in over 70 restaurants and retailers once all complete, a smattering of eateries are already open. And my second stunner of the evening is one of these newbies – Eat Greek – an independent restaurant developed by Greek-South African restaurateurs Foodfund International more famously known for The Meat Company and Tribes.
I am super excited we finally have a Greek restaurant this side of town, but with no obvious signage we're lucky to stumble upon it. Curiosity got the better of me and we plonk ourselves on the last table à deux outside. It's busy and buzzy for a Monday evening, as is the whole of that area.
I can see a Greek manager roaming around (natives can spot each other a mile away), but we are served by a friendly Kenyan brigade. Our waiter recommends a Greek salad and tzatziki for starters which would be fine as part of a mezze spread, but as standalone starters they are not substantial enough…well for my appetite ;). So he's a little taken aback when I reveal my Greek-Cypriot nationality and make my own choices. Talking of which, the menu would benefit from a mezze selection – perhaps a choice of four to five appetisers at a set price. Whilst there's plenty of souvlaki (kebab), the meat choices for kebab are beef and chicken (with lamb for other dishes) – no pork licence here sadly. And pork is a huge component of Greek cuisine. I should emphasise the food here is Greek-influenced, not so much Cypriot. Whilst there are many similarities, there are also many differences – more explained here and here.
The first starter to catch my eye is a version of saganaki, in this case baked instead of fried fetta cheese (more commonly made with graviera, a Cretan sheep's milk cheese) which arrives as a slab topped with slices of tomato, slithers of pepper and a generous dousing of olive oil. Bubbling away, the saltiness of the smooth fetta is offset by the sweet tomatoes – the star dish of the night. Meanwhile, a couple of sardines are pan-fried in breadcrumbs and stuffed lightly with fetta – served with an intensely spicy tomato and lemon side kick as a dip – and a lightly dressed mache salad. If you can stomach your spice this dish is for you, but whilst all the ingredients feature heavily in Greek cuisine the interpretation and cooking style is not traditional. I do relish the marriage of textures though – crunchy fish and velvety fetta with a slushy dip and silky greens.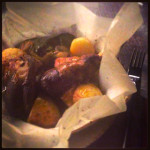 For mains, I am drawn to kleftiko which in Cypriot villages is baked in outdoor earthenware ovens. Slow-roasted lamb shank which falls off the bone – here it's baked and presented in parchment paper with roughly chopped potatoes, green peppers and onions. The potatoes could benefit from slower cooking. They need to be so soft you could almost mash it up with your fork. My pescatarian friend orders a type of butterfish – filleted and grilled with skordalia – a garlic, potato, lemon and olive oil emulsion. Whilst tender and flaky, it's swimming in too much lemon olive oil. Not a dish she'll be ordering again. In Greek tavernas, fish is typically freshly caught and served whole, rather than filleted, plus it's usually char-grilled like at Seaview. I'd be interested to try the calamari and octopus next time round.
For a sweet ending to our meal, the loukoumades call out to the child in me. Teeny deep fried doughnuts drizzled with a teeny speck of honey, a popular street food back home – straight out of the frying pan, crispy and gooey – prettily presented in a miniature bucket. Similar to the Arab world's luqaimat but ours are more chewy with honey replacing the much richer dibbs (date syrup). We polish the six bites pronto, please serve more next time :).
Service is too rushed with not much of a breather between courses. That could be because a few people are waiting to be seated, but nevertheless, a slower pace is necessary. Note Eat Greek is in soft opening so perhaps give it some time to settle in. The price range is vast, with dips and starters from AED15-70, mains from AED40-160 and desserts AED28-30, so you can actually eat very cheaply or choose to push the boat out. In our case, AED160 per person. The mall has an underground car park with a hefty AED20 per hour charge and unless someone can correct me otherwise, it's not waived when dining.
As a huge fan of Elia in Bur Dubai (with pork AND booze), I can't always trek to the other side of town so I am clearly biased, but am delighted traditional and contemporary Greek cuisine is now well represented in New Dubai…albeit without ouzo. All I have left to say is bravo – you gotta Eat Greek.
How often do you consider dining out on Greek? Would you welcome more Greek and Cypriot restaurant concepts?
For a taster of neighbour House of Curry, check out Ishita Unblogged's review.

A bientôt.
FooDiva. x