Belgian food as haute cuisine – Café Belge
Café Belge is the new 1920s-style art deco 'Belgian grand café' at the Ritz-Carlton DIFC replacing the all-day dining restaurant Can Can (and launched with considerable fanfare last month). This strikes me as a slightly tricky concept to pull off in Dubai. Those of us familiar with Belgian food (I spent several years of my childhood living near Brussels) like to rhapsodise about 'Dutch portions with French quality'. However, most people encounter the cuisine as the slightly dispiriting accompaniment to expensive Belgian beer served at Belgian beer chains that care more about the theatre of serving your beer in the correct glass than whether your food is adequately prepared.  So trying to convince Dubai that it's worth dropping AED285 on dover sole a l'ostendaise in Art Deco surrounds that are elegant to the point of being austere may require something of a leap of faith – but it's a leap that, for the most part, is worth taking.
As appetisers our party of two chose the salad liègoise and the oxtail cromesquis. I'd made this warm salad of potatoes, green beans, bacon, and vinaigrette dressing earlier in the week – so was interested in seeing how the restaurant version compared. Café Belge's was excellent (with beef bacon – no pork licence here), but it was also cold.  A salad liègoise should, traditionally, be warm.  On the other hand, a salad liègoise, while a fairly flexible recipe, isn't usually served with raspberries on the side, either; so it could well be that the temperature was intentional.  The waiter wasn't sure, but said he would raise the point with the chef.  The oxtail cromesquis were oxtail croquettes in a potato and white truffle emulsion; an excellent dish with the rich and creamy sauce perfectly matched to the croquettes.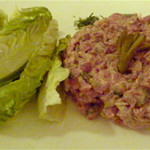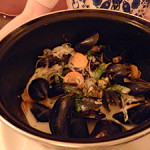 For mains, we went straight to two Belgian cuisine classics – filet américain and moules-frites. Filet américain is the Belgian version of steak tartare, though typically more seasoned, and served with frites (Belgian chips).  It was excellent, with the meat finely chopped rather than minced – though the chilli seemed to be unevenly mixed with the meat; some mouthfuls were noticeably hotter than others.  My companion had the mussels, choosing the champagne cream from the three sauce options.  This too was top notch, with the rich and creamy but not heavy sauce, like many Belgian dishes (this isn't health food) – a wonderful match for the mussels.  The really good news is that the frites were superb.  It's perhaps difficult to explain to people who've never lived in Belgium just how important it is to get the frites right, but they're a national food passion.  At Café Belge they're the right size, the right crisp exterior but fluffy interior texture, and – crucially – served with mayonnaise, as tradition demands.   A dessert of Ardennes sugar pie with yogurt ice cream and berry coulis was overshadowed by the mains, but was tasty enough as a light closing dish.  And yes, there are plenty of  traditional Belgian beers to choose from, with five available as a less-expensive draught option (though Stella Artois maybe doesn't count).
What you're getting at Café Belge isn't wholly traditional Belgian cuisine, but rather a specific vision of Belgian cuisine as fine dining.  So traditional shrimp croquettes are replaced by oxtail croquettes served in a white truffle sauce; mussels are served with champagne cream; the salad liègoise is served cold (assuming this was intentional) and with raspberries; traditional rustic dishes like carbonade flamande (a beef and beer stew) haven't made the menu. Once this basic fact is grasped, the menu suddenly makes sense – you understand why Café Belge has decided to serve lobster but not carbonade flamande – and the food we had was for the most part excellent in both presentation and taste.  But there's potentially a conceptual gap between what some people may be expecting from a Belgian restaurant, and what Café Belge is actually serving. This is especially true given the prices Café Belge charges, which are by no means unfair for a fine dining restaurant, but which are possibly  higher than what most people are expecting for Belgian food.  Starters are mostly in the AED45-75 range; mains start at AED115, and reach AED325 for the seafood platter.  Dinner for two, without drinks and with a couple of the less-expensive mains, was AED425.  That could easily be pushed to over AED700 for food alone without much effort.
Service was highly attentive.  Initially it was slightly too attentive; we had to ask two waiters to give us time to settle down and look at the menu after we first sat down.  Later, a waiter tried to remove my beer before I'd finished.  However, in a restaurant that's been open for less than a month, these were forgivable lapses that can be ironed out in time.  Otherwise, the service was strong.  My query about the temperature of the salad was handled with professionalism, and questions about which beers to try with specific menu items were answered confidently.
Slightly more worrying for the long term was how empty Café Belge was. Granted, we were there on a quiet night of the week; granted, our booking was early by Dubai standards; and granted there seemed to be several tables seated outside.  But this is a fairly large restaurant with separate drinks and seafood bar areas, neither of which had a single seated customer over the two hours we were there.  Only four inside tables were occupied during our meal, one of these a table for one.  I associate Brussels Art Deco with copper-toned warmth and humanity, but when near-empty, the austere white tones of Café Belge are more reminiscent of a Stanley Kubrick film set.  This is a shame; it's a restaurant that deserves to succeed on the basis of what it's trying to do – and I hope it does succeed – but it badly needs to bring in more customers to bring some human warmth to the interior design. Here's to a three out of five FooDiva knife rating.
What do you expect from a Belgian restaurant?

Until next time,
The Man in the White Hat.
So who's our new undercover guest reviewer? The Man in the White Hat has an abiding interest in both history and food; his holidays tend to combine an intriguing local cuisine with a UNESCO World Heritage site, and he's eaten his way across some 50 countries in Europe, Asia, Africa, North and South America, and Australasia.  He currently lives in Dubai, where he edits a couple of academic publications.