Two different bodegas in Dubai – Tolosa and Salero
Of late we've seen the Brazilian churrascaria craze engulf Dubai, then the Mexican wave and now it's the Spanish bodega fiesta – with a dose of French thrown in. El Sur started the trend, and here's a couple of new restaurants reviewed.
A wine bar-cum-restaurant embracing south-west French fare with northern Spanish influences is enough to capture my attention. Tolosa, the historical name of Toulouse, was the capital of Occitania, France's south-western region. Meanwhile, bodega reflects the al fresco bars spilling over the border in Spain. Enter Tolosa Bodega hidden in a corner of Souk Al Bahar. The intense rosy and orange brick colours of Toulouse are reflected across the cosy wine bar and restaurant.
A traditional chalk board menu of chef specials frames one wall, whilst the à la carte marries pintxos dishes – the Basque equivalent of tapas – with salads, soups, tartares and main courses. No pork licence here sadly. The shrimp croquettes are creamy and crunchy, and as mini balls pop down far too swiftly – but would benefit from a spicy side dip. Baby red peppers or call them capsicums if you're posh, arrive prettily presented as an inverted trio stuffed with well seasoned shredded crab. Zesty shrimp ceviche peeks out from a wonderfully hearty tomato and avocado salsa. The sea bass tartare is presented on a slab of slate – diced with avocado, chives, lemon zest and a dash of olive oil – simple and refreshing. A side order of fries are thankfully not chips and come double fried – the kind you moreishly pick on all day long.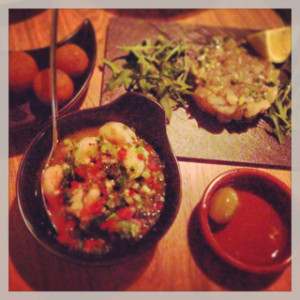 The wine list is on the pricey side especially when the more affordable French tipples are not available, but there's a good Spanish Martin Codax Bierzo on offer by the glass (AED72). A small platter of Ossau-Iraty cheese well paired with a tart black cherry jam helps polish off our vino. When I return to work my way through the many duck dishes, I'll save room for the pain perdu and tarte tatin.
Service whilst a little shambolic to begin with because they do not acknowledge my RoundMenu booking improves quickly – perhaps they guess FooDiva's reviewing – and our waiter, Spanish I believe, knows his menu and passionately articulates his recommendations. We are the first to arrive, admittedly 7.30ish on a week night is not peak period, but luckily the restaurant corner of Tolosa fills up pretty quickly. The bar is sadly rather lonesome all night long, unlike neighbouring Left Bank, a far bigger attraction for some. I've never understood ladies nights. At AED143 each, our tapas dinner à deux is very affordable, but be warned, the wine list will more than double the bill. On the upside, book through Roundmenu for a 20% discount off the food bill.
Moving on to a more traditionally Spanish concept, a few nights later I should add, Salero Tapas & Bodega at Kempinski Mall of the Emirates. Sitting on one of the banquettes I am fascinated by the quirky décor – it's not often I find myself gazing above, completely mesmerised by over-sized upturned raffia lamp shades, a clever Kandinsky-like mural representation of traditional Spanish artefacts, and shelves crammed with colourful boozy bottles.
Our Spanish waiter is super relaxed and chatty bringing us slithers of cecina, a cured beef carved on the spot to nibble on whilst we wait for friend number three. The wine list is extensive but expensive. My very drinkable Catalonian, Codorniu cava (the cheapest on the list) is priced at AED76 per glass.
The tapas-focused dinner menu (with pork hoorah!) features a rather teeny selection, but a handful of new dishes will be added this week, our waiter explains. We opt to choose six tapas dishes for AED180. Complimentary ingredients for pan con tomate arrive first – just rub the roasted garlic followed by fresh tomato on toasted bread, drizzle with olive oil, sprinkle with salt (salero in Spanish by the way) and you're ready to roll. A nice touch but watch out, it's a meal in itself.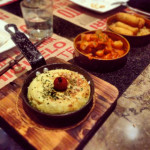 A potato salad resembles the Russian version, but with the addition of diced tuna belly – quite a popular dish on tapas menus in Spain apparently. A little non-descript, can't say I would order it again. A fried eggplant dish highly recommended by our waiter arrives tempura-style, drizzled with cane honey – subtle flavours, but I don't quite understand the relevance to the Spanish menu. On the other hand, juicy Cantabrian anchovies on crunchy romaine lettuce hearts with sherry vinaigrette is a simple but creatively executed dish. The very traditional patatas brava with a drizzling of paprika sauce, chicken croquettes and Spanish tortilla – the latter beautifully presented in a mini cast-iron skillet –  are tasty enough but nothing to wow my palate. The star dish of the night is the seafood paella, and the centrepiece you see here is the small portion (priced at AED200) but enough to feed four. Oozing with plump prawns and squid, the rice has a good bite to it.
Our waiter's easygoing, charming nature and in-depth menu knowledge is refreshing in a city stifled with either over-attentive or lacklustre service. And for a Saturday evening this spot fills up rather quickly. The music is too loud (must be an age-thing) but at our request, the volume is turned down pronto. At AED127 per head and with very stuffed stomachs, Salero is extremely well priced in comparison to El Sur – but food-wise lacks the creativity and wow factor that El Sur brings the table. Two very different experiences that can't be compared.
So there you have it, Tolosa adds some much-needed style and substance to Dubai's staid wine bar scene with a casual yet classy option at Souk Al Bahar, whilst Salero serves up traditional tapas in a quirky spot hidden away from the crazy mall surroundings – each worthy of a three out of five FooDiva knife rating.
Next up on the Spanish dining scene is the opening of tapas bar, Cielo at Dubai Creek by the restaurateurs behind successful home-grown concepts, Okku and Claw BBQ.
Do you enjoy wining and dining over tapas? Where's your go-to spot? Have you tried these newbies?
A bientôt!
FooDiva. x