The Dubai Food Festival Gourmet Trail, Carnival plus so many more…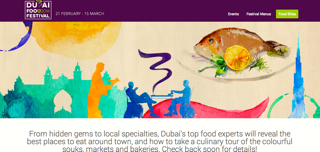 Given Dubai's growing and maturing dining out scene, wouldn't it be fab if we could map out foodie trails across a number of diverse eating experiences? So whether you're a resident, business traveller or holidaymaker, you've got an at-a-glance 'map' of where to eat across our emirate. Well that's exactly what we have for you now. Thanks to the inaugural Dubai Food Festival, five different Gourmet Trails have been mapped out by food influencers aka guides, FooDiva included. Stay tuned as we roll them out.
Let's take a step back first, what's Dubai Food Festival? Finally our little emirate launches its own festival just for us foodies, forget shopping…unless it's at a deli :). Running from 21st February to 15th March, Dubai Food Festival brings together a host of food-themed events across the 23 days, with more coming on board as I write, so do check their website and social media channels by following @dxbfoodfest and #DubaiFood. In the meantime, here are FooDiva's top picks.
Gourmet Trail aside, first up is the inaugural Dubai Food Carnival on 21st and 22nd February at Festival City with one mammoth multi-cultural party for the whole family. Expect food and drink stalls, live cooking from local and visiting chefs, plus a BBQ competition – all with a strong focus on locally sourced ingredients and Emirati food. The one meal you must set time aside for is Bulgarian-Turkish chef Silvena Rowe's pop-up Carnival Rowe by The H Dubai, where she will serve three-course Emirati and Arabian lunches and dinners using 98% locally-sourced organic ingredients from Greenheart Organic Farms – more here. By the way we hear she is close to opening her first of three restaurants in Dubai. Another novel concept worth looking out for is a taster of Chef Uwe Micheel's Emirati fine dining restaurant Aseelah, opening later this year at the Radisson Blu Deira. Oh and a bunch of food bloggers moi included, journos and chefs chit chatting all things restaurants and social media. Open 10am to 11pm on both days. Entrance tickets AED30 per person, with kids under 12 for free.

Fancy a taste of Keralan cuisine? The first Grand Kerala Festival at Wonderland (near Creek park) from 20th to 22nd February will see a cooking competition and food stations representing the diverse cuisine of the Malabar, Kochi and Travancore provinces. Open 2pm to midnight on all three days. Free entrance.
Taste of Peru returns to Madinat Jumeirah from 26th February to 1st March. Food huts scattered across the souk's amphitheatre will offer Peruvian dishes including ceviche, tiradito, causa, quinotto, beef anticucho and empanadas, along with the local Pisco tipple. Open 26– 27 February 6 – 11pm; 28February – 1 March 3pm – midnight.

On the same weekend, the first Big Grill runs at Emirates Golf Club on 28th February – a celebration of all things barbeque, with cook-offs, competitions and picnics. Tickets AED350 including unlimited grills.
This year Gulf Photo Plus runs a series of food-specific photography (hoorah Instagram included!), styling and writing workshops with food blogger extraordinaire Matt Armendariz and our very own stylist Fiona Archibold – and the odd one is even free! March 3rd – 10th at Dubai Knowledge Village Conference Centre.
Not many foodies know that the annual Emirates Airline Festival of Literature from 4th to 8th March at Intercontinental Dubai Festival City affectionately known as LitFest, brings together international cookbook authors, chefs and restaurateurs with a mix of panel sessions, cooking demos and lunches. This year's line-up showcases Arlette Boutros with her Lebanese cookbook Enjoy; Prue Leith, London-based restaurateur and the author of twelve cookbooks; Tessa Kiros, the Greek-Cypriot-Finnish author (married to an Italian) of delightful cookbooks including her latest Limoncello and Linen Water; William Sitwell, award-winning editor, broadcaster and author of A History of Food in 100 Recipes; and Lebanese-Australian chef, restaurateur and cookbook author Greg Malouf (with his ex-wife Lucy) who is opening his first restaurant at DIFC later this year. Last but not least, our very own chef Silvena Rowe will host a lunch. Ticket prices start at cheap as chips AED45.
Next up is Taste of Dubai from 13th to 15th March at Media City amphitheatre. Now in its seventh year, you know the drill. Pop along to sample bites from this town's top-end restaurants and mingle with visiting celeb chefs. I've got my eye on two French men – Jean-Christophe Novelli and adorable master baker Eric Lanlard. 13 March 4pm – midnight; 14 March 12noon – midnight; 15th March 12noon – 11pm. Advanced tickets AED70, with kids under 12 for free.
There's also a couple of F&B industry trade events under the DFF umbrella – aside from long-standing Gulfood, we have the first Global Restaurant Industry Conference (GRIF) at the Conrad Dubai from 11th to 12th March – a forum for the big players in the restaurant and hospitality investment community. So am a little biased as I am speaking at a couple of sessions 'Around the world in 60 minutes' and 'Marketing and digital media'. It is an industry event, so entrance is pricey but use the booking code GRIF25 for 25% off. Conrad Dubai, 11-12 March 2014.
And don't forget star-studded Gourmet Abu Dhabi is in full swing until 19th February across 20 of the capital's top-end restaurants – more info here.
Well that will keep us busy over the next few weeks. One question before I sign off, what are your favourite Dubai eateries, from cheap eats to glammed up dining?
A bientôt!
FooDiva. x
P.S – if you've not yet entered, dinners at the latest Mexican restaurant to hit our shores Tortuga, are up for grabs – click here for the competition.