Toko docks in Dubai
Are the powers that be at Vida Downtown Dubai recreating a mini DIFC restaurant scene? First La Serre to rival La Petite Maison, and now Toko, a contemporary Japanese restaurant concept imported from Sydney to mimic Zuma perhaps? Hmmm…let's see.
Not only does Toko have its own dedicated entrance on the boulevard, but gaze out of the bar windows on the ground level and you're overlooking the street – a first for a Dubai licensed establishment? Past the bar sits the restaurant and open-plan kitchen, and to the left a serene Japanese-style garden complete with water features, floating Japanese umbrellas and Bonsai trees – a contender to Hakkasan's stunner of a garden terrace. Despite outdoor heaters, you may find this spot a tad cold for our Dubai winter, warm-blooded diva that I am, but otherwise opt to sit here. We sit inside. For an 8.30pm booking on a Friday evening, the place is not quite full, but there's a relaxed gentle buzz with a mixed and unpretentious crowd.
Toko's concept as explained by our waitress, is based on the Japanese 'izakaya' gastro pub where dishes are served sharing-style as and when ready…pretty much the route most restaurants are taking these days to ease pressure in the kitchen.
My Toko margarita with green sencha salted rim is potent enough but nothing to wow my taste buds, unlike the creative cocktails at Q'bara. My dining companion's 'Dark & Stormy' rum and ginger long cocktail is served rather uninspiringly in a tall tumbler – looks like a soda from a run-of-the-mill restaurant. Where's the creativity given Toko's modern take on Japanese? Incidentally, name-dropping here, but I just discovered at Cayman Cookout, this particular tipple is Anthony Bourdain's favourite beachside cocktail as he downed them during our interview.
Like with most Japanese restaurants, the menu is mind-boggling with dishes divided into small plates (hot and cold), sashimi, salads and sushi. It's then onto the robata grill for veggies, seafood and meat, pricey wagyu beef included, plus some kitchen specials and tempura. And many dishes as you will see from our order are surprisingly so very un-Japanese, a good move to reach out to those squeamish at any mention of the J word.
We settle upon six dishes. The beef tataki is lightly seared and comes sprinkled with pickled daikon radish, crunchy potato airbags and micro herbs. A seasoning of yuzukosho, a fermented chilli paste gives it a little kick – but not enough to bowl us over. Six rolls of kingfish maki sushi are each dotted with a slither thin slice of finger lime. Pretty, but bland, with no punchy flavours shining through.
We then move onto a surprisingly winning dish…so simple yet so clever. Avocado sliced four ways into wedges and drizzled in a sweet soy sauce – sprinkle rock salt, add a squeeze of lime and you're in heaven. A little fiddly to eat with chopsticks so serving it with spoons would help.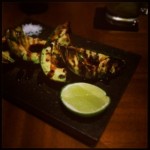 Next up are a couple of other star dishes. A fillet of salmon smoked in miso – intense and intriguing with a flaky yet buttery texture. Now that's what I call flavour. Onto my favourite dish of the night – fried quail topped with shaved bonito flakes. Such an unusual marriage but oh my does it work – the crunchiness of the quail against the feather-light bonito flakes. I could easily eat this dish every night. Our savoury spread ends with sliced duck breast that was far from tender and a tad overcooked – should have been more rosy.

As for desserts, the citrusy yuzu cheesecake with frozen meringue is well worth ordering. Light and not too sweet – make sure to save room for this beauty. On the other hand, a sundae of coffee mousse, milk ice cream, honeycomb and whiskey foam is lost on us with all ingredients blended together almost like a smoothie. Quirky copper vessel presentation though.
My friend introduces me to a French rose wine that will go down on my vino wish list, Whispering Angel – don't you love the romantic name? Super light with a tinge of fruitiness.

Unlike other restaurants, quite a few managers are roaming around which is a good sign if they actually engage with diners, but whenever we request something…for instance when we're ready to take our order (we do take our sweet time) the buck is passed to a waitress or waiter, albeit a sweet-natured one. And this crops up a number of times throughout our dinner, which leaves a rather sour note.
With our dishes priced from AED42 for the avocado to AED165 for the miso salmon, our bill sits at AED410 per person without booze – expensive but on a par with the competition. Whilst I would return for the buzzing yet relaxing ambience, with only half of the dishes impressing, Toko's food lacks the finesse of contemporary Japanese rivals Zuma, Okku and even traditional Tomo. Perhaps Toko needs time to settle in. At least I hope so as you have huge potential…and it would be nice to have a change to DIFC. Here's to a three out of five FooDiva knife rating.
If you've dined at Toko I'd love to hear your thoughts. Or where do you go for your Japanese food fix?
A bientôt!
FooDiva. x
NOTE (11th January 2017): Toko has rebranded to Downtown Toko as a more casual dining concept and has severed its ties to Sydney's Toko.