An Arabesque restaurant in Dubai oozing atmosphere
Dubai; I am drawn back to this new hotspot, not just for cocktails at the buzzing bar, but the lure of dinner in a hugely atmospheric restaurant. If you've read my last review you'll know how much value FooDiva attaches to ambiance in evaluating a dining experience. We're at a new chef-driven and homegrown restaurant Q'bara at Wafi's Fort Complex in the location previously occupied by dreaded Planet Hollywood. Chef-driven because this spot is ex-Zuma and Ivy chef Colin Clague's new baby. Looks like we have a little bit of a trend going on in Dubai for concepts where chefs are becoming restaurateurs like with another newbie Atelier M.
Funky, rotating, life-size projections on a patchwork of hand-carved timber panels form the backdrop to the bar, whilst communal tables overlook the open-plan kitchen. A few steps up sits the restaurant with semi-circular banquettes and much-coveted round tables. Upstairs is another bar and the lounge area for smokers and food too from the main menu should you wish. The design influence throughout décor (and food) is Arabesque – vibrant, mysterious and so, so sexy. At 9pm on a Friday evening it's buzzing with Emiratis and western and Arab expats, but certainly not full.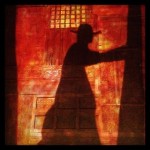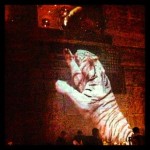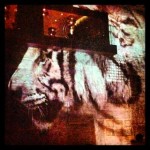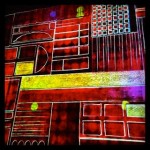 The Moroccan margaritas with preserved lemon have such a tantalising tart kick you'd be hard pushed to ever revert to an original concoction. And at AED55 a pop, wow they're good value. These sips pave the way for a menu divided into small bites, soups, salads and mains, with every single dish infused with Middle Eastern ingredients. But don't venture to Q'bara half-expecting traditional Arabic fare, here's a taster of what's on the menu.
Crushed butter beans brimming with fetta and zaatar. I am scooping up spoonful after spoonful, forgetting the wholemeal flatbread – on its own…pure soul food. Crab and chermoula cakes with preserved lime. A twist on a traditional crab patty using a coriander-based Moroccan marinade as a filling with the crab. Lobster kibbeh and avocado labneh. Simple but super smart adaptation of a Levantine snack – ditch the lamb or beef mince and replace with generous chunks of lobster. And then dunk in a smooth avocado labneh (strained yoghurt) dip.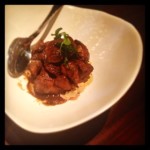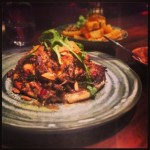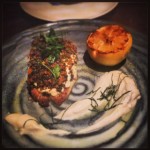 Onto the mains. Poussin marinated with sumac, onions and dried yoghurt on thick buttery flatbread. Colin's spinned the rich Palestinian chicken musakhan dish making it lighter with baby chicken. The star of the night. Sea bass topped with walnut and herb crumbs and lashings of tahini and yoghurt. So many differing textures here – flaky, crunchy, silky and smooth. A side order of chips cooked in duck fat and that wonderfully spicy Moroccan harissa paste. Sadly the one disappointment of our meal – undercooked. Shame as I spot these on the menu immediately.
And lastly a dessert to share, but mostly devoured by my dining companion. Perhaps one day I will either leave room for dessert or wake up with a sweeter tooth. Mille feuille of dark chocolate with toasted sesame ice cream. Slithers of dark chocolate layered with an even richer decadent mousse, and the stark simplicity of toasted sesame flavoured ice cream on the side. Like the cocktails, the menu is extremely well priced with our dishes ranging from AED32 for small bites to AED145 for mains.
For want of a much-overused word, Q'bara's cuisine is fusion, spinning traditional Arabic ingredients and dishes rather cleverly serving food that is lighter and…well Arabesque. Could Q'bara finally fill the gap in Dubai for a fine dining restaurant that showcases a passion for the region's food culture with innovative cuisine? Something perhaps that Michelin should take note of? I think so. Where else in Dubai can you both wine and dine on food creatively influenced by the region we live in? For now only here, and clearly with the success of neighbouring Tomo at Raffles, Wafi is undergoing a little bit of a dining revolution. I'd love to hear your thoughts.
Service is spot on – friendly and knowledgeable but the up-selling is a tad too obvious. Heads up, please take this review with a pinch of salt as FooDiva was recognised. I have to say I've not heard one negative report yet, so let's hope Q'bara maintains its consistency. Make this hotspot the next restaurant you dine in, and let me know how it fares. You pretty much tick every box in the dining out experience – food, service, price, décor and location but above all, you ooze atmosphere. Mabrouk. Here's to a four out of five FooDiva knife rating.
A bientôt.
FooDiva. x
P.S – here's FooDiva's round-up of festive dining options that serve à la carte – quite a rare find! It's also my entry into the Expats Blog competition so if you like it, would love your vote pretty please by commenting on their post here. Have a fabulous food-filled season :).