FooDiva on CNN, plus a new-look blog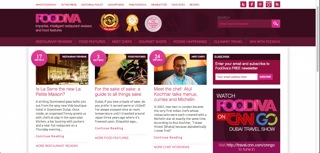 "CNN is filming a travel show on Dubai and we'd like you to be our go-to person on restaurants. Can we meet tomorrow to discuss?" That was a phone call out of the blue a few months ago from one of CNN International's producers. Needless to say I did a happy little dance and accepted before anyone changed their mind.
We spent an exhilaratingly long day and night filming at some of my favourite restaurants in this inspiring emirate that I've called home for 14 years. Whilst a tad nervous in the build-up, I absolutely loved every minute filming. I could have nattered away on air forever (thank goodness it's all edited) – these CNN guys and gals are true professionals.
Fast forward and CNN Go's 30-minute show airs for the first time tomorrow (Wednesday) following five knowledgeable insiders as they explore Dubai bringing across different viewpoints. Streamed to 255 million households worldwide, the timing couldn't be more perfect as Dubai readies itself for the World Expo 2020 bid announcement next month.
Aside from FooDiva, you'll see and hear from local filmmaker, Abdulla Al Kaabi who opens the show by skydiving over Palm Jumeirah before heading to the desert and the indigenous Arabian oryx. Radio jockey, Simone Heng explores the remarkable development of Downtown Dubai, whilst jewellery designer Nadine Kanso reflects on Dubai's heritage when visiting the Gold Souk by abra. And finally, CNN is invited by rock band Juliana Down into a recording studio in Al Quoz.
Here's the broadcast schedule starting tomorrow for a month (in local UAE time) and if you miss it on telly, it's available to view online here. If you're tuning in from elsewhere in the world, UAE is currently three hours ahead of BST.
It seems quite apt that I should glam up my blog with a new look at the same time, so voila…the new FooDiva. The cerise pink remains, albeit combined with aubergine – I am still a diva after all ;). The nature of my blog's content has grown tremendously over the last two+ years so you'll see posts now grouped into six distinct categories: Restaurant Reviews (the bulk of what I write), Food Features, Meet Chefs (interviews), Gourmet Shops, Foodie Happenings and Culinary Travel. The newly designed e-alert you receive when subscribing to FooDiva (free of course) also includes links to the latest posts. Stay tuned as we work on an app.
So FooDiva Friends, do tune in to CNN if you feel inclined and let me know your thoughts. Any comments on the new design also welcome.
A bientôt.
FooDiva. x