Open sesame…Simsim
Correct me if am wrong, but whilst restaurants with Levantine cuisine are abundant in Dubai, it's hard to find one with a focus on Palestinian dishes. Well until now…with Simsim, a cute new café at JBR Walk.
It's a two-storey number with a highly urban feel thanks to an industrial-style stairway, but Palestinian chinaware, calligraphy and quirky artefacts make for an eclectic interior with oodles of character. Attention to detail is clearly at the heart of this gem.
The owner and the chef are both Jordanian of Palestinian origin, showcasing recipes borrowed from grannies in Gaza and Ramallah using natural ingredients from Nablus and Toulkarem.
Despite a 12.30pm lunch, we are presented with breakfast menus and noticing my neighbouring diner with a different menu, I query the waiter and the correct one rocks up…much more comprehensive. A clever design incorporating the traditional Palestinian weave with cutlery motifs. The beauty of cuisine from the Arab and Mediterranean world is sharing and one aspect of dining back home in Cyprus that I absolutely adore. Thank goodness my friends here do to. So with freshly squeezed green apple juices in hand and munching on steaming hot wholemeal pitta dipped into olive oil and zaatar, here's what we order – our choices made easy by mouth-watering photography.
Shakshukat Bandora – the eggs are described on the menu as poached so I half-expect a version of the traditional North African shakshouka breakfast dish (also on the brekkie menu) but instead the eggs arrive scrambled with a slightly spiced, rich tomato sauce. Different, but works well spread onto the warm pitta. The arayes is a Simsim Levantine speciality – and here it's gorgeously thick wholemeal pita envelopes stuffed with mince meat and tomato, topped with sesame seeds, which incidentally is the translation of Simsim and a core ingredient in Middle Eastern cuisine. Not too oily – moreishly good pure soul food. Our sambousek platter of cheese, beef and veg along with kibbeh is a little forelorn and whilst tasty enough does nothing to differentiate from what every other Arabic restaurant in town dishes up.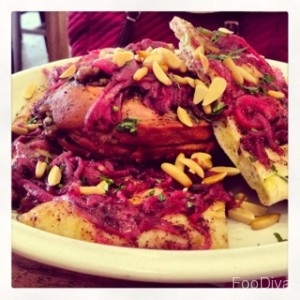 We build up to the Musakhan Dajaj – a traditional Palestinian dish of chicken baked with onions, sumac, almonds and pine nuts all perched on taboon, a chickpea flour flatbread. Oh my we're clearly on a carb-fest day but gosh the chicken is so aromatic and tender, it falls apart as my knife and fork dig in, scooping it onto the marinade soaked-bread. A dollop of yoghurt is all it needs and am in heaven. The pièce de résistance for sure, this is one dish hard to find in Dubai, so if anything head to Simsim for this plate of magic alone.
Sadly though, the menu does feature over-fished hammour. I've preached about the importance of seafood sustainability in a number of posts so pretty please Simsim do replace with one of the many 'green' and far tastier fish prevalent in UAE waters.
Service is a little hit and miss but I put that down to the waiters' lack of good English – sweet and smiley though – which goes a long way in forgiving the odd pitfall. Our lunch fest bill is AED 126 each with tea, coffee and juices – not bad value given we order four dishes.
I am so, so glad Simsim has opened its doors and we now have a beautiful, bright spot in new Dubai for an authentic Palestinian food fix. Get there before I return.
Have you uncovered any Palestinian restaurants in Dubai that I should know of? Or where do you go for Levantine food?
Simsim is located on the ground level of Sadaf 4 at JBR Walk, right next to Movenpick Jumeirah Beach hotel. T; +971 4 4542319. Open from 8.30am to midnight on weekdays and until 1.30am on weekends. Home delivery also available. Price per head AED 126.
Have a delightfully delicious weekend!
A bientôt.
FooDiva. x