The world's most expensive pizza, or just Dubai's?
A tweet pings from @CubicleMeathead asking if I have tried Third Avenue Café at Dubai Mall. Well as coincidence would have it, I am in the midst of a shopping spree there and desperately need some lunchtime grub. I traipse umpteen kilometres with bagfuls of Muji shopping (yes it opened earlier this month!) and ensconce myself in the café. I peruse the menu, tweet convo in full swing…
@forkitoverdubai @foodivaworld wow, that was quick. Food Is nice but wouldn't go again. Watch out for the AED 400+ pizza…

— The Cubicle Meathead (@CubicleMeathead) February 16, 2013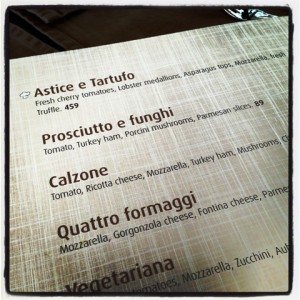 The wood-fired pizza in question –  Astice e Tartufo i.e. lobster and truffle – fresh cherry tomatoes, lobster medallions, asparagus tops, mozzarella, fresh truffle screams the menu – for wait for this, a staggering AED 459! Given Dubai's fascination with breaking world records, could this be the world's most expensive pizza? Well according to Guinness World Records, that accolade goes to Gordon Ramsay's Maze in London at roughly the equivalent of AED 559 with the current exchange rate, but their online menu no longer features pizza of any kind. A Google search brings up many more at much steeper prices. So could it be Dubai's most expensive pizza? Well from my online and offline research it looks highly likely – feel free to correct me though.
So why is it so expensive? Well I returned a few days later, blowing my FooDiva cover, to chat to the very ameniable Italian chef Fabrizio Pellegrini:
Where are the ingredients sourced from? I purchase almost all of my food from Europe importers. My lobsters are wild French (like all my fresh fish), my cherry tomatoes come from Pachino (Sicily – Italy) and my asparagus and truffle from Italy as well. The white from Alba and the black from Norcia [Perugia province].
Is the truffle on the pizza, black or white or both? On our pizza, I use the white one (according to availability), with a hint of truffle oil made by me with fresh white truffle infusion and Taggiasca extra virgin olive oil from my home town.
But still, why is it so expensive given the ingredients I presume are in small quantities? Because of the cost of the ingredients. One whole lobster (700 gr), the truffle, the asparagus, and for getting a fancy look, I lay on top some gold leaf.
How many have you sold since you opened end of last year? Of course it's not our bestseller, but still we are selling an average of five a week [to Gulfites.] But what's interesting in my pizza menu, is that we can offer even traditional pizzas on a good market price, even using only fresh ingredients. No cans in my storage. We prepare artichokes, mushrooms and so on everyday fresh.
The cherry tomatoes could be sourced locally from the farms here quantity and consistency permitting, mozzarella from Italian Dairy Products but it won't be buffalo, and lobster from Omani waters. The other ingredients do have to be imported though. And gold leaf, is that really necessary? Dubai bling I guess. Selling five a week at that price is a damn good sale. As much as I will happily fork out dirhams on good food, I like my pizza plain and simple, Margherita or Neapolitan pretty please. No pizza purist would entertain such toppings. But even with these luxurious toppings, to pay such an extortionate price for a pizza in a shopping mall without a glass or two of vino is quite an ask.
Incase you're wondering Chef Fabrizio fired up the oven for the purpose of my photograph – well if nothing else, Dubai's most expensive pizza makes for a rather pretty picture.
As an aside, the king prawn and pea risotto with beetroot reduction garnished with a sprig of rosemary that I tasted incognito on my first visit was very pleasant – creamy yet slightly al dente carnaroli. But I didn't expect a price tag of AED 149 in a shopping mall. For sure, a glass of vino, or rather a bottle would have helped ease the pain. It's all about managing expectations and only when you flick through the menu whilst ensconced in a banquette, do you realise the shockingly high prices. Perhaps that's why the menu stand adorns the entrance.
Would you entertain this price for pizza, albeit one graced with such decadent ingredients? What's the most expensive dish you've ever eaten and paid for out of your own pocket?
More importantly though, where can you find Dubai's best pizza? Well here are FooDiva's faves – complete with discussion on the origins of pizza. Love to hear yours.
Emporio Armani Caffé – Dubai Mall and Mall of the Emirates
Carluccio's – Dubai Mall and Dubai Marina Mall
A bientôt.
FooDiva. x