A steakhouse in the world's tallest hotel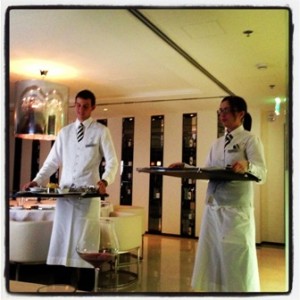 I am slowly but surely working my way through the restaurants at the world's tallest hotel, JW Marriott Marquis Dubai on the Sheikh Zayed. Out of the six currently open, FooDiva's starting with the highest, Prime 68, the steakhouse aptly named after the storey it's perched on with staggering views of Dubai's glittering skyline. If you pick the right table like I did, forget your date, it's Burj Khalifa you'll be staring at.
Not quite 360 degrees like Tomo, but the views took my breath away as the chatty and charming South African hostess guided our mini party of four to that prime table. If you can't nab that spot, then opt for the cosy semi-circular banquettes on the opposite side of this classy and elegantly decorated restaurant. Think Exchange Grill at the Fairmont. A little dimming of the lights wouldn't go amiss though.
My hand-chopped tuna tartare with avocado, soy and ginger made for a light, refreshing appetiser as did the roasted beets, carpaccio-style with goats cheese, a scattering of rocket and fennel and drizzled with sherry vinaigrette. The Wagyu beef meatballs arrived topped with chopped tomatoes, slithers of parmesan and a shred of basil – could have benefited from a little spice but a good choice if you're after a heavier, richer entrée. We're in a steakhouse after all, so you may as well start as you mean to go on.
Beef steak choices range from top end Australian Blackmore Wagyu (for the meatballs too) to the more affordable USDA Prime and Argentinean 'Aberdeen' Angus, where the Scottish breed was long ago exported across the pond – all charcoal grilled in the semi-open plan kitchen. FooDiva opted for the latter – a 10 oz chilli-rubbed sirloin with a simple herb butter. It certainly had a kick, but not as spicy as I would have thought. Cooked perfectly rare as requested, but a little too dry for my liking. The USDA Prime 12 oz fillet and a couple of Argentine Aberdeen Angus 14 oz rib eyes went down a treat, albeit huge portions – helped by two bottles of Tuscan Chianti Banfi at AED450 a pop. We went overboard with our side orders – from the 'healthier' creamed spinach, grilled al dente asparagus with a drizzle of extra virgin olive oil and steamed veggies, to moreish crispy onion curlies with spicy ketchup, comforting buttery mash and potato wedges even though Prime 68 calls them fries –  stunningly presented in utilitarian aluminium pots. If you don't like your beef, there's plenty of other meat and seafood options including a highly appealing veal chop.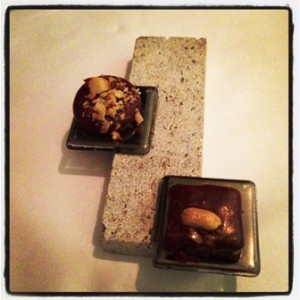 After that momentous feast, our humble and endearing Portuguese waiter who I will for once name as he deserves a special mention, Fabio, suggested we may like to 'relax our stomachs with some dessert'. Bless him. Foodie quote of the year so far for sure. A couple of bread and butter puddings with Bourbon sauce and vanilla ice cream, plus a cheese board later, my tummy could only digest the Chilean Casillero del Diablo Sauvignon Blanc dessert wine (no port on the wine list sadly and rather bizzarely), oh and the peanut butter chocolate petit fours.
Thanks to our dedicated waiter, service was slick and knowledgeable. I hear many of the staff have been seconded from long-standing sister steakhouse JW's at the Marriott in Deira. Well it works for sure. Mind you the restaurant was probably only half full on a Friday evening. At AED 695 per head including vino, Prime 68 has to be one of the more reasonably priced high-end licensed steakhouses in town. One thing's for sure if I am asked to recommend a steakhouse in town, Prime 68 has rocketed to the top of FooDiva's list. I would return in a heartbeat, but only after I've eaten my way through the hotel's other restaurants first. Here's to a four out of five FooDiva knife rating.
As an aside, the sky high bar Vault, just above on the 71st and 72nd floors, commands the same spectacular views, but whilst the cocktails delight, beware the ladies of the night may not.
Prime 68 is located at the JW Marriott Marquis Dubai on the Sheikh Zayed, Business Bay. Open daily for dinner only. T; +971 4 4143000. AED 695 per head including vino and water. Licensed.

Do you have a favourite steakhouse? Have you tried any of JW Marriott Marquis' other restaurants?
A bientôt.
FooDiva. x