Meat your beef
Australian Blackmore Wagyu beef, which from what FooDiva tasted recently at Al Maha is good enough to rival original Wagyu from Kobe in Japan (pre-Fukushima nuclear disaster). Incidentally, Tomo, Chef Takahashi's new Japanese restaurant at Raffles is serving Japanese Wagyu – more on that when I review. Anyhow digressing, good news, UAE restaurants are now dishing up Blackmore's Wagyu.
100 per cent full blood Wagyu ('Wa' means Japanese and 'gyu' cow) cattle are sustainably raised on rich, fertile pastures in Victoria and fed for 500 to 600 days on a Japanese-style 'secret' ration low in grain allowing for natural digestion and eliminating the need for growth hormones, antibiotics and genetically modified food. 98 percent of this beef receives the highest marbling grade of 9+, denoting the high monounsaturated fat that is distributed evenly throughout the muscle with more omega-3 and omega-6 fatty acids than typical beef. Depending what you read, claims out there imply this particular marbling can reduce cholesterol levels, but beware the fat content.
Whether you opt for Chef David's tartare, carpaccio, rib-eye, or all three like we did when charming Ben Blackmore himself was in town for the UAE trade launch at Al Maha, all interpretations are so tender, almost butter-like with an intense sweetness to the flavour. So rich, they don't require much in terms of accompaniments. Impeccably good.
So if you fancy a Blackmore Wagyu fix then here are the restaurants that serve it – Atmosphere at Burj Khalifa, Hunters Room & Grill at Westin Dubai, Nobu and Seafire at Atlantis Dubai, 55th & 5th at St Regis Saadiyat Island, Rodeo Grill at Beach Rotana Abu Dhabi, plus Al Maha Desert Resort & Spa off the Dubai – Al Ain road and Six Senses Zighy Bay in Oman.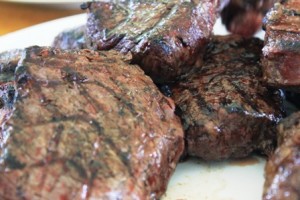 Meanwhile, if you prefer your meat grass-fed, the beef from Black Angus cattle on Spirit View ranch in Canada's Northwest Alberta is available here in restaurants through distributor Prairie Halal Foods. FooDiva savoured it at Baker & Spice who has been serving this particular beef since the opening of its first cafe at Souk Al Bahar nearly four years ago.
The herds are all grass fed (without an inch of hormone or antibiotic supplements) at the forage based operation on perennial pastures with no annual cropping, which maximises the grazing period. They are free to roam immense tracts of prairie land bound by three rivers in a pure air environment far from industrial plants. FooDiva should point out though, the cattle are fed grain (free of maize and corn however) for the final 150-200 days, which due to the very cold climate is required to enhance meat tenderness and flavour. Once slaughtered the meat hangs for two days, and is then aged for a minimum of 21 days. Canada's beef grading system rigorously ensures that only beef under 30 months of age with bright red meat can qualify for Grade A status.
The three dishes FooDiva tasted pictured here – a grilled rib-eye steak, a burger with 80% lean and 20% fat minced beef seasoned only with salt and pepper, and homemade beef sausages (with the help of @landofsand I should add) – were all tender, succulent and bursting with a deep, robust flavour. The burger served in a brioche bun with a generous dollop of horseradish (all homemade) and juicy tomatoes from the local, organic Al Shuweib farm (priced at AED85) will go down as a FooDiva burger fave. The sausage scored highly for @landofsand, "Sublime, just how a sausage should be. As close as it gets without being oink oink. Marvellous."
Aside from Baker & Spice cafés, the Canadian Heritage Angus beef is available at Lafayette Gourmet, The Palace Hotel Old Town, Okku at the H hotel, Movenpick Ibn Battuta Gate, Seafire and Ronda Locatelli at Atlantis The Palm, plus Beach Rotana Abu Dhabi and Banyan Tree Al Wadi.
It would be unfair to compare the Wagyu with the Black Angus – each so different. If you're a carnivore and love intense flavours then you're better off with a beef like the Black Angus and a steak cut like the rib-eye. As Yael Mejia, the brains behind Baker & Spice says, "If you're gonna eat a steak then why eat a fillet which lacks flavour." My dad says the same. Alternatively if you're only looking for a taster, then opt for the richer and more expensive Wagyu – it is the champagne of beef after all.
Most foodies I meet tend to have a preference for a particular beef supplier, a cut, as well as a strong opinion on grass or grain fed. Love to hear yours. For an insight into local chefs' opinions on beef, check out this month's issue of The Pro Chef Middle East (page 24). And if you fancy cooking up your own, here is Chef for hire Andy Campbell's roasted rib of beef recipe.
As an aside, I know many of you have been asking about the return of Baker & Spice's farmers' markets, well Yael has been busy championing the cause so watch this space.
A bientôt.
FooDiva. x