Goodbye Cellar, hello Nomad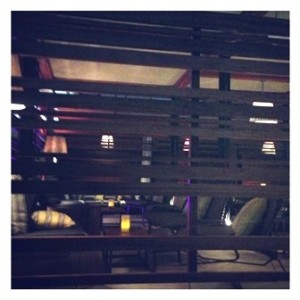 Dubai; Who remembers The Cellar, the Dubai dining institution at the Aviation Club? Well with the opening of the Jumeirah Creekside Hotel in Garhoud this summer, it's long gone now replaced by Nomad, an Asian restaurant experience. Over the last decade, The Cellar's consistently excellent and well-priced international cuisine justly earned it a sterling reputation – so can Nomad live up to its predecessor?
Well for starters, Nomad houses three different Asian experiences – a so-called tapas wine bar, a deli and straightforward à la carte or buffet dining. Meandering through the maze of concepts, FooDiva felt a little disorientated, but in a good way. The interior has been completely overhauled sporting a stunning facelift, yet eerily still rather familiar – the space has also doubled in size with a huge outdoor terrace and wood-framed booth, reminiscent of Hakkasan's. And that's where we plonked ourselves on a Friday evening in sadly, a near-empty restaurant.
The à la carte dinner menu represents a sprinkling of dishes from practically every Asian country and FooDiva presumes the thinking behind the Nomad branding. I spotted dishes from China, Indonesia, Japan, Korea, Singapore, Thailand, Vietnam and even India, plus a selection of grilled meats – but this is no Spectrum on One or Teatro restaurant, dishes are grouped into courses aka starters, soups and so on, not countries.
We opted for a couple of rather unusual 'fusion' sushi starters to share. A black cod rice roll topped with spicy edamame tempura – sweet and flaky, the scattering of tempura crunchy and tart, whilst a dollop of flying fish roe added a salty punch. But the starter highlight went by the name of a seafood pizza sushi…yep you heard right – a circular bed of crispy rice topped with marinated octopus, prawns and scallops drizzled with a spicy sambal (chilli) aioli. So many textures – crispy, juicy, sticky – so moreish, pure soul food. Gosh you were good.
Sadly our mains didn't compare. A sweet and sour black cod dish – thanks to Nobu's influence, black miso Atlantic cod (not a member of the cod family by the way) is readily available in any Japanese restaurant these days, but the sweet and sour combo intrigued FooDiva. The fish was way too overcooked with lashings of salt overpowering the sweet caramelised miso sauce. The accompanying seared foie gras perched on a sticky rice cake ball with steamed bok choy whilst reasonably good, wasn't enough to save this dish especially with a price tag of AED 205. Our second main was rather bizarrely named '?Confused Peking duck?' (question marks included) – when we asked our waiter why, he just grinned. Duck breast cooked rotisserie-style and sliced was again overcooked and chewy – should have been slightly rosy. An accompanying green leaf salad dish consisted of some measly and dry shredded duck leg with even drier foie gras buttered croutons – the only saving grace a softly poached egg oozing on top. Clearly a confused dish. We only picked from these two mains, so our rumbling tummies were calling out for dessert.
The mango spring roll was just as you'd imagine – diced juicy, velvety mango encased in a bursting hot crisp and crunchy filo pastry roll – with a scoop of green tea ice cream. Simple but well executed. Our banana beignets arrived as sugar coated soft doughnut balls oozing with caramelised bananas – hot chocolate sauce and almond puree to mop them up. They could have benefited from a little more frying.
Service whilst smiley lacked menu knowledge and when we mentioned our mains had disappointed, the waiter gracefully apologised but simply said he'd pass the feedback onto the chef. At no point did we see a restaurant manager, let alone have one listen to our woes.
With such an extensive and perhaps confusing menu like Nomad's, the prices do vary quite drastically but overall given a 20% RoundMenu discount, AED 226 per head with a glass of vino each is pretty good value. Sadly though Nomad has some way to travel to compare with its popular predecessor – the restaurant may be beautifully designed (as is the art-filled hotel), but given it had already been open six weeks when teething problems should have been ironed out, the food and service still require some much needed TLC. Here's to a three out of five FooDiva knife rating.
Before I sign off though, the rooftop bar Cuba deserves a shout out for stunning creekside golf views, sexy all-white decor and damn good caipirinhas.
Nomad is located on the ground floor of Jumeirah Creekside Hotel at the Aviation Club complex in Garhoud, Dubai. T; +971 4 2308571. E; jchnomadrestaurant@jumeirah.com Open daily for breakfast, lunch and dinner. Licensed. AED 226 per head with a glass of rose each (includes a 20% RoundMenu discount).
Have you been? If you frequented The Cellar, how do you feel it compares?
A bientôt.
FooDiva. x
P.S – we have an exclusive incentive for FooDiva Friends ONLY. If you register on Lime & Tonic's website via this link you will receive an AED50 credit towards any social experience purchase. For more on Lime & Tonic read my review here. Enjoy socialising!