Can the Taste Initiative champion change in Dubai?
A monolith of a concrete structure stares down the Sheikh Zayed; impossible to miss as you drive towards Mall of the Emirates, Dubai-bound. Well that's The Change Initiative, Dubai's first sustainable store – you wouldn't think so given the size of the building. Deep inside past the quirky shop displays, sits the open-plan café The Taste Initiative serving 'artisan meals with balanced living, environmental footprint and community in mind.'
Well what does that translate to? The menu marries organic with local produce – the latter less carbon footprint – but sadly organic can hardly tick the sustainable box if it's flown in from another continent. Unless it's both organic and local. Michael Pollan in his book Food Rules: An Eater's Manual explains, "Just because a food is labeled organic does not mean it's good for you. Organic soda is still soda – a large quantity of utterly empty calories. We now have a body of research supporting the hypothesis, first advanced by organic pioneers Sir Albert Howard and J.I. Rodale, that soils rich in organic matter produce more nutritious food: that is food with higher levels of antioxidants, flavonoids, vitamins and minerals. Of course, after a few days riding cross-country in a truck, the nutritional quality of any kind of produce will deteriorate, so ideally you want food that is both organic and local."
Thanks to the advancement of UAE farming initiatives, we have a growing choice of local produce here and I will always opt for local first, with organic second. If I can get both given some of the local farms are now certified organic, then even better.
What else makes this café sustainable? I quote from Ishita Unblogged's post, 'The kitchen uses energy saving appliances – induction oven, LEED certified refrigerators, and LED lighting for the whole restaurant. The waste produced from the restaurant is recycled and a dewatering device is used to extract water from food waste – thus reducing the volume of the waste, which is then composted in Bokashi bins. The need for chemicals is eliminated in the entire restaurant by using plant-based Ecover cleaning products – no chemicals!' The Taste Initiative, you score brownie points here for sure.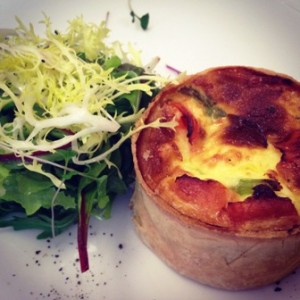 The lunchtime menu features an inspiring selection of sandwiches, quiches and salads. FooDiva's asparagus, salmon and dill quiche arrived as a mini tower of flaky thin pastry. Crispy on the outside, with a feather-light, fluffy quiche mix bursting with al dente asparagus spears and slithers of smoked salmon – served with a crisp, mixed leaf salad. It would have been beneficial to know the origin of the ingredients given the sustainable promise. My only other qualm, the portion sizes were a tad teeny for my appetite. Perhaps part of the sustainable strategy? 😉
My lunch companion, one of Dubai's foremost food bloggers, My Custard Pie opted for the chicken sandwich with gem lettuce and lemon infused mayo – served on a choice of bread – in her case granary. She enjoyed it and the bite FooDiva had was succulent and zesty. Was the chicken free-range though she mused? Local, imported, organic?
Our grapefruit and apple juices were freshly squeezed on the spot even though I would place bets mine wasn't given the thin consistency. Service was prompt – admittedly only a few tables were occupied on a Thursday lunch, but I expect the place gets busier on the weekend. FooDiva would love to see the waiters explain the sustainable concept and the origin of produce when presenting the menus to customers.
The Change Initiative also houses an organic grocery section, as well as beauty, accessories, clothing and household goods – almost qualifying as a department store. On that note, I couldn't help but think and feel the full blast of the air-conditioning – hardly energy-saving? Unless the system used is sustainable? One thing's for sure the menu prices are certainly sustainable at AED 46 per head.
It's always good to see new home-grown concepts take shape here especially one trying to embrace sustainability and champion change in the desert we live in. I would certainly return to both eat and shop, so please do add The Change Initiative to your wish list.
The Taste Initiative is located at The Change Initiative on Sheikh Zayed Road in Barsha (very near the Ibis). T; 800 824. Open Sunday – Wednesday 8am – 9pm and Thursday to Saturday 9am – 10pm. Price per head AED 46.
What's your opinion on food sustainability in the UAE? Would you go local or organic? Why?
A bientôt.
FooDiva. x
P.S – FooDiva has been nominated in the Expats Blog awards – if you love FooDiva, then feel free to share your love by voting here. Merci beaucoup!