Fancy a fine food festival?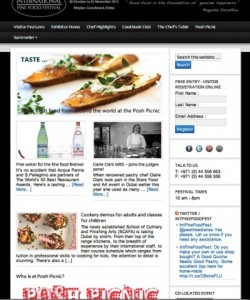 Dubai is about to stage a first with the inaugural International Fine Food Festival (IFFF) at Meydan racecourse this week starting Tuesday. At first glance, I was unsure whether this event was geared towards the consumer or trade, but looks like it's a little of both so either way FooDiva friends right up your street.
Showcasing local and internationally sourced produce from farmers and growers, IFFF will focus primarily on fine foods and beverages that are slow-grown, line caught or matured using sustainable or organic production – and that's certainly another first for Dubai. For instance, the Emirati farming initiative Organiliciouz has grown all its veggies locally for this event! Aside from pottering around the food stalls in the so-called Posh Picnic area, here's what's caught FooDiva's eye:
Golden Toque and Amuse Bouche chefs competition for professional and amateur chefs with a judging panel including renowned pâtissier of French Laundry Michelin fame Claire Clark – the dessert she concocted at Stars, Food and Art was a playful masterpiece.
Cookbook Club with the opportunity to chit chat with food authors like American-Iranian Ariana Bundy. FooDiva can vouch for her cookbook Pomegranates & Roses, a hugely evocative coffee-table read of Persian family recipes. Also present will be Palestinian author, Suzanne Husseini and Emirati, Laila Al Khaja.
Chefs Table with pop-up restaurants from Rhodes Mezzanine and The Farm – the latter firmly rooted on FooDiva's Dubai bucket list.
Sommelier+ with wine, beer and spirit appreciation classes hosted by African & Eastern including a session on organic and bio dynamic wines.
Water and wine pairing workshop from San Pellegrino and Aqua Panna.
The website is a little hard to navigate, but click here for a schedule of events.
The International Fine Food Festival takes place at Meydan Racecourse from Tuesday October 30th to Friday November 2nd 10am to 8pm daily. Click here to pre-register for FREE entry. Additional charges apply for the Chef's Table (AED 250) and the beverage classes (AED 200 per day).
Will you go? Hope to see you there!
A bientôt.
FooDiva. x
P.S – and here's a visual foodie tour of what to see and eat.