A Dubai foodie bucket list
With the weather cooling down and visitor season in the offing, I have of late, been asked for recommendations on what to do in Dubai, so here's FooDiva's bucket list, albeit a food-related one, naturellement.
1. Experience local Emirati culture for a day. Kick start your day with a guided tour of Grand Jumeirah Mosque – then head to the old quarter of Bastakiya by the creek for a leisurely stroll around the wind towers and art galleries. You'll even find a teeny guest house here, XVA, in case you're looking for a bed for the night. Grab a hosted Emirati lunch at the Sheikh Mohammed Centre for Cultural Understanding, and end your afternoon with an abra boat ride along the creek. A fascinating insight into local culture, and a great antidote to Dubai's bling!
2. The Farm is a heavenly eatery in the Al Barari 'wilderness' residential compound, off the Emirates Road. Surrounded by lush greenery, gardens and nurseries, it's a hidden gem of an oasis serving simple dishes with quality ingredients over breakfast, lunch and dinner – choose from the i-pad menus. I have been known to liken it to paradise.
3. Take in Dubai's magical fountains whilst dining at Brit institution Rivington Grill at Souk Al Bahar. With a stunning backdrop of the world's tallest tower Burj Khalifa (and the world's largest shopping mall), the dancing music, Bocelli's Con Te Partiro in particular, never ceases to amaze me and the visitors I religiously drag there.
4. Kick of your sandals and head to Bu'Qtair, a hidden shack overlooking Jumeirah beach that serves the most exquisite fresh fish cooked Keralan style. Pomfret, shari, prawns and more, all fished locally – plus fish curry and parathas. Cheap, cheerful and spotlessly clean. Clearly it's now no longer a secret. Behind Chalet on Jumeirah Beach Road – it's such a hideaway there's no website or telephone.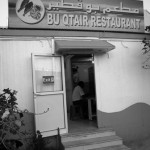 5. Dubai's best restaurant? It's not just FooDiva who thinks so, but La Petite Maison in the DIFC financial district serving French-Nicoise cuisine was voted one of the World's Best Restaurants earlier this year. Dishes are served from the open plan kitchen as and when they are ready, with the idea of sharing. Food, service, location, atmosphere are all top notch – worth every dirham. Get there early and potter round the many modern art galleries.
6. Dune-bashing in the desert followed by sundowners and an Arabic barbeque – alongside a spot of belly dancing, henna painting and perhaps the odd camel ride. Plenty of tour companies to choose from – check Definitely Dubai.
7. Last but not least, Dubai is not all five-star glam dining, but bursting with authentic and ever so affordable ethnic eats hidden in the many corners of this town's older districts. Soon-to-launch Frying Pan Food Adventures takes you on a three to four hour guided tour of the teeny eateries in Deira, Bur Dubai, Karama and Satwa – all under the helm of food blogger talent I Live in a Frying Pan.
Just a quickie before I sign off, if you'd like someone else to organise your social diary, then check out new lifestyle experience company, Lime & Tonic Dubai. And for plenty of non-foodie things to do in Dubai, wander along to fellow blogger Ishita's post.
What other gems would you add to this wish list?
A bientôt.
FooDiva. x
P.S – an abridged version of this post was published in the summer issue of Dutch travel magazine, Columbus.