Tea-total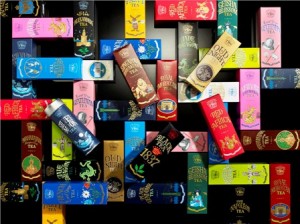 Looks like tea is finally taking off here in Dubai, with the opening of a dedicated tea salon and boutique – Singaporean luxury tea brand, TWG Tea – in Dubai Mall.
Glass walls, bronze fittings, crystal lamps and marble flooring albeit slightly damp from the neighbouring waterfall, alongside rattan-backed black velvet chairs and crisp white tablelinen make for a very Victorian feel.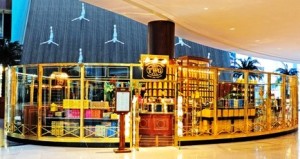 A hardwood mahogany tea counter and brass weighing scales front a wall of mellow yellow artisan tea tins, where you can browse over 450 tea harvests and blends from each of the 26 tea producing countries in the world (loose tea leaves or packaged) – hands-down Dubai's most extensive and expensive tea emporium.
Amongst the hundreds of teas, FooDiva spotted the rather rare Chinese Fujian Yin Zhen silver needle white tea picked from new buds for only a few days each spring (at a staggering AED 250 for 50g), or the more affordable white peony blend Pai Mu Tan with a smooth, sweet and mild flavour (AED 36 for 50g). Another pricey number, the white Earl Grey combines intense bergamot with silver needle (AED 208 for 50g), or else opt for smokey black Lapsang Souchong (AED 31 for 50g). More here for tea brewing tips. Tea is served in rather shallow porcelain cups making it hard to retain the heat – a slightly larger cup wouldn't go amiss. The service assistants were incredibly knowledgeable – given the size of the collection, that's no mean feat.
TWG (The Wellness Group by the way) isn't just a shop though, but fancies itself as an old-fashioned tea room, allbeit a goldfish bowl one, serving up tea-infused pastries, ice-creams, sorbets and macaroons, the latter for AED 9 each – my friend gave the Napoleon tea and caramel flavour a thumbs up. Afternoon tea aside, the lunch and dinner menus feature a number of savoury dishes with tea ingredients – the duck foie gras terrine salad with green tea vinaigrette (AED 65) that FooDiva tried sadly and rather oddly was accompanied by grilled king prawns – too rich a combo. A side order of matchstick potatoes (AED 20), aka pommes frites, and freshly cut in this case, sprinkled with Japanese matcha tea salt were exceptionally moreish.
If you love brewing a good cuppa and don't mind splurging, then TWG Tea is most definitely worthy of your custom, but it's certainly more a boutique than a salon.
Do you have a favourite cuppa?
TWG Tea is located at Dubai Mall on the ground floor opposite the waterfall atrium. Open daily 10am to 10pm and on weekends until midnight. T; +971 4 3253857. E; twgtea@rrpnet.ae
Excuse the mini break, but am off to London this weekend for food blogging conference extraordinaire, Food Blogger Connect. And should you get bored, grab a cuppa and click on Dubai Eye 103.8FM to hear FooDiva discuss Dubai's latest foodie and restaurant happenings.
A bientôt!
FooDiva. x