The new Asian secret at Atlantis Dubai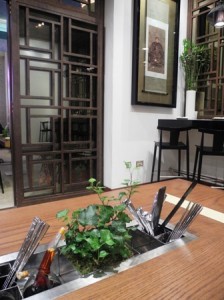 Dubai; It's hard to keep a secret in this town but Atlantis on the Palm has somehow managed to do just that with a new home-grown casual restaurant concept, Asia Republic. Either that or FooDiva's clearly not in the know.
A teeny little joint in the Avenues, a stone's throw from a FooDiva fave TBJ, otherwise known as The Burger Joint. So small it only squeezes in four teeny trestle tables and a mirrored row of bar stool seating with an open plan kitchen and the proverbial hanging roasted ducks – very à la Noodle House but much more intimate. The similarity doesn't end there – tick-your-dish menus showcasing Cantonese, Vietnamese, Singaporean, Thai, Indonesian, Malaysian and Korean cuisine…oh and a no reservations policy.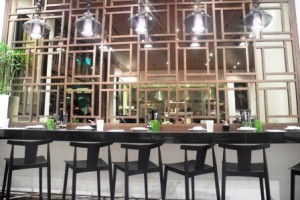 We, that's moi and guest, the brains behind soon-to-launch social experience company Lime & Tonic Dubai, were lucky to bag a bench on Saturday evening…Atlantis was heaving with Gulfites on their extended Eid holiday break.
Starting with a trio of dim sum appetisers (AED 30-35 per dish). The char siew bao arrived in a huge kitchen-like steamer with three fluffy BBQ chicken buns. Piercing the candy floss-like bloomer dough with our chopsticks we unearthed chunks of diced chicken oozing with sweet barbeque sauce – sublime and as good as it's gonna get in Dubai without pork. Meanwhile the siew mai chicken and shrimp steamed rice dumplings were tasty enough sans wow factor though, according to Mr L&T. But the appetiser highlight for us both without a doubt…the crispy duck wontons. FooDiva half expected a spring roll pastry effect but instead deep fried mini pies, sambousek-style, arrived. Scorching hot crisp layers of rich pastry, soft and succulent shredded duck doused in a sweet hoisin sauce – simply moreish.
A brief respite with plenty of Pai mu tan silver white tea to digest…oh and very reasonably priced wine (AED 30-40 per glass) before our mains rocked up (AED 55-65). The black pepper beef whilst juicy and tender (from Atlantis' Australian cattle farm FooDiva presumes) was a little lukewarm and the portion measly – not quite on a par with Mina Al Salam's Zheng He's signature dish – but the accompanying stir-fried kai-lan, Chinese broccoli very similar to broccolini, infused with garlic, was perfectly al dente. The egg fried rice was so healthily light FooDiva could have sworn the kitchen had ditched the frying pan for a steamer. Soft meaty morsels of chicken were swimming away in a delicately flavoured and slightly chilli spiced Thai green curry coconut lime sauce – topped with flakes of crispy light-as-a feather seaweed.
Service was sadly in typical Dubai style a little too attentive not helped by the Chinese waiting staff's rather poor command of the English lingo, and the lack of an on-site manager. Our order of Cantonese roasted fragrant duck only arrived once we queried its absence just to be told another twenty minutes of prep was required. Oh well good job we were bursting. Anyhow, duck is clearly Asia Republic's signature as this dish was well worth the wait. Tearing off crispy and slightly salty skin, we nibbled on tender succulent strips of roasted duck dipped in a light plum and sesame sauce. Impeccable and that's without the help of a pancake.
Tucked away in an unbeknown corner of Atlantis, Asia Republic oozes atmosphere which is hard to come by in such a garish Disney-esque hotel. Whilst the service needs refining, the food overall impressed at an incredibly reasonable price point for a licensed establishment in a high-end hotel – made even more appealing by their annual ENBD summer 25% discount. If you live on the Palm or happen to be in the vicinity, definitely bookmark Asia Republic – otherwise it's a bit of a trek when plenty of similar options abound around town. Rumour has it deliveries to Palm residents will start soon inshallah. Either way, I doubt it will be a secret for much longer. Here's to a four out of five FooDiva knife rating.
Asia Republic is located at Atlantis The Palm Dubai in the Avenues. T; +971 4 4262626. Open daily for lunch and dinner. No reservations policy. Licensed. Price per head including ENBD 25% discount AED 155. Make sure to tell the waiter in advance if you are an ENBD Visa cardholder.

Have you been? How do you rate Atlantis' restaurants – if you're not a Palm resident would you head there for a meal? Love to hear your feedback.
A bientôt.
FooDiva. x