From Taiwan to Thailand…in Dubai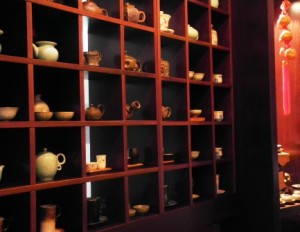 For the first time in Dubai, we have a Taiwanese restaurant, or have had one for a wee while rather. At least FooDiva thinks it's the only one?…in fact I've been meaning to review for far too long. A new Thai has also arrived. So killing two birds with one stone, here's FooDiva's verdict…
Sino Chai is hidden amongst the maze that makes up Dubai Healthcare City (kudos to you if you find it without calling up) and restaurant aside it's also a tea house if you hadn't guessed from the name. Always a good sign when a place is pretty rammed with what looked like Chinese…Taiwanese (?) punters over a Friday lunch. Sliding into our banquette and perusing the massive menu, many a dish was labelled as unavailable – and of course those were the ones we craved. To save us all food envy, perhaps consider a redesign with daily print outs of the menu, or just permanently remove those dishes? Hammour included please – I know I keep on drumming on, but why do restaurants here continue to serve over-fished species when there's so much local choice? Please FooDiva begs you, champion the Choose Wisely campaign.
From the vast choice of dim sum, the spring onion pancakes are an absolute must and incredibly moreish. Imagine layers of paratha interspersed with spring onions and chives – we swore the dough had some grated potato but the waitress proved us wrong. Worth a drive from the other side of town just to scoff these…good hangover cure. The translucent steamed seafood buns were acceptable but lacked punchy flavour…nothing to rave about like dim sum specialists Da Shi Dai or Ping Pong.
On the other hand, our first main, the salted crispy pepper chicken, whilst a dry dish had so much crunch and pepper spice oomph, you could nibble on it all day long. The prawns doused in a garlic-infused sweet and spicy sauce was a tad too sickly syrupy, but in retrospect not a good dish to order for its similarities to sweet and sour. The kankong – a type of water spinach sometimes referred to on Far-Eastern menus as morning glory – was stir fried al dente with garlic. Slightly bitter and peppery as it always is, but a worthy choice of greens. The so-called superfood of 'germinated' brown rice, straight from Taiwan is basically sprouted brown rice grains cultivated with water. Filling comfort fodder – also available to purchase.
The tea menu is one Sino Chai should be proud of – after much oohing and aghing we settled for an osmanthus oolong tea which I took quite a liking to in Shanghai washing down many a fiery Schezuan meal. Golden osmanthus blossoms blended with Taiwanese oolong for a sweet and silky aromatic infusion – unlimited refills too.
Service was a little lacklustre with the waiting staff not feigning much interest and a tad slow – just the opposite to Dubai's over-attentive service syndrome. But all in all, FooDiva would most definitely return – the Taiwanese-cum-Chinese menu is large enough to appeal to many palates and the price point (AED 120 each) whilst not cheap as Karama chips, is reasonable.
Sino Chai is located at Dubai Healthcare City, Building No. 27, Block B, IBN Sina Building. Paid parking outside. T; +971 4 4355650. E; smgc@eim.ae Open daily except Monday for lunch and dinner including Ramadan. Price per head AED 120. Unlicensed.
Meanwhile, Shang Thai on the Sheikh Zayed may be a Dubai newbie but it has two restaurants in the teeny enclave of Muscat. I guess FooDiva half-expected a reincarnation of the wonderful Lemongrass opposite Lamcy Plaza and my all-time favourite unlicensed Thai in this town – but we walked into what can only be described as an over-the-top yet clinical parlour-cum-dining room, more befitting of a kitsch Arabian palace. So grand yet zero atmosphere – where's that delicate subdued Thai influence to draw us in? Only a few punters on a Friday evening.
Oh well onto the food with another biggie of a menu and the usual Thai suspects. The 'signature' starter selection arrived pronto…deep-fried fish cake with sweet cucumber dipping sauce – a tad rubbery but to be honest I always struggle with this one at any Thai restaurant. Prawns on toast with sweet chilli sauce — a generous dose of crispy fried marinated minced prawns on chunky toast sprinkled with sesame seeds – fresh soul food. The grilled chicken satay – tender, slipping off the skewer straight into the wholesome peanut and cucumber sauce. Surprisingly, prawns aside, the green papaya salad with juicy julienne strips, crunchy beansprouts and roasted peanuts tossed in a sweet chilli combo was a highlight. All of this plus non-descript veggie spring rolls for a bargain AED 38.
Our Pla Yang main comprised a grilled white fillet of fish infused with lemongrass but sadly overcooked – and served wrapped in banana leaves. Would have been better off baked to retain more flavour. FooDiva was hoping for a Thai baked seabass repeat a la The Ivy – but even my own version is more appealing. On the other hand, the Thai green chicken curry was a nourishing, spicy coconut heaven – with plenty of meaty morsels – whilst the sticky rice soaked up the sauce perfectly. Unlimited jasmine tea was beautifully presented but a little too watered down for my liking.
Service was extremely prompt and courteous, but whilst very well priced, Shang Thai's food and atmosphere are no match to Lemongrass. But do pop in if you're in the vicinity – otherwise order delivery.
Shang Thai is located on the Sheikh Zayed (opposite side to the Pepsi factory), Matloob Building, Safa roundabout, Dubai. Free parking on the slip road. T; +971 4 3808848. Open daily for lunch (excluding Ramadan) and dinner. Price per head AED 80. Unlicensed.
Interestingly given the recent uproar about doggy bags, both restaurants allowed us to take food home without signing a disclaimer. More on that discussion here.
Have you tried either joint? Where do you head to for your Chinese and Thai food fix?
A bientôt.
FooDiva. x