Roberto's at DIFC – a joint review
Dubai; When the operations director of a highly successful, long-standing, Italian restaurant in Dubai jumps ship taking his A-list team, chef included, to open their own venture, naturally expectations are sky high. So how does Roberto's, the home-grown Italian restaurant concept at DIFC fare and can it mimic Bice's success?
Well today's review is not just FooDiva's but expect a double whammy with fellow food blogger Fork It Over Dubai who's currently in belle Paris on a Cordon Bleu patisserie course. Enjoy our conversation over a mid-week dinner…
FooDiva: Wow! It's buzzing in here, packed…like La Petite Maison. A good mix of customers. Love it. Mind you, not too keen on our table sandwiched between other diners….those corner banquettes are so much more prized [sigh]. Guess that puts play to in your face photography ce soir – dodgy i-phone here we come!
Complimentary Aperol in hand [Disclosure: FooDiva was recognised on arrival], a new Italian aperitif for us both – similar but not as bitter as Campari with the acid orange cocktail chosen to match Roberto's colour scheme we're told – we perused the menu…
FooDiva: Menu's huge. I must admit I couldn't resist and skimmed through it online earlier.
Fork It Over Dubai: True it is huge. Though I'm a girl who likes her options, when it comes to menus, I prefer them tight and concise.
After much 'what are you thinking' banter, neighbouring food envy and our helpful waiter's recommendations, we placed our order, and our starters rocked up pretty pronto.
FooDiva: That was quick! No it's OK [to waiter] we can serve ourselves.
Fork It Over Dubai: I would expect nothing less when they know FooDiva is in the house!
FooDiva: Looks strikingly similar to Bice's crab cake, but a smaller portion I think. Mmmm…crab's definitely fresh and sweet, but the breadcrumb coating is a tad overcooked. I could nibble on the tempura though dipped in the mayo all night long.
Fork It Over Dubai: It may have been a tad over cooked, but I am enjoying the contrasting textures between the crispy crust and the soft crab meat within. I would although ask for a more generous serving of sauce to last me throughout the whole crab cake.
FooDiva: Beautifully seared and plump. Brioche freshly toasted. So light. Love, love, love.
Fork It Over Dubai: Mmm like butter in my mouth and enjoying my ever so perfume-y Negroni recommended by my personal alcohol advisor.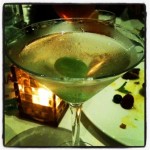 FooDiva: Loving my dirty martini and the fresh plump green olive. Shrimp is sweet, juicy and tender. I know we shared a portion but why just one each? Could have done with more asparagus spears too especially as they're still in season in Europe. Perfectly al dente risotto though.
Fork It Over Dubai: The best part of this dish for me is the different textures between the soft risotto and the almost crunchy shrimp. So I need more shrimp – stat!
Branzino – salt-crusted sea bass (serves two) with grilled vegetables and filleted at our table. We also ordered three sides – green asparagus in lemon oil, sautéed garlic broccoli and crispy golden potato wedges.
FooDiva: Gosh it comes with vegetables [menu did in fact stipulate in a teeny font]. Naughty – they should have told us not to order sides. Sea bass is so flakily fresh. The roasted vegetables [courgettes, fennel, tomatoes] are full of flavour. Love the crunchy broccoli. Asparagus a little bland in contrast with the roasted veggies. But oh no, the wedges are way too under cooked and certainly not 'crispy and golden.'
Explaining our complaint to the waiter who muttered something about this particular brand of Aussie potato? Doesn't ring true with me…but lo and behold, the Italian chef ushers out a new serving of potatoes which were indeed well cooked, crispy and golden.
Fork It Over Dubai: Sides dishes to me, are like perfect accessories that bring a whole outfit together. Judging from these sides, my outfit would be on the 'what not to wear' section of a fashion magazine. But FooDiva I agree with you, the sea bass is so far the star of my meal. Juicy, white, ever so tender fish with roasted vegetables similar to beautiful jewels as sides. Now that's an outfit I'd like to wear!
FooDiva: Struggling to pick a dessert here, nothing really shouts out to me. How about the curry marshmallow? You're the dessert queen though!
Fork It Over Dubai: Alright, since you picked something contemporary, lets go for something traditional  – tiramisu it is.
FooDiva: The unusual combo of flavours intrigues me but they don't work and it looks a mess. It's impossible to even describe. Out of place for an Italian restaurant whose menu stays true to Italian influences – would have worked better in a high-end Indian. I wish I'd chosen the cheese platter instead – some gorgeous Italian gorgonzola and a chunk of parmesan wouldn't go amiss!
Fork It Over Dubai: Honestly the first thing that strikes me about the dessert before we even tasted it, was how fussy it was. The different colours, shapes and garnishes seems to contrast everything that is simple and Italian. The curry flavour was out of left field considering that everything up to this point was strictly Italian – not a fan. The presentation of the tiramisu is spot on and in one word – simple, but I do wish that the coffee flavours were slightly more intensified.
FooDiva: Service whilst hugely welcoming is a little too attentive, but then again they've figured out we're reviewing. Almost too prompt, a little more time between courses wouldn't go amiss. Looks like other tables are getting the right attention though.
Fork It Over Dubai: How much is too much is tricky. But at the end of the day I would rather have an over attentive man, I mean waiter, than one who doesn't have the time of day for me.
As two Cinderellas walk out near midnight…
FooDiva: Still buzzing in here – amazing. And by the looks of it mostly two seatings. It's just a shame the lounge area [before you enter the main restaurant and bar] is dead.
But we're told that will open up with the terrace (overlooking Burj Khalifa) come winter time.
Fork It Over Dubai: Can't wait for that.
So what's our verdict folks? Well the lovely team at Roberto's handed us a comment card, so we thought we'd share our feedback with you here…
A little refining of the dishes, desserts in particular, will go a long way in making Roberto's the destination to dine in at DIFC, and a strong competitor to La Petite Maison, whose cuisine may be French but is heavily Italian influenced. The team could be on its way to moulding its very own personal success story. Roberto's is a home-grown brand after all and deserves our support. Here's to a four out of five FooDiva knife rating. Book your table pronto.
Click here for Fork It Over Dubai's review.
Roberto's is located at the Dubai International Financial Centre, Gate Village, Building 1. T; +971 4 3860066. E; reservations@robertos.ae Open daily for lunch and dinner. Licensed. Price per head with a couple of cocktails each AED 500.
Have you dined at Roberto's? What's your favourite DIFC haunt?
A bientôt.
FooDiva & Fork it over Dubai. x