Is Dubai ready for Michelin?
Is Dubai ready for Michelin? This question has been top of FooDiva's mind lately especially since Dubai hosted its largest gathering of chefs from Michelin-starred restaurants ever last month, with chefs representing restaurants totalling 12 Michelin stars. Furthermore, for the first time ever, the Dubai outposts of two international restaurant brands, Zuma and La Petite Maison have made the cut for another well respected restaurant rating system, the World's Best Restaurants at 83 and 96 respectively. And if that wasn't enough Zagat, a consumer survey-based guide now owned by the Google giant will launch its first Dubai book later this year (as an aside you can now vote here!)
Dubai's dining scene is clearly burgeoning (after all that's why I launched FooDiva), thanks to the influx of new restaurants, a primarily expat population and an eating out culture. But these openings tend to be imported brands – not home-grown concepts where true gourmet innovation and local cuisine can shine.
Licensing laws are changing and it's now not just restaurants in hotels that serve alcohol, but the likes of DIFC and Souk Al Bahar are encouraging more restaurateurs to open shop here – so perhaps we will see a shift away from hoteliers bringing in recognised brands to more locally developed concepts.
But let's just clarify exactly what we're talking about here. Michelin published its first 'Red Guide' for restaurants and hotel establishments in France in 1900, with the first stars awarded in 1926. There are now 27 Red Guides spanning three continents and 23 countries from France, UK and Italy to Japan, Hong Kong and the US – 45,000 + establishments that a slew of Michelin hired 'inspectors' review incognito. To date, no Middle East.
Here's how the Michelin guide defines its star ratings:
One star indicates a very good restaurant in its category, offering cuisine prepared to a consistently high standard. A good place to stop on your journey.
Two stars denote excellent cuisine, skilfully and carefully crafted dishes, with specialties and wines of first-class quality. Worth a detour.
Three stars reward exceptional cuisine where diners eat extremely well, often superbly. Distinctive dishes are precisely executed, using superlative ingredients. The wine list features generally outstanding vintages and the surroundings and service are part of this unique experience, which is priced accordingly. Worth a special journey.
Just to confuse matters, after each investigative process, Michelin also designates the restaurants they feel deliver the most value to consumers – via the 'Bib Gourmand' accolade – "an ideal resource for consumers looking for the perfect meal at a reasonable price."
Important to note that three Michelin stars is not just about food and wine excellence, but service, interior and atmosphere – all crucial to the dining experience. And hence why the stars are awarded to the restaurant not the chef. From FooDiva's experience, UAE restaurants invest in the highest calibre of chefs and cooks, knowledgeable sommeliers and no-expense spared decor, but sadly service is an ongoing challenge here with not much menu knowledge, inconsistency and constant upselling – not helped by lack of sufficient training. There are only a handful of restaurants here that get this right. Like with chefs, why are the hoteliers not investing in more experienced maitre d's and waiters here? The restaurateurs appear to do so.
It's a pretty well known fact that Tokyo has more Michelin star restaurants (three Michelin included) than the home of the guide, Paris – and that's of eateries enticing with mostly Japanese cuisine, not just French. So does Dubai need to develop restaurant concepts that really embrace Arabic cuisine and use local ingredients for Michelin to start taking a peek, whether that's for potential star ratings or Bib Gourmand? Yes I do think so, but am sure Michelin already has its beady eyes on Dubai. Anyhow that can't be a bad thing if it helps mark brand Dubai on the global gastronomy map.
Or should we let Dubai's food scene develop naturally without the added constraints and pressure of Michelin – perhaps this begs the question is Michelin ready for Dubai? Another strong argument, but enough from FooDiva, let's see what a hot pot of chefs, F&B industry professionals and food editors have to say when FooDiva asked if Dubai and to an extent Abu Dhabi are ready for Michelin.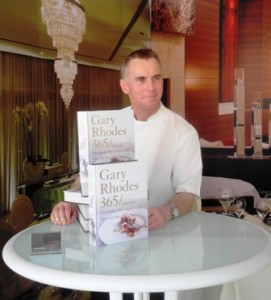 Gary Rhodes [three Michelin-starred restaurants in the UK. In partnership with Starwood, he has two restaurants in Dubai (Rhodes Mezzanine and Rhodes Twenty10), plus his third Rhodes 44, opening at St Regis Abu Dhabi later this year.] I believe that Michelin without any shadow of a doubt will have to come to the UAE. We are in a central point of the world, and we have chefs from all over the world that are, or are opening restaurants. Pierre Gagnaire, The Ivy – there's endless great, great chefs from around the world that are joining us. And I think Abu Dhabi, will become as big, if not bigger long term. And that's just two cities alone, there's so many more in the UAE. I think it's so important that they [Michelin] come and recognise the quality of the food. Long term and it will take many, many years, but who's to say that in 20 years that Dubai doesn't become the culinary capital of the world? There's too many great chefs now that deserve to be recognised, there's no question about it, there's great food here. Even chefs I have never heard of have served some great food to me.
Yannick Alleno [three Michelin stars for his restaurant Le Meurice in Paris. He consults for Stay at the One & Only The Palm Dubai.] The arrival of the Michelin guide is linked to a lot of different conditions and factors and it is not my role to decide to give Michelin star. I do not have the pretention to know who deserves it or not but for sure, Dubai is now offering so many different types of food and is really a crossroad of cultures between Europe, Asia and the Middle East. I have had wonderful gastronomic experiences there that really show the globalisation of the city and the interest of the people for French or foreign cuisine. Many chefs have settled down in Dubai and creativity is rising more and more every day. Local products are high quality and it could easily become in some years a gastronomic capital.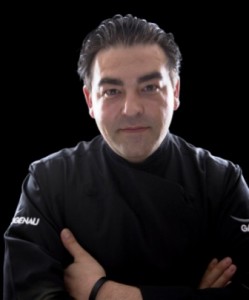 Juan Amador [three Michelin stars for his restaurant Amador in Germany – lends his name to Amador at the Park Rotana Abu Dhabi.] I am sure that Abu Dhabi and Dubai are ready for Michelin. Both emirates are among the most favoured holiday destinations in the world and they are famous for excellent hotels and first-class gastronomy. Many hotels offer six or seven high class restaurants and a few second restaurants by European awarded chefs have opened in the last few years. Michelin gives tourists security by choosing a first rate restaurant in foreign countries and the restaurant guide is no longer publishing only editions for Europe. The publishing company decided to bring out printed editions for selected destinations in the whole world, like USA, China and Japan. So I would appreciate if there is a printed edition by Michelin for Abu Dhabi and Dubai as well.
Giorgio Locatelli [two restaurants in London each with one Michelin star. Chef consultant for Ronda Locatelli at Atlantis The Palm Dubai Jumeirah, and about to sign a new restaurant, Locanda in Dubai.] No – because even though there is fantastic food here like Yannick's Stay at One & Only Palm and Zuma at DIFC, people are only just starting to understand food. This place is growing, but it's all about ingredients. Instead of spending all this money on buildings, [Dubai should] build some green tunnels first – that will be the next step. Otherwise it's always a risk that it will become very Americanised, with steak and chips.
Vineet Bhatia [one Michelin star for his London restaurant Rasoi. Consults for Indego at Grosvenor House Dubai.] Yes definitely – it would be a fantastic accolade for Dubai to be rated in the guide. There are some superb restaurants and chefs working at the highest quality in the UAE and so they should certainly be celebrated.
Thomas Buhner [three Michelin stars for his restaurant La Vie in Germany and No 72 in the World's Best Restaurants. In Dubai recently cooking for Sofitel's Stars, Food & Art event.] I am really not sure. First question to ask is who are the diners that buy Michelin? Dubai is very special because you have guests from all over the world – Japanese, American, German, Italian, Spanish, Arab and they all perhaps want to find their own cuisine so if you are a chef you have to cook for all of these guests – so I think the chefs in Dubai have to find their own style first. Look at the Japanese kitchens, they have their own style and at the same time French chefs have Michelin restaurants there – and hence why there are more Michelin star restaurants in Tokyo rather than Paris.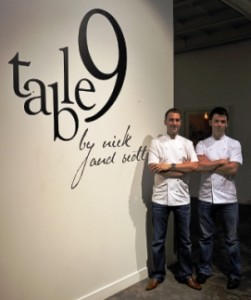 Scott Price [Executive Chef of Hilton Dubai Creek in charge of his and Nick Alvis' home-grown restaurant concept Table 9 that replaced Gordon Ramsay's Verre in November 2011.] No. I think that one thing in a restaurant is originality. You go somewhere like London and there are chefs popping up everywhere whether it's in a little church or down a backstreet doing their own thing. That on its own is something Dubai does not have. A lot of the things that come here are imported. That's part of the reason we wanted to stay and carry on. What we're doing is a bit new and fresh, and we really hope that people see that. It's not our marketing angle at all – it's the opportunity we had and we believe we can do something exciting here. And a bit different. With regards to Michelin that's not why we do our job. It would be nice if Michelin would come over but it's not a nice pressure to work under. We've both worked in one, two, three-star restaurants and the pressure is immense to maintain that standard. But it should be your own standard at the end of the day. One of the nice things over here is we don't have to worry about things like that. We can just be creative and enjoy it and we don't have to stress if Michelin's in every night. It is a nice feeling. A Michelin star is obviously a great accolade for any chef but that's not why we do our job. Otherwise we wouldn't be staying here. What we want to have is a busy restaurant with happy customers. That's the first and foremost. That's it and what we are concerned about. Anything else is a bonus.
James Brennan [Food Writer, Academy chair of the Middle East region for the San Pellegrino World's Best Restaurants Awards and Editor of the new Zagat Dubai.] Wherever there's a high concentration of top-end restaurants and a vibrant dining-out culture, Michelin should be interested in having a guide. But people shouldn't expect a slew of three star establishments to appear just yet. Remember, Copenhagen's Noma – recently voted the world's best restaurant for a third time – only has two Michelin stars. And there you have a restaurant that's streets ahead of most in the UAE. However, as well as being arbiters of excellence and good taste, the Michelin guides are a commercial venture, and would be foolish to ignore such an energetic and rapidly growing restaurant scene as exists in the UAE for too long. It's a scene that's getting over its infatuation with overseas celebrity chefs; it's developing some fine 'home-grown' concepts, and it's beginning to mature. The Zagat guide is already coming to Dubai, so it's only a matter of time before Michelin gets in on the act.
Dave Reeder [Editor of The Pro Chef Middle East.] Michelin stars are given for more than the food. Although the precise details of the judging criteria are still kept undisclosed, such qualities as ambience, ratio of service staff to customers, impeccable service and so on are also a key part of the star system. And, as we all know to our cost, in general terms, where fine dining fails in this country is in service. Food? Amazing! Decor? Incredible! Service? Er, well, maybe not so hot. Until owners and restaurateurs are as willing to invest as much in developing a real professional service culture as they are in the rest of the operation, this will always be the Achilles' heel of the local fine dining scene. If I think back to the early days of Reflets par Pierre Gagnaire (clearly a two-star food experience on a good day), what made it special was the consummate professionalism of restaurant manager Etienne Haro and his front of house team. That's the difference between great food and a sublime, Michelin standard experience – the total evening. And anyone who thinks that just because Chef X has his name above the door, guarantees it the Michelin touch, then you need to eat out rather more often in real Michelin starred establishments. Considered on food alone and thinking that most places I'm thinking of would only be granted single stars, who can name more than a dozen potential candidates for serious Michelin attention? Yeah, pretty thin guide, isn't it?
David O'Brien [Partner of newly launched UAE-based restaurant consultancy, Ghaf Holdings.] I think it's more a question of if Michelin is ready for Dubai. If you look at France and the UK, there has been a massive shift away from Michelin with leading Michelin starred chefs giving back their stars to allow them to cook what they consider to be more honest and in some cases more commercially successful food, without losing customers or compromising on flavour and quality. Chris and Jeff Galvin of Galvin Bistro De Luxe on London's Baker Street had both held Michelin stars in their own right for many years but wanted to cook delicious food simply and sell it at an affordable price point. Within a few weeks [of opening] the restaurant was full and getting rave reviews about the quality of food, wine and service all delivered at a great price. The overriding question every critic was asking was is Michelin a thing of the past? Caprice Holdings is a shining example of this philosophy – their strap line is they cook food that people want to eat, not food that chefs want to cook. The reason for this shift is that the whole food chain 'farm to fork' is so much more on our radar and eating out is no longer reserved for a special occasion, but more a choice that fits our pocket or mood. It is as much about what we are cooking as how we cook it – the need for fancy sauces or foams no longer appeal in the way they used to. If you look at what is happening locally with initiatives like the farmers markets or the simple honesty of restaurants like Rivington Grill through to the top end of the price scale with the likes of La Petite Maison, says to me Dubai has come a long way in the past five to ten years and really is a foodie city with a bright future. Dubai does seem to be a city where hotel restaurants are the norm – not the case in almost every other city in the world. We are moving away from this as the market matures and more and more people start to call Dubai home. Now that the restaurateur has found Dubai and the hotelier is no longer the only one with a food offering, I do think the landscape will change ten-fold in the next five years. With all of the respect I have for Michelin, I do wonder if there is a place for them in Dubai for so many reasons.
Clearly the jury's out. Michelin, can you help dish out a verdict? What's your view FooDiva Friends – is Dubai ready for Michelin? Or is Michelin ready for Dubai?
A bientôt.
FooDiva. x