Six Senses Zighy Bay – sensationally sustainable
What would you say if FooDiva told you all of a particular hotel's produce for its four restaurants is either organic or local, or sometimes both? You probably wouldn't believe me, but that's exactly what I discovered on a weekend jaunt to the sensational Six Senses Zighy Bay resort in Oman – just a couple of hours drive or so from Dubai.
The resort has its own organic garden supplying in a good harvest up to 18% of its vegetables, herbs and fruit – in some cases the tomato crops have been so abundant, the kitchen's not known what to do with the excess. Expect lots of home-made tomato sauce when you visit! Furthermore, the resort is fringed by 1,000 date palms, plus another 130 fig trees.
Fish where possible is purchased from Dibba fish market, but often has to be supplemented with UAE or international imports. The rest of the resort's organic produce is flown in from Australia (grass-fed beef and lamb), Saudi Arabia, France and the UK (free-range poultry), Egypt, Lebanon, India, Kenya and Thailand.
The fine dining restaurant is actually a five minute drive from the resort in a chauffeur-driven 4WD, perched on a cliff top 293 metres above sea level – quite aptly named Sense on the Edge. The resort's lights flicker in the dark down below, as you take your seat 'on the edge'. Don't expect a la carte here, but a choice of three seven-course menus – Arabic influence, Asian or vegetarian – priced between OMR 40 and 55 (roughly multiply by ten for dirhams). Now FooDiva's never been a huge fan of degustation menus as I detest being told what to eat – but the team were well aware of our dietary requirements (having completed preference forms on reservation) and suggested we mix and match from all three menus.
I must admit the dishes astounded us with the quality, seasonal produce, quirky marriage of ingredients and fabulous flavours. My favourite – an Omani quail encased in a kunafa pastry with figs and date molasses picked from the resort's trees and served on a bed of cumin coated chick pea. A close second was a sea bream from the local Khasab waters, and peach couscous with braised raisins, tomato and onions drizzled with tahina lentil sauce. I simply love the creative use of local ingredients. It's a shame the restaurant's not open for lunch so you can really appreciate the breathtaking views, but clearly guests much prefer chilling at the resort during the day.
Back at sea level, Zighy Bay as the 'hosts' call it (that's Six Senses terminology for staff), has a couple of other restaurants to whet one's appetite. Spice Market for authentic Arabic dinners, and Summer House for al fresco all-day dining. Order eggs benedict for breakfast and poached eggs aside, it comes served with parma ham, a chunk of wholegrain toast and Hollandaise sauce – sublime.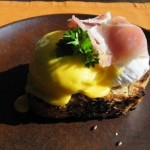 FooDiva squeezed in an Arabic cooking class courtesy of Chef Ali, the resort's Chef de Cuisine since the opening five years ago, whose dishes had wowed us at Sense on the Edge.
Set in the organic garden, you couldn't ask for a more atmospheric location. So we began with saj-wrapped falafel and fattoush salad, followed by 'samkeh harra', a local and very sustainable Shaari Eshkeli fish fillet baked in the oven and served with a spicy tomato and pepper sauce mixed into the rice, and sprinkled with pine nuts – culminating in a traditional Um Ali. Chef Ali is ever so patient demonstrating step by step, whilst FooDiva dabbled at cooking and grilled him with questions.
Six Senses Zighy Bay is a hidden gem well worth a weekend escape, or longer if you can afford it (rates further below) – but don't expect Arabian luxury. The resort's design is very much influenced by the simple and traditional Omani bedouin architecture, but with your creature comforts more than taken care of. The service culture is based on Six Senses 'slow life' philosophy where nothing is rushed reinforced by its very own time zone, but whilst we love the idea, in principle, service would benefit from being a little swifter and slicker. Either that, or the city diva in me has been very spoilt, which I certainly was at Zighy Bay :).
Six Senses Zighy Bay is a hidden coastline hideaway on the Musandam Peninsula in the midst of the Hajar mountains on the Omani side of Dibba. T: +968 26735555 E: reservations-zighy@sixsenses.com
Room rates start at US$720 for a pool villa sleeping two including breakfast. The cooking class which includes a Six Senses cookbook and take-home recipes is US$102 per person plus tax. In March, the resort will host a visiting nutritionist and wellness practitioner, Trudy Collins, offering complimentary introductory consultations.
UAE residents and EU passport holders do not require visas, but you are required to show your passport at the border, and in some cases Omani car insurance.
Click here for other UAE weekend escapes.
Have you been lucky enough to visit Six Senses Zighy Bay? Do you have a favourite resort whose food is worth the drive? Any other resorts or restaurants in this region that can stake claim to all organic or local produce?
A bientôt!
FooDiva. x
P.S – FooDiva was a guest of Six Senses Zighy Bay – rest assured this review is my opinion alone.