FooDiva turns one, plus a birthday gift!
Dubai; I can't quite believe it's FooDiva's first birthday today – one divaliciously full year since the official announcement. What started out as an amateur foodie blog whilst travelling in Japan and China has grown into my life and my passion. I truly love my job…every minute of the day…and night. Yes it's all-consuming, food included 🙂 and the last year has had its roller coaster moments, but I wouldn't change it for the world. Life's too short, we need to follow our dreams.
Dining out aside, what's made this year-long journey a foodie pleasure is the UAE community of 90 plus food bloggers, otherwise known as Fooderati Arabia. Yes there's that many of us here – most blog for pleasure, and some for work – but what ties us together is we all LOVE food. I owe my integration into this foodie family to kind-hearted Sally from My Custard Pie and bubbly Arva from I Live In A Frying Pan.
FooDiva scored second place in the annual Best Blog in Dubai awards – voted for by you – my followers, fans and friends. Merci beaucoup :). First up was a brilliant beauty blog, so I guess food can't compete with that!
On the back of FooDiva's brand awareness, I was approached by the new Gourmet magazine to write a monthly expert column, which has led to regular feature commissions on my all-time favourite subject. Here's a snippet of my contribution to the February issue now out on the supermarket shelves.
I must admit I love being on the other side of the fence, from PR chick to blogger-cum-journo – especially when you get flown to Vienna on a press trip to experience a 14 Michelin star gala dinner at Sofitel Vienna Stephandsom's Le Loft restaurant. Just out in the current Ahlan! is my VIP travel feature to Vienna.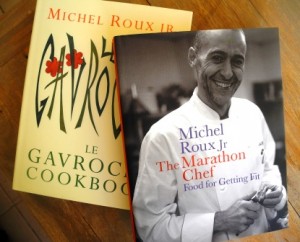 No birthday would be complete without a little gift would it? FooDiva has in her hands signed copies of two cookbooks by Michel Roux Junior – two-Michelin star Gavroche in London, and for those that love running or simply eating well but healthy, The Marathon Chef.
FooDiva Friends in Dubai, if you would love a copy, all you need to do is tell us your favourite French restaurant anywhere in the world (it doesn't have to be Le Gavroche!), or a particular French dish you love – and why. Leave your answer as a comment on this post. You can increase your chances of winning by also Liking and commenting on my Facebook page, and retweeting my tweet mentioning @foodivaworld.
The giveaway competition closes in a couple of weeks on Wednesday 22nd February when the clock strikes midnight, and we'll pick two winners  randomly on Thursday 23rd February. Remember to leave your email so we can notify you – you'll have 24 hours to claim your prize otherwise we'll just have to select another winner.
As we move into year two, are there any particular food features you'd like to read about? How often would you like FooDiva to post reviews – once, twice or three times a week? Or any other feedback you have, would be much appreciated. A HUGE heartfelt thank you for following FooDiva.
Merci beaucoup, bonne chance et a bientôt!
FooDiva. x