Gaucho Dubai – an Argentine restaurant or steakhouse?
Dubai; Having interviewed the man behind Gaucho Dubai and attended an impressive media opening, FooDiva was most excited to finally review the all-Argentine meat and wine list. So how does the brand's second Middle East location (at DIFC) fare?
Well firstly our reservation was easy peasy thanks to the Open Table online booking system on the Gaucho website. More restaurants here should really sign up to this effortlessly efficient process. Taxi drops us right at the entrance just further up from Zuma's, where a hostess (pretty of course) escorts us to the glass elevator. The decor screams cow hide, from the walls to the seating, and that's 160 of them – combined with black and white leather furniture, mirror panels and crystal chandeliers – it's monochrome bling. A glass staircase and another beautiful hostess take us down to the multi-level dining area, with eight-metre-high floor to ceiling glass walls.
Service was impeccable right from the start – the staff, manager included, were very attentive to our 'please can you turn-down the A/C' request. Great to also spot Ryan Hattingh, the international operations director, roaming up and down the restaurant all evening – luckily he didn't recognise FooDiva until the end.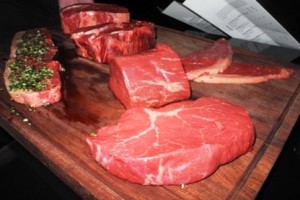 The slinky and slim concertina style menus are elegant yet quirky. In an age where restaurants have gone back to basics with menu design, it's lovely to see a creative yet simple take on the menu. Whilst we're digesting the menu, our waitress brings over the butchers block to explain the different beef on offer. More on that later. The sommelier also descends to entice us with a new Argentine Pinot Noir. We tasted and didn't like, opting for a Malbec from the Mendoza region (Santa Faustine) at AED 385. It's worth noting that champagne aside which has to be French, all of the 200+ wines – white, red, rose, sparkling and dessert – are all Argentine.
Anyhow more importantly onto the food and specifically the starters our trio shared. Gaucho prides itself on ceviche, otherwise known as Argentine sashimi – or some would say Peruvian. The salmon ceviche is cured in citrus juice and served with diced avocado and palm hearts in a roasted pepper dressing. I guess it's a sexy take on a prawn cocktail – succulent, moreish and bursting with flavour. The chorizo sausage is beef not pork. Gaucho does not, and by its own choice will not have a pork licence, but by its own definition the sausage is leaner and simply served with a giant roasted red pepper drizzled with balsamic vinegar and olive oil. A must-try. Empanadas, to the Anglophiles known as pasties, are another Argentine tradition. The beef empanada failed to wow us, unlike the cheese, oozing with hot mozzarella and parmesan. We could easily have wolfed down one each.
And now time for the mains. Gaucho may not like to call itself a steakhouse, preferring 'Argentine cuisine' – but frankly given the butcher block presentaion and 15 steaks on the menu, that's its core business. All of its beef comes from 100% grass-fed free-range Argentine Angus cows. So kudos to Gaucho for not serving grain-fed breeds. Cut to order, grilled and turned only once to seal the juices and enhance the flavour. FooDiva's 300g sirloin (the churrasco de chorizo) – a spiral cut marinated in garlic, parsley and olive oil – tender yet full of flavour helped by a strip of juicy crackling. Heavenly. On the other hand, my father's 300g rump (the bife de cuadril) – the leanest cut of meat – should have a very distinctive flavour which was completely lacking and disappointingly rather bland, whilst also a tad tough. The manager expressed her concern when we raised this at the end of the evening. FooDiva hopes it's a one-off, but probably best to order another cut next time. We selected three side dishes – chips – medium cut, crispy on the outside and soft on the inside. The mashed potato was creamy as it should be, but the steamed broccoli with a sprinkling of almonds was way too al dente and a little cold. Our selected sauces of mustard and bearnaise respectively were perfect concoctions. The third main, a risotto of shiitake, button mushrooms and parmesan scored highly. So even if you don't like your red meat, there's plenty of seafood, chicken and veggie dishes to entice.
Service continued its immaculate start with our three waiters all attentive without being obtrusive, and very knowledgeable. Two out of three have been shipped in from Gaucho Beirut and Leeds. You could argue why the need for three waiters, but the service was seamless so FooDiva won't knock it. When we arrived for our 8.30pm Friday booking the restaurant was near empty, but thankfully filled up quickly creating that much-needed buzz.
Having settled the affordable bill of AED 385 per head, we strolled out, and lo and behold walked straight into Ryan who invited us for a night cap at the upstairs bar-cum-lounge. At least we got through dinner unrecognisable. Over cocktails and desserts – the ricotta and lemon 'cheese' cake deserves a mention, as does the Banoffee ice cream that accompanied the signature Argentine dulche de leche tart – hospitable Ryan was keen to hear our impressions and was most distressed to hear about the offending rump. As we said our goodbyes, he was off to the kitchen to try for himself.
In the meantime Gaucho Dubai, here's to a three out of five FooDiva knife rating. You score well on service, atmosphere, and price, but had it not been for the disappointing rump, you'd be up for a four. Like you said, you're definitely an Argentine restaurant. I'm just not sure you're a steakhouse.
Have you tried Gaucho's rump? What's your favourite cut and origin of beef?
Gaucho is located at Dubai International Financial Centre (DIFC), Podium Level, Gate Village 5. Reservations through Open Table on the Gaucho website or via email dubai@gauchorestaurants.com Open daily for lunch and dinner. Licensed. Price per head AED 385 including a bottle of wine, water and 10% DIFC tax.

A bientôt.
FooDiva. x