The mighty return of the original Farmers' Market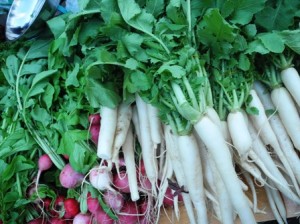 Dubai; Not only is FooDiva loving the sublime, balmy weather these days, but so does local produce which thrives in the current harvesting season. Hence the original Farmers' Market in Dubai that championed a trend in all things local fruit and veg is now back for its third season at the Souk Al Bahar terrace every Friday.
FooDiva counted eight farms flocking their fare; crops included cucumbers, capsicums, zucchini, radishes (red and white), aubergines, lettuce, rocket, plus herbs such as mint, coriander and dill. It's still a tad too early in the season for fruit, but sweet melon, and pomegranate abounded. Yael Mejia from the organisers Baker & Spice sources organic produce where possible, predominantly locally grown from the renowned Mazaraa (Abu Dhabi Organic Farm), as well as Bufjar, a Dubai farm in Khawaneej, and Al Shuwib Abu Dhabi-way – but you can also find regional crops from Saudi Arabia, Syria, Lebanon, Jordan and Egypt. A dozen cucumbers (deliciously sweet), half so of zucchini and a bunch of rocket came to a measly AED13; so incredibly cheap!
Added bonus, the new organic store Down To Earth just recently open near the Union flag, is selling its wares; FooDiva can testify to the nourishing organic brown rice (am addicted!), kidney beans, chick peas and chilli spice. Makes a wonderful chilli con carne. All produce is organic and sourced from India. Italian Dairy Products whose locally made, divine burrata I recently blogged about is also on hand to entice with all things mozzarella and ricotta. You will even savour it in Baker & Spice's salads and desserts. Talking of which, you really can't leave the market without brunching at Baker & Spice; the traditional Libyan dish, shakshouka (click here for FooDiva's review) continues to be a breakfast must, as is the French-inspired eggs en cocotte – basically eggs baked in a pot mixed with butternut squash, leeks, fresh thyme and cream. Marvelously moreish. All served with thick chunks of toast.
New Dubai residents, you'll be pleased to hear Baker & Spice is set to open its third cafe at Marina Promenade sometime in January. If this Farmers' Market continues to thrive which with your support will, perhaps we'll see one cropping up that side of town too? FooDiva certainly hopes so!
Whilst FooDiva's all for organic groceries, locally sourced fruit and veg which is more likely to be fresh, is a bigger priority in our battle to reduce our carbon footprint. And when I say local, I mean U.A.E, even though the wider Middle East region and Asian subcontinent may not be that far away. If produce is both local and organic, we're onto a winner.
What are your thoughts? Do you prioritise local over organic, or vice versa? Why?
The Farmers Market is located on the Souk Al Bahar terrace next to Baker & Spice. Every Friday from 9am to 3pm (due to U.A.E National Day, the December 2nd market has been cancelled and will resume on December 9th). T; +971 4 425 2240.
Enjoy the long National Day weekend!
A bientôt.
FooDiva. x