Crab joint 'Aprons & Hammers' – a hammering or not?
Dubai; I always had fond memories of the Mina Seyahi dhow at DIMC (Dubai International Marine Club) with its freshly caught seafood on display, fishmarket-style and a wonderful selection of sushi and sashimi, but sometime earlier this year Le Meridien ceased operating this little hidden gem at the end of the pier. It now floats by the name of Aprons & Hammers – a so-called upscale crab joint.
Over the phone, the manager was curt and indifferent to my query whether a dry night would be declared due to a recent public holiday; he simply didn't seem that bothered with my reservation. Anyhow the day before, I received a call confirming my reservation and that in fact booze would be served…so our little group rocks up only to find the indifference continuing, whilst we waited for a waiter to escort us to our table. I realise you may be busy, but why no welcome? So glad I'd reserved al fresco; the smelly, sweaty odour inside would have had us keeling over the dhow in no time. With the speakers blaring right above our table, it took four requests for the music to be lowered.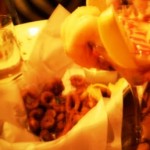 Anyhow, moving swiftly onto the menu. I'd heard mixed reviews of Aprons & Hammers, but the concept really appealed to the FooDiva in me. And do you know of any other dedicated crab joint in Dubai? After much discussion, but with not much guidance from the clueless waiters (don't blame them – it's lack of good management and training), here's what we settled upon.
Classic crispy calamari (two portions). Clearly deep fried from frozen in oil that had been reused. Tough and stringy, it's only saving grace was the rather moreish tartare sauce.
Fresh shrimp cocktail. This dish was the highlight of our evening. Juicy, plump prawns (not shrimp) steamed, chilled and served with traditional cocktail sauce.
Crab cakes. Same over-fried and oily taste to the calamari. At this point, we complained and the manager proceeded to bring us another identical dish, which he even had the audacity to add to the bill!
Crab bucket. Now this is Aprons & Hammers speciality, but we had to practically beg for aprons and were initially offered kiddie sizes. Whilst we're flattered you think we're teeny, why oh why? The hammers were placed on our table with zero explanation on how to use them. Once we'd begged the manager for a demo, which he eventually conceded to, the steamed crab's pulp was soft and succulent. But one word of advice, don't drown it in your choice of sauce; mine was lemon and butter. Simply use as a dip. For future reference, only order crab if you have plenty of patience to fuss over food. Use the hammer to smash off the head of the crab, and then the pliers to twist the legs. The little fork helps to dig inside and extract the crab meat.
Mussels bucket. One kilo of steamed mussels with a garlic, lemon and chilli olive oil dip. Quite a few of the mussel shells were firmly closed; certainly not freshly caught. The accompanying french fries were yet once more cooked from frozen.
Goan style crab curry. You'd expect the crabs to have already been cleaned when drowned in a spicy masala sauce; clearly hammering away like the manager initially suggested would have resulted in a spray of curry…on FooDiva's white dress I should add. Shame as this dish has huge potential to mimic a Bu Qtair favourite (the hidden gem that makes up the Keralan fish shack by the beach).
Grilled fillet of the day. Simple piece of sea bream that was a little overcooked. The accompanying potato wedges were of similar fare to the fries unfortunately.
Once we'd asked the waiter to remove the second crab dish off the bill, we couldn't wait to skip dessert and disembark. Despite us pin pointing these issues to the waiters and manager throughout our dinner, at no point was a simple apology extended – in fact indifference prevailed throughout. What a stressful evening. Whilst the setting is simply stunning and the price point reasonable, both the food and service were extremely disappointing to the point of almost emulating a laughable Fawlty Towers experience. Aprons & Hammers, it's such a shame as your concept is, for want of a much over-used word, truly unique to Dubai. It's time to go back to operational basics; sort out your front of house management, training and kitchen, otherwise Meridien please take over and bring back your original concept. Here's to a FooDiva hammering – a one out of five knife rating.
I do hope FooDiva Friends you've had a more positive experience – would love your feedback. Any other unusual seafood joints to recommend?
Aprons & Hammers is located on a dhow moored at DIMC (Dubai International Marine Club) – next to Le Meridien Mina Seyahi. Licensed. AED 275 per person including wine. T; +971 4 4547097 E; restaurant@apronsandhammers.com
A bientôt.
FooDiva. x
P.S – just a reminder FooDiva Friends, voting for Best Blog in Dubai closes today. If you love FooDiva and have not already voted, would love your vote pretty please! Click here.