Who's the winner of this week's Ramadan competition? Plus a product review and grand giveaway – brought to you by Braun
Dubai; So who takes home a Braun Multiquick cordless hand processor this week? The winner of the second round of our Braun Ramadan competition is Ayisha Kanwal who will be whizzing up good old fashioned mayonnaise. You most certainly need a strong processor to perfect this much loved condiment. Mabrouk! But FooDiva Friends don't despair; read on, we have another giveaway up for grabs.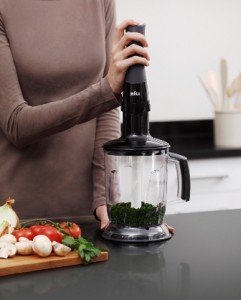 So how does FooDiva rate the Braun Multiquick? Firstly, I love the fact it's cordless; simply grab it from the charging panel, insert it in a beaker full of ingredients, switch it on, and it whizzes away. Very ergonomic to hold too.
You can puree smoothies, soups, milkshakes, dips. Furthermore, by attaching the large chopper (pictured here) which has a one litre capacity, you can prepare sauces and batter, as well as chop up herbs, onions, hard cheese, chillies and nuts, crush ice and mince meat. Surely that's enough? But Braun itself advises avoiding hard ingredients like nutmeg, coffee beans and grains. The processor is so damn powerful, you just gotta watch how much you pulse it – a couple of times is usually more than enough.
As for washing, all can be thrown into the dishwasher except the chopper gear box attachment. I love gadgets that are simple to use, and that ease the prepping time, and the Braun Multiquick ticks both boxes.
Click here for a Chef Osama Ramadan recipe for red lentil soup, using the Braun Multiquick of course.
And now for our third and final grand prize. Braun is offering one super lucky FooDiva Friend in the U.A.E, a hamper valued at AED 1,000 and brimming with…wait for this:
One Braun Multiquick cordless hand processor [7 MR 700]
One Braun kettle
One Arabian lantern
Eight Chef Osama fridge magnet recipes
To enter, simply tell FooDiva your Eid foodie or holiday plans, along with your email by commenting on this post. You can increase your chances of winning by also Liking and commenting on my Facebook page, and retweeting my tweet mentioning @foodivaworld. Remember I need your email. We'll pick one winner randomly this coming Thursday August 18th.
The Ramadan campaign is kindly brought to you by Braun.
Hathan Mowafaq! (Good luck)
A bientôt!
FooDiva. x