The Ivy Dubai; what's FooDiva's verdict?
Dubai; Is the jury still out on The Ivy Dubai? FooDiva finds out if Dubai's latest restaurant opening lives up to all the hype; a kind of restaurant hype this town's never experienced before.
Walking in at 12.15 on a Saturday, the restaurant sits eerily empty; a far cry from the pre-opening tastings a couple of weeks earlier. But it is early for a Dubai lunch, all be it a weekend one. Ensconced in our corner banquette for two (gosh I do love the intimacy of those tables, even for a girlie lunch), first thing I notice is the modern art; some stunning canvases. But is the piece hanging by the entrance Damien Hirst? No, not yet we were explained, but it's en route apparently. You can read all about the décor, and plenty more in my last post here.
Now the menu's a biggie FooDiva thinks, big in terms of choice as well as the A3 menu card, but…with teeny typeface. If you've not had your eyes lasered, you're gonna struggle in dim lighting – thank goodness it was lunchtime, and the crystal chandeliers were fully lit.
The carpaccio of venison with a citrus and rosemary dressing, plus the odd chive or two is delectably silky. Venison has a very strong, intense, almost nutty flavour that is offset by the cooling herbs. My friend's iced plum tomato soup forms the perfect gazpacho, with a flotation of baby mozzarella balls, cherry tomatoes and fresh basil leaves.
FooDiva's a sucker for a good shepherd's pie anywhere, even though I make my own, so I'd already decided on this main well before I set foot in The Ivy. Just as we were about to tuck in, our charming waiter rushed over, "there's mushrooms in it" he uttered. Agh, bless him he'd remembered from Rivington and Verre beforehand. Now FooDiva's allergic incase you'd gathered, but I never thought to ask. Infact, upon checking my Ivy cookbook on my return, the recipe is mushroom-less. I guess an adaptation for a mushroom-loving market. So as he was about to remove the dish, my friend suggested we swop.
At least my disappointment was counteracted by an Ivy signature dish. I've tasted the Thai baked sea bass a number of times, it's high up on my list of Ivy faves; unwrap the banana leaf to uncover tender, flaky sea bass oozing with the aroma of lemongrass, ginger and coriander. Served with a sweet and syrupy tamari dipping sauce and basmati rice.
Now the Ivy's shepherd's pie is made from both ground beef and lamb; strictly speaking should only contain lamb, whilst another Brit invention, cottage pie uses beef. Shame I couldn't try it; my friend relished every minced and mashed morsel.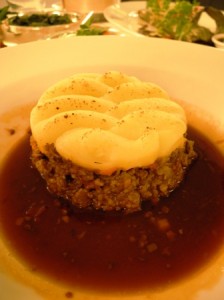 FooDiva wanted as many veggie side dishes as possible, so sautéed green beans, carrots, peas & shoots, buttered spinach and parmesan-fried courgettes it was. Now the latter is worth a post in itself; sliced crosswise and deep fried in batter and parmesan. We swopped the accompanying spicy salsa dip with the sea-bass' tamari. Divine! Serving dishes are all silver, as is the cutlery; mind you whilst cute to admire, the dishes are a tad too small and fiddly for serving.
The choice for desserts is so overwhelmingly good, all of 16, covering cheese, ice-creams and puds. We settled on sharing a cheeseboard until we decided on the sweet stuff. Three good chunks of English cheese straight from Covent Garden's Neal's Yard Dairy; a Wensleydale (cow), Ticklemore (goat) and a blue cow's milk – served with artisan crackers, and a cumin infused chutney. True to form, they arrived on a wooden cutting board – perfect presentation. The cheeses will change dependent on supply, but you're pretty much guaranteed English; refreshing for this French dominated cheese market.
Stuffed to the brim, FooDiva insisted on ordering the chocolate pudding with mint chocolate chip ice cream. Now we had to wait tooo long for this dessert to arrive – when I reminded our waiter, he checked and acknowledged the order had mistakenly not been processed and apologised. Now I'll let them off because it's very early days. Luckily our bubbles and conversation, oh yes and our fresh leaf teas, kept us going until the pud rocked up near to ten minutes later. Well it does have to be baked to order. It's a traditional chocolate fondant soufflé that stands on its own, well until you dig deep into molten heaven; absolutely no need for the choc chip mint ice cream. Worth the wait.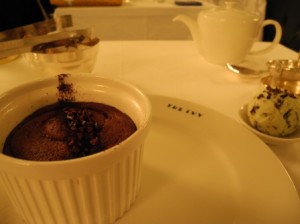 The wine list does not widely impress; infact its sister Rivington's choice is far more extensive. So much so, that my friend pre-ordered her fave bubble tipple, Billecart-Salmon rose (and now FooDiva's fave too) from the Riv. And they obliged, now that's service. They did confirm the wine list was 'being worked on'. That's what happens when restaurants are tied to a hotel chain's strict procurement guidelines. And the rationale for the differing champagne glasses is simply our own individual personal tastes; Ivy serves bubbles in the original coupe glass, but my friend prefers the more modern flute.
Apart from the glitch with the delayed dessert, service was exceptional to the point that when questioned our waiter knew every single ingredient on our dishes; clearly the month after month of training has paid off. Senior management were also floating around; good to see them checking the operation. And by the way, the restaurant filled up in no time, with not just a Western Brit-centric clientele, but local Emiratis and Asian expats. Proof perhaps that The Ivy will succeed amongst Dubai's multi-cultural community. Well it does marry comfort food, with European and Asian influences outstandingly well, or quite simply as mentioned to FooDiva in an earlier interview, 'empire food at its best'.
So is the jury still out? The Ivy Dubai will never become the celebrity haven like its London counterpart, but then again we are in Dubai after all, so let's be realistic. With Hakkasan moving into Emirates Towers towards the end of this year, plus the revamped Rib Room and Agency already spruced up, I reckon we have a new destination on tap. If FooDiva's experience and all the social media banter is anything to go by, then the verdict's been dished out. The Ivy Dubai, you've delivered on the hype – well done. Here's to a four out of five FooDiva knife rating. Improve your wine list, iron out the odd service niggle, and you're up for a five – oh and get those bangers & mash on the menu pronto.
The Ivy Dubai at Jumeirah Emirates Towers Boulevard. Open daily for lunch and dinner. AED 660 for two people (three courses) including water and taxes. Great value, just watch the booze prices. T; +971 4 3198767  E; theivy.reservations@jumeirah.com
A bientôt.
FooDiva. x