A taste of Turkey at Lalezar, Jumeirah Zabeel Saray
Dubai; Having holidayed in Istanbul a couple of years ago, or I should say Constantinople (thanks to FooDiva's Greek-Cypriot heritage), I've developed a fondness for Turkish cuisine. So with Lalezar, Dubai's first licensed Turkish restaurant now open at Jumeirah Zabeel Saray on the Palm, surely it warranted a FooDiva review?
Whilst the decor is clearly Anatolian, I was struck by the ornate firewood furnace at the entrance – clearly not lit, but considering our hot clime, may be best converted into a kiln for baking bread instead? Lalezar would have benefited from dimming the bright lighting allowing the intricate tile-work to work its magic, and just to add a tad of atmosphere. Given our relatively early for Dubai standards 7.30pm booking, the very welcoming hostess asked if we'd like to choose our table – nice touch. Now if you're in a large group of half a dozen plus, make sure you book one of the banquette areas with plush brocade seating. Our small trio settled for a table by the rather bizarrely placed mini fountain.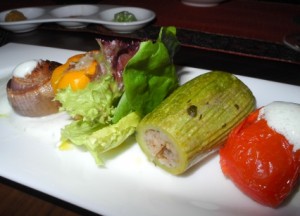 Lalezar's signature dishes appealed, and since that's a good way of judging a restaurant's menu, I started with a selection of dolma; basically various vegetables (onion, yellow pepper, zucchini and tomato) stuffed with rice and drizzled with strained yoghurt. Most Arab and Eastern Med countries have a version of this dish. Now the dish arrived cold, which seemed odd. When I questioned our very attentive waiter, he explained that the dish is left to cool before serving. Not my cup of tea, or perhaps FooDiva's just lusting after the Greek-Cypriot version of 'dolmades', served straight out of the oven.
My friend's Kalamar Tava – fried baby squid – yes you guessed à la deep fried calamari, was crispy on the outside, and soft and succulent inside. Served with tartare sauce and a refreshing lemony bulgur and rocket salad. My other friend's Garurdagi Salatasi – a heap of salad with very finely diced tomatoes, cucumber and spring onions in a spicy pomegranate dressing was plentiful and crunchily fresh.
Despite my earlier disappointment, I had high hopes for my signature main of Iskender Kebap. The slices of lamb and beef doner kebab were chewy with an almost bitter after-taste, and the tomato gravy only served to drench the meat as you can see here. Not only did it sit on a bed of crispy pita, but also sauté potatoes; the latter an odd companion. Frankly you can get a much better doner kebab from the Turkish fast-food joints scattered across this city.
My friends' Tavuk Sis chicken skewers were tough, whilst the Adana Kebap, a minced lamb kebab identical to kofta was juicy and tasty, but frankly no different to the Lebanese or Iranian versions.
The only dessert that really called out to us was a Cikolatali Kek; clearly not Turkish, but a hot chocolate fondant that was a little under-baked served with a milk-flavoured ice cream.
Ironically the highlight of our evening was a Turkish wine by the name of Kayra Vintage 2008 with a so-called Bogazkere grape. Full bodied and fruity with a hint of fig – this wine priced at AED 390 was truly divine. A special thank you to our waiter for his recommendation. I am now embarking on a search to uncover this wine here, otherwise you'll find FooDiva on the next flight to Istanbul. A slither or two of Turkish cheese would have finished it off quite nicely; none on the menu though.
Whilst service was fault-less throughout, it took forever to get the bill; AED 360 per head including wine and a cocktail. That may be good value for a licensed establishment, but both food and atmosphere truly disappoint; the service and wine alone would not transport FooDiva back to Lalezar. Especially when Amala, the excellent North Indian next door awaits (read my earlier review here). I guess FooDiva will have to return to Istanbul for a true taste of Turkey. Here's to a two out of five FooDiva knife rating.
Lalezar at Jumeirah Zabeel Saray on the Palm. Open daily excluding Tuesdays for both lunch and dinner. T; +971 4 453 0444.
A bientôt.
FooDiva. x