Not just one burger, but three
Dubai; There's something hugely comforting about tucking into a good, juicy beef burger…well along with cup cakes it's FooDiva's other weakness. Plus a whole lot more am sure. So with Dubai in the midst of a burger craze…fast, slow, gourmet, mini…you'd be hard pushed not to find it on every menu. Here's FooDiva's top three burgers, in no particular order.
1. The famed New York burger joint Shake Shack has just opened its first international outpost in Dubai, at Mall of the Emirates, thanks to a franchise agreement with Al Shaya. Now until I visited the Big Apple, I'd never heard of Shake Shack, so don't feel ignorant if you haven't – but if you've been following me on Twitter and Facebook you should know by now am a huge fan. In New York, I queued for over an hour in freezing Thanksgiving weekend weather at Madison Square Garden – but oh my was it worth it. So I was curious to see if Dubai's burger would match my American experience, thank goodness the weather is warmer.
I ordered the double cheeseburger. The beauty of Shake Shack is it may be fast, but in fact it's healthy; 100% US Black Angus beef with a no hormone or antibiotic claim. Meat cooked medium. Note, Dubai municipality laws do not permit dedicated burger joints to serve beef rare. In FooDiva's case, the meat was cooked more well done than medium but still perfectly juicy. The chef who's flown out to support the opening explained that rare aside, the burger can be cooked to order. What's great about this burger, is you can tuck into it with one huge bite (OK maybe two or three), helped by the baby soft fresh bun. Double layer of American cheese seals the deal. The crinkle cut fries are worth a mention; made from real potato, and free of artificial trans-fats, the cheesy option comes topped with melted cheddar and American cheese sauce. If my memory serves me correctly, it's identical to New York, just sans the glass of vino…and the queues. So if you don't mind eating your burger in a mall rather than a park, all be it with sight of the world's largest indoor ski-slope, then Shake Shack Dubai does the trick. FooDiva will most certainly be back.
Double cheeseburger AED 32, and cheese fries AED 18. Damn good value. Shake Shack is located on the first floor next to the West Food Court with plenty of seating. Tel: +971 4 3475513.
2. I love the irony of going to a French restaurant, Margaux in this case, and ordering a gourmet burger, so with a new American chef at the helm why not? This time beef's a very flavoursome Australian Wagyu, and Prime Angus tenderloin topped with roasted marinated capsicums, lettuce, rocket and wait for it…gruyere cheese. And here you can have your beef cooked as you like – rare included – well it is a French restaurant after all. Now it's not only Shake Shack that makes buns to die for, but Margaux serves up a brioche bap skewered with a gherkin, so incredibly buttery and again as huge as this burger is, incredibly easy to pick up and bite into. Hand cut potato crisps on the side.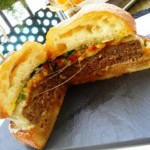 Personally I thought the capsicums with its smoky marinade overpowered the burger, but you could simply ask the kitchen to omit. Mentioning this to the chef, he had contemplated a foie gras topping – now that's right up FooDiva's path. But naturally the price would increase.
And for AED 85, not bad for a gourmet burger. Margaux is located at Souk Al Bahar overlooking the magical fountains. Here's a FooDiva review of its lounge concept. It's licenced so you know where to go if you want that glass of vino. T: +971 4 439 7555 or E: reservations@margaux.ae
3. FooDiva has a fetish for mini burgers; my heart starts racing (probably from burger over-indulgence) and I find myself always ordering them if I spot them on a menu. Caramel's (that's the sexy DIFC joint) are my favourite.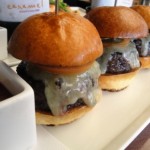 And
it's not just one mini burger but a trio of so-called petite Kobe sliders. This particular cut of beef comes from Wagyu cattle in Kobe, Japan; and in support of all things Japanese right now, makes for the most tender beef you will ever get your hands on, especially when it's cooked beautifully blue as I like it. Served with melted aged cheddar cheese, sliced tomato and slithers of balsamic red onion, in 'mini' brioche baps, I easily scoffed all three without so much as a break. So much for portion control. The cone of French fries; crispy on the outside and soft on the inside, smothered with garlic and a sprinkling of parmesan were extremely moorish.
Another AED 85 treat. French fries AED 45. Caramel is located at DIFC. Naturally licenced. T: 800 CARAMEL.
Now you'll have to ooh and agh when deciding on your next burger venue. If I were you, try all three – preferably not on the same day, as FooDiva's been known to do.
A bientôt.
FooDiva. x