At.mosphere – does it meet FooDiva's sky high expectations?
Dubai; When a PR-girl turned journalist hears of biggest, longest, widest (admittedly a daily occurence in Dubai-land) or in this case highest, eyes light up, especially for FooDiva when it involves a new restaurant opening. Yes it's At.mosphere, bizarre punctuation I know, the world's highest restaurant which opened at Burj Khalifa earlier this year, 122 scary storeys up. Now FooDiva admits to being a tad late in reviewing, but that's only because At.mosphere has been so booked up, you need to reserve well ahead. I also don't like pulling strings – my reviews are meant to be anonymous, and am not that great in planning a month ahead, which is what you pretty much need to do, to secure a table in this establishment. Anyhow I did plan ahead for once, settling for April 4th. However, FooDiva's anonymity went out of the very high window, when I discovered that At.mosphere had to apply for permission from Emaar so I could photograph, not just the interior but my dinner. Yes, quite unbelievable, but infact a very painless process thanks to their highly efficient PR team.
So with my licence to photograph in hand, dinner date and FooDiva rocked up last night. From the moment you step out of the taxi, there's a sense of arriving somewhere quite special with so many team members on hand to escort you. Naturally ears pop all the way to the 123rd floor (yes this is not a typo, read on), and we exit to be met by a very grandiose circular staircase that leads you down one storey to the lounge bar and restaurant. We'd purposely arrived early to have pre-dinner bubbles in the bar, and were escorted immediately to a table à deux by the window – clearly reserved in advance. As you've guessed by now, they knew FooDiva was coming. At 8.20ish the room was buzzing. Staggering views aside, after all that's why you come here no? – my first impression echoed by my date was a flash back to cruise ship interiors with all that lacquer wood and leather seats. Certainly not my cup of tea, I expected a more minimalist design approach in keeping with the jaw-dropping exterior. My date, bless the gentleman that he is, scuttered off to ensure we would be given a dinner table by the window, as they were unable to confirm on reservation. No sooner had we sipped some perfectly chilled Bolly, actually Bellini for me and snapped plenty of photos, and our waiter advised a window table had become available earlier than expected for our 9.30pm reservation. Would we care to dine earlier? We jumped at the chance and were escorted to the restaurant right next door.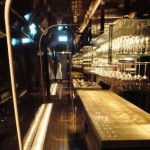 We couldn't have asked for a more perfect table. Decor a little more intimate than the bar, but still no wow factor – apart from the views. Quite a multi-cultural dinner crowd, with a skew towards Russians. Service was a little slow, the bread took a while to arrive, but when it did the warm, freshly baked artichoke infused loaf was worth the wait. We ordered our wine, surprisingly, a well priced wine list – no sommelier on hand to offer suggestions though. Questioning our waiter on the dishes, it was apparent he did not really know his menu and had to keep on returning to the kitchen for feedback – a sign of lack of training.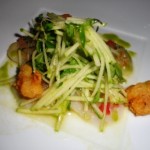 There were so many great starters to choose from, we really did struggle, but settled upon a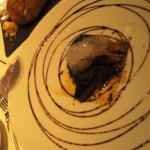 carpaccio of diver scallops topped with rock shrimp tempura and coriander cress. The scallops just melted away (in my mouth that is) as did the salad – the right antidote for the crunchy shrimp tempura. I loved this starter so much, as my date did – we could have easily scoffed another one. The chocolate dusted foie gras, called out 'order me' from the menu and so we obliged – accompanied with orange scented pears and cookie crumbs with amaretto foam. As you bite into the just warm foie gras, there's a teeny taste of chocolate and amaretto – just enough, without overpowering the main deal.
At.mosphere labels itself a grill restaurant and the menu is hugely in tune, so we both opted for steaks. My 200gm, Rangers Valley tenderloin fillet was cooked perfectly rare as requested – call me morbid, but I do love the blood oozing out. Beautifully tender-licious especially with the accompanying  béarnaise sauce. Now a fellow Canadian foodie had asked me to try the 350gm, Heritage Prime Canadian Rib Eye, so my date did (with a forkful or two for FooDiva) – now rib eye is meant to be the tastier and fattier of the two cuts – but this one was quite tough and lacked flavour despite also being cooked blue.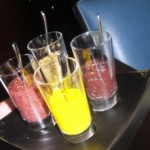 He'd asked for a choice of mustards when ordering, which we had to remind the waiter to bring – four turned up simply presented as you can see. Our puree of King Edward potato, was a sublime mash, and the green asparagus side, perfectly al dente. I had asked them to omit the tarragon butter, preferring to dip into béarnaise.
With some wine still left, we asked the waiter what cheeses made up the artisan cheese platter – unfortunately he didn't know and returned to the kitchen for advice. Bless him, he came back with the four spelt out on his note pad; comte, galette du Beaujolais, a tomme and a bleu. A good French selection which we mopped up with slithers of toasted brown bread. Even though am not a huge dessert diva, I admit a weakness for warm puds, so the Grand Marnier soufflé with blood orange sorbet had to be tried. Immaculately presented with a discreet happy birthday chocolate slab. Yes if you've read so far, FooDiva was celebrating. I love breaking into a soufflé just to ruin the puffiness, whilst I quickly wolf down the creamy interior; so swift was I, that I didn't leave much for my date to taste. Even though we refrained from tea and coffee, a petit fours serving of teeny traditional French madeleines sprinkled with icing sugar went down a treat – gosh they were divine. And a box of four chocolates to take away. By the time I'd returned home, I had received a text and an email thanking me for our custom – nice touch.
So does At.mosphere meet FooDiva's sky high expectations? Canadian beef aside, the quality of the food stands out, however at the price we paid, you'd expect a little more wow factor from the main courses. Service was lacking as you can tell – the manageress did pop over a couple of times over the course of the evening to check on us, but perhaps more because she knew I was reviewing. As for atmosphere, the views are certainly worth a trip to the top but you can't really see a huge amount at night – it lacked that buzz and chatter that some other restaurants in town attract. I'd say lunch or afternoon tea would be a better option. So ironically At.mosphere, I urge you to work on your service, and reduce your pricing to attract repeat clientele that will help create the perfect atmosphere. FooDiva will give you a 3 out of 5 knife rating. Having said all this, a fellow foodie blogger reviewed At.mosphere a couple of months ago, with a different take to FooDiva's – click here to read Fork It Over Dubai's review. You've heard FooDiva voice this time and time again, but clearly consistency in service and food is an issue not just with At.mosphere, but throughout Dubai – there's only a handful of restaurants in town that truly deliver consistently on all parametres, enough so to attract regular, repeat custom.
Dinner for two with a very reasonably priced bottle of French Bordeaux AED 1,450 (including taxes). That doesn't include the two flutes of champagne in the bar. Minimum spend of AED 450 per head for dinner, which you'd be hard pushed not to beat anyway. At.mosphere Grill is open daily for lunch and dinner. Afternoon tea is served in the lounge bar. T; +971 4 8883828. E; reservations@atmosphereburjkhalifa.com
A bientôt.
FooDiva. x