101…the One and Only?
Dubai; Having tried three of One & Only The Palm Dubai's F&B outlets, there was just one left for a FooDiva review. 101 is perched at the end of a pier overlooking Dubai's breathtaking Manhattan skyline. A bit of a trek from the main resort building, so catch a golf buggy if you can find one. There's definitely a huge wow factor as you approach – contemporary, open-plan, wooden-decked, a tad reminiscent of Le Corbusier's architecture.
Given Dubai's chilly nights, we opted to sit indoors, but with the french windows wide open, it's almost al fresco. There's only a scattering of tables making for an intimate, yet relaxed atmosphere – a bunch of radishes in a glass bowl made for an unusual centrepiece. More importantly, food glorious food.
101's Mediterranean menu is relatively concise. Plenty of salad dishes feature in the appetisers, but as my friend commented, none seemed that substantial. So as we were ravenous, we disregarded the salads and started with Mediterranean beef tartar and basil cress for moi, and Tuna carpaccio with fresh lemon juice and olive oil for my friend. We'd hardly clinked our glasses, oh and dug into the freshly baked bread, when both dishes arrived. Portions were large as you can well see; my tartar was delicately seasoned, with a raw quail egg in the centre, and two slithers of toasted brioche. I blended the egg into the raw mince, and spread over the brioche, I polished it off in no time. Utterly beautiful. Mind you, FooDiva could have done with more brioche.
The tuna was so tender, I made a mental note to check the origin of the tuna imports; it's the second time in one week where I've come across such succulent tuna, quite unusual for Dubai.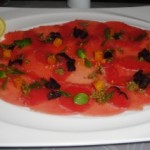 With hardly much time to digest and savour the taste, our main courses arrived. I'd opted for the French chicken leg cooked in the tandoor; one normally sees chicken breast on Med menus, but am a huge fan of the dark stuff. Served as six separate pieces mildly spiced with tandoori, the chicken was so utterly melt-in-your-mouth. Again quite rare for this part of the world. The accompanying raita made for a perfect dip as did a tzatziki, and the french fries helped to polish it off.
My friend's Australian Black Angus beef (350g) arrived more well done than medium; you can tell just from the pic that it was overdone. Hunger took over though, and helped by the bearnaise she finished it off. Her grilled vegetables were mostly peppers with the odd zucchini thrown in, not much of a mix frankly.
With no room for dessert, we settled for green and peppermint leaf teas. The team seemed a little distracted, from the moment we walked in when they scrambled to put our table together even though we had a reservation, to trying to get the bill. 101 certainly impresses from a venue perspective and offers great value for money; if you pick the right dishes you're onto a winner. Perfect for daytime lounging too – just remember to dress up. The resort's other eateries now have to play catch up. FooDiva would most certainly return, so 101 here's to a 4 out of 5 knife rating.
Dinner for two with a couple of bottles of Evian, a soft drink and two teas, AED 600. 101 is open daily for lunch and dinner. Tel: +971 (0) 4 4401010.
A bientôt.
FooDiva. x