Elia, with a new Greek menu
Dubai; FooDiva was most excited when a good Greek friend invited her to Elia to sample their new menu last night. Now Elia is Dubai's only true Greek restaurant located at the Majestic Hotel in Bur Dubai.
Throw out any preconceptions about the neighbourhood's hotels, and prepare yourself for a surprise as you walk into a bright and airy restaurant with a wonderful split-level terrace, just perfect for al fresco dining at this time of year. Elia translates to 'olive' and the restaurant is overseen by celebrity Greek Chef Yiannis Baxevanis. I say overseen, because he's based out of Athens and flies in occasionally. In typical Greek fashion, our table of seven took a while to congregate. In the meantime, my friend took the lead (again so lovingly Greek-like), and ordered a selection of appetisers, or meze as us Greeks and Cypriots like to call it:
Oven baked saganaki with gruyere cheese and spicy tomato; charcoal grilled calamari stuffed with tomato and cheese; meatballs accompanied by a salad of fine beans, roasted red peppers, fresh herbs and yoghurt sauce; greek salad with tomato, cucumber, onion, olives and fetta cheese seasoned with aromatic herbs; green salad.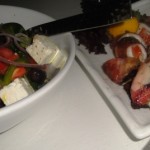 Now Greeks can't dine without bread, so Elia provides two types; an unusual carob bread, and what I'd like to call a Greek version of a cheese sambousek, but twice the size, round, warm and drizzled with cheese – divine!
The saganaki was definitely a highlight; melted cheese with tomatoes and spices thrown in, I can still savour the flavour. The calamari (squid) was not as tender as I would have liked, but to be expected in this region – compensated by the tasty tomato and cheese stuffing. You can sense a theme developing here…yes the Greeks do love their tomatoes and cheese.
We each ordered our own main course and I opted for the lamb (as did two others), slow-baked in parchment paper with herbs and Greek cheeses, accompanied with potatoes baked in their skins. Wow, what a stunning presentation – as I unwrapped the parchment paper, I felt like a kid opening Christmas pressies. I was greeted to a wonderful aroma transporting me back to my homeland. The pieces of lamb were tender, all-be-it a tad too salty for my liking and my friends too – mixed with melted cheese, slithers of red pepper and plenty of herbs. The potatoes served separately were infused with a little lemon, just enough to make you savour every morsel…so scrumptious.
I wish I'd left room for dessert. Service was not as smooth as it could be, so there's definitely room for improvement. Elia surpassed every expectation, and has certainly moved on from the restaurant it opened to a few years ago. If you're looking for Greek cuisine or simply want to try some good home-cooked food in a relaxed environment, then definitely choose Elia over the other Greek restaurants in town. I'll be back, and will be sure to leave room for the loukoumades (teeny doughnuts drizzled in a honey syrup).
Elia is located at the Majestic hotel in Bur Dubai. T; +971 4 5012529. Dinner per head with soft drinks, tea and coffee AED160. Open daily for dinner only and brunch every Friday. Licensed.
Gia mas.
FooDiva. x