Clé Dubai – to dine or to party?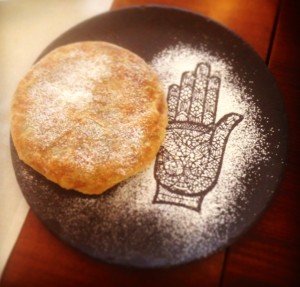 Having visited Clé, Australian-Lebanese Chef Greg Malouf's first Dubai restaurant with modern Middle Eastern cuisine for a friend's birthday party last month, I am familiar with the establishment – and now dinner with my wife and in-laws gives me two different lenses for evaluating this new spot.
As we are escorted by the charming usher, I am distracted by the strong smell of smoke at the bar. With a series of seating areas, the only way to the dining space is through the smoky bar. Being averse to smoking, the walk through the bar is not helpful in setting up the right tone for dinner. The second overwhelming feeling as we walk through is that of the colour black. One can almost not see the wall and the ceiling of Clé, whilst the lamps with the golden machine gun props give this place a gangster look; I almost think I am being led towards a face-off with the king-pin! I have chosen the 8pm slot on a Saturday evening and the restaurant is quite empty. By the time we leave though, the restaurant is over half occupied. As we take up our table of four, we are greeted by a courteous waitress.
I must admit I do like the black leather table mats and the somewhat dull, yet very functional looking cutlery. The cocktail list is impressive and I order the Mama Obeidi, an Arak-based long drink. While the overdose of crushed ice bothers me, the drink is refreshing and the lingering flavour of aniseed makes me crave for more. The waitress is very patient in providing details of each dish that I point out to her on the menu, and she brings the signature items to my attention.
Greg Malouf has extensively travelled from down under to Middle East and North Africa, and has married various local delicacies with contemporary cooking. So I try to spread my choices over the Gulf, Levant and North Africa. As we dig into our starters, we all comment that these seem to be somewhat low on salt. Perhaps a deliberate effort to keep the food healthy, or just a slip, but the starters in particular are under-seasoned. The trio of dips – silky hummous, mama ghanoush (cucumber seeds in yoghurt) and Persian spinach and yoghurt salad are worthy flavourful appetisers that are exquisitely presented. The large parcel of membranous saj interestingly has miniature naan breads that go well with the dips.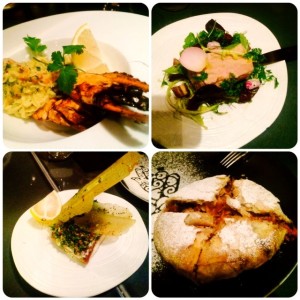 The stone-roasted Gulf prawns turn out to be the show-stopper among the appetisers. The outside has that slight inviting crunch, but the inside is soft and not over-cooked. The butterfly presentation with the head intact and delicately placed on the angel hair pasta shows attention to detail. The dollop of pasta actually challenges the palate with a burst of flavours, and complements the relatively salty prawns very well, leaving me craving for more.
The tabouleh with the addition of spring onions is very fresh. The hazelnut falafel has the right crispiness outside, and soft yet firm inside, though none of us can actually taste anything nutty. The tahini dip is a little watery compared to what we are used to, but has a silky texture which goes well with the falafel.
A rather unappetising risotto my vegetarian wife ate last time has been removed from the menu our waitress said – that's quick fine tuning!
The Malouf bistayeea – a sweet-spiced duck pie is presented well with a delicate pattern of the hand of Fatma in caster sugar and cinnamon powder. However, I find the duck somewhat under cooked and wonder if the texture and flavour coming from the original Moroccan pigeon meat recipe is difficult to substitute with duck. And it would help if the pastry is a little thinner with less of the bird stuffing.
The tarator style wild sea bass is quite a large fillet compared to the servings so far. The crispy herb-crusted skin of the tarator, a yoghurt and cucumber based dip similar to talatouri, contrasts with a surprisingly moist and delicate fish that flakes naturally. I cannot but acknowledge that this dish is a job very well done.
The dukkah foie gras on the other hand is a disaster – the foie gras is dense and chunky with no flavour of the Egyptian dukkah spice blend. As I do not eat lamb, my in-laws taste the ras kibbeh. These look delectable – larger and somewhat conical shaped compared to a normal kibbeh. When sliced in half, they ooze with pine nuts and too much olive oil, making it rather unappealing on their taste buds.
We are struggling to finish all that we have ordered, but how can we let go of dessert? After much deliberation we order the ataif be gebna and Moroccan mint tea. Thin strips of mango and green apples add a fresh zest to the sticky ataif pancake. And finally, the Massaya Blanc wine from Lebanon complements most of our dishes.
Before leaving, I request to see Greg Malouf, without disclosing my identity, and he gracefully obliges. While some dishes need fine tuning, I cannot but bow in reverence to this master. He makes me feel like a kid when he asks if I want a photo with him.

Service is stellar throughout. Clé's location in Currency House is not ideal in drawing the DIFC crowd who tend to lean towards the restaurants in the Gate Village, though it does fill a gap in this district's upscale Middle Eastern dining arena. Al Mandaloun offers standard Lebanese fare but is not licensed; Al Nafoorah at Jumeirah Emirates Towers does serve alcohol and is upscale, albeit traditional, but is a walk from DIFC; and as for Nay in Emirates Financial Towers, read The Man in the White Hat's review here.
Comparing the dinner experience with the birthday party that I had attended last month, I would say that Clé is more suited for larger celebrations and parties. The dark ambiance distracts from acknowledging it as a fine, top-end restaurant like Q'bara is, so I would rank it on a similar scale to Buddha Bar with less eclectic music. Given our wide selection of dishes, AED300 per person without alcohol makes it decently priced. All this combined, makes me give Clé a 3.5 out of 5 FooDiva knife rating.
Do you think a one stop shop for fine dining and partying tickles your fancy? Where would you head to for a nice Middle Eastern/ Arabic dinner?
Until next time,
AK.
Who is FooDiva's new guest reviewer? AK works as an investment banker in Dubai and is an avid gastronaut who thinks that a day without a good meal is a day wasted. He has travelled the world exploring culinary delights including a treasured dinner at El Bulli.