A culinary trip to Lisbon
When we think of combining a European city break with culinary travel, France, Italy and Spain probably come near the top of most people's lists, though I don't doubt that strong votes would be cast for Greece, Belgium, and London (don't laugh; I said London specifically, not the United Kingdom generally). Portugal's capital Lisbon may be a little further off the radar, and its cuisine generally considered a more rustic and seafood-based version of its Spanish neighbour. It's probably significant that while Spanish food currently seems to be having a bit of a moment in Dubai, the only proper Portuguese restaurant seems to be Bur Dubai's Picante in the Four Points by Sheraton (no, South African Nando's doesn't count).
This is a shame, because Lisbon manages to combine an excellent culinary culture with some of the most keenly competitive prices in any Western European capital; and this alongside one of the most fascinating historic urban fabrics in Europe. From the remains of a Roman theatre dating back to the reign of Augustus, to the dramatic Moor-built hilltop castle, to the dazzling Jeronimos monastery (of which more later) and monuments to the great 15th and 16th-century Portuguese explorers, to the 18th-century neo-classical Baixa district rebuilt after the devastating 1755 Lisbon earthquake, the city has something for most history buffs – more than enough to keep anyone occupied for a week and still not see everything the city has to offer.  But I'll focus on the food and drink here rather than history and archaeology; and let's look at things this way…. any country whose most famous food export is the Portuguese custard tart (assume I'm drooling embarrassingly here) starts with some sort of built-in advantage.
Culinary travel isn't necessarily limited to choosing where you eat and what you drink, of course; it can also influence where you stay.  The Casa Balthazar is owned by the same family who run Lisbon's oldest family confectionary and cake shop, the 1829 Confeitaria Nacional. Located right in the city centre (on a very narrow street off a steep hill – hiring a car is only for the brave), what was once the owners' 19th-century courtyard home has been turned into a boutique hotel with only nine rooms and suites.  For the purposes of this article, though, the main attraction is the generous breakfast – included in the room cost, and delivered daily to your room with freshly baked treats straight from the Confeitaria. Yes, breakfast often includes a custard tart.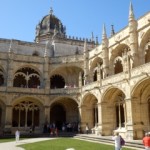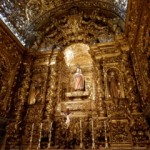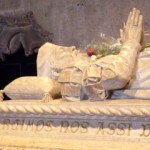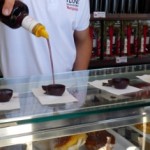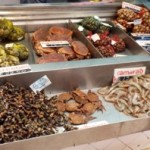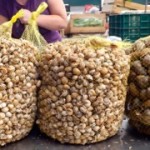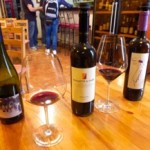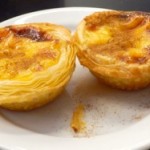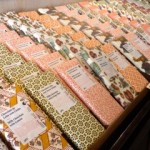 Once safely unpacked in your luxurious cake shop-owned hotel, an excellent way of coming to terms with both the layout of the city centre and Lisbon's food culture is a tour run by Eat Drink Walk.  The Petiscos Tour starts with a shot of ginjinha (a Portuguese sour cherry liqueur) served in a chocolate cup, and then moves on to a tour of the adjacent main Lisbon market. After that, we visited Sol e Pesca, a tiny restaurant-bar in the now-trendy Cais do Sodre district that serves almost nothing but tinned seafood, olives, bread, and drinks (most of them alcoholic; we found a jug of the house white wine to be an excellent accompaniment to the fish).  Tinned sardines may not sound too exciting, and might put FooDiva readers in mind of their grandparents' pantry, but there's been a real renaissance in artisanal Portuguese tinned seafood in recent years, and many shops (and not just ones oriented towards tourists) feature gorgeous displays of lovingly designed tins.  It doesn't hurt that many of them taste fantastic as well.  We left Lisbon with seven tins, from a wonderfully light and fluffy sardine pâté (not words you often see together!) through to lampreys in wine and garlic. The walking tour goes on to include suckling pig sandwiches, custard tarts (pasteis de nata in Portuguese), a tasting of port wine, and an artisanal sweet shop; but while all were really worthwhile in their own way, it's Sol e Pesca that really stood out. Of all the places we visited on the tour, it was the only one we returned to.
A quick additional note on the market: our tour went through the day before a brand new high-end food court opened in the adjacent building.   This isn't your typical mall fast-food food court, but rather a series of stalls run by some of Lisbon's best-known restaurateurs and food and drink merchants, and with some of Portugal's leading wine estates offering wine for tasting and purchase.  Our timing was terrible there, alas!  While we were able to at least walk through quickly a couple of days after it opened, with so much else to eat our way through in Lisbon we couldn't quite squeeze in a return to the new food hall for actual food.
Speaking of Portuguese wine estates…Portugal also has an excellent underrated wine industry that produces excellent wines from several little-known indigenous grapes; that Mateus Rose is the best-known Portuguese table wine in much of the rest of the world is nothing short of criminal.  Port and northern Portugal's refreshingly sharp, and sometimes lightly sparkling, vinho verde (green wine) are likely more familiar than others, but there's an extraordinary range of wines to discover.  These can be daunting to the uninitiated suddenly faced with (just quoting a couple of blends we've had) white grape varieties such as Antão Vaz, Roupeiro,  and Perrum, or red varieties such as Touriga Nacional, Tinta Roriz, and Alfrocheiro (though Tinta Roriz is actually Spain's Tempranillo).  And never mind Portugal's great Port and Madeira fortified wine traditions.  Fortunately, help is at hand.  The Wine Bar do Castelo is located right in tourist central, just a short walk from the main entrance to Lisbon Castle.  While a little expensive by Portuguese standards, and clearly oriented towards non-Portuguese customers, the owner is evangelical about spreading the word on Portuguese wine, and has more than a hundred available by the glass. The best thing to do is put yourself in the owner's hands.  He'll typically offer customers a tasting from three or four different glasses, and then only charge for the wine then ordered as a full glass.  They also serve some excellent charcuterie and cheese to accompany the wine.
The most famous custard tarts in all of Lisbon are the "pasteis de Belem" served at the Antiga Confeitara de Belem, in the outlying Belem district, just a short walk from the famous Jeronimos Monastery. They churn out some 15,000 a day; on the day we visited they were particularly hard-pressed since the normal crowd was augmented by several thousand orange-shirted women whose charity run had ended in Belem, and most of whom seemed to want to celebrate with a custard tart (and who wouldn't?).  The shop was founded by monastery employees in 1837 after the Portuguese state closed down all monasteries in 1834, expelling both clergy and staff (the monastery had its own sugar refinery, so there was no lack of skill).  Despite the location near one of Lisbon's main tourist attractions, and the bursting at the seams crowd trying to order, they really were the best tarts we had in Portugal; quite apart from the filling, they had incredibly flaky pastry.  I'd ordered two each, but due to a mix-up we ended up with three each (not that I was complaining).  Fortunately, Lisbon is a hilly enough city that you work off the calories fairly quickly.
Chocaholics can also get their fix.  The Chocolataria Equador serves a range of high-quality artisanal chocolates in beautiful packaging inspired by 1940s and 1950s design.  Dark chocolate with curry ganache may sound like an acquired taste, but it's certainly been a hit in the White Hat household.  The shop's Facebook page is in Portuguese, but Google Chrome's translation feature is a huge help here.
When it comes to restaurants, Lisbon's main tourist ghetto is the Baixa district between the waterfront Praça do Comércio and the central Praça do Rossio.  While there are exceptions (the Confeitaria Nacional among them), most restaurants in this area – and on Rua Augusta especially – have menus in five or six languages, and are almost solely oriented towards tourists.  Though I do feel some sneaky admiration for the restaurant owner who spotted what must have been a niche gap in the tourist market and posted a menu in Finnish.  However, don't be put off by a multilingual menu in Portuguese, French, and English in other parts of the city.  Many excellent and interesting city-centre restaurants with a local clientele offer menus in these three languages out of sheer practicality; no one really expects foreigners to speak Portuguese, and you never know when an out of town visitor might stumble by.
The three restaurants I recommend here either offer interesting twists on traditional Portuguese food, or in one case, is world-class in its own right.  One quick tip about Lisbon restaurants… the 'couvert' of olives and bread is not free.  There's always a small token charge here.  This is not an attempt to rip off gullible tourists, but is simply a different local restaurant culture.  If you don't want to pay for the 'couvert', simply send it back when it's delivered (and it's almost always delivered automatically); no one will be embarrassed if you do.
Oficina do Duque is an excellent small restaurant tucked away on the upper part of the Calçada do Duque staircase (at number 43a).  If offers modern interpretations of traditional Portuguese dishes with a few twists.  And never mind the mains; as good as the oxtail was, the chocolate mousse with olive oil and salt is my new favourite dessert.  It says something about how remarkably inexpensive many Lisbon restaurants are that a trendy good-quality restaurant like Oficina will set you back only 60euros (about AED300) for two including wine and tip. Take out what was an expensive bottle of wine by local standards, and you're looking at 40euros (AED200) for food for two.
We stumbled on Tágide Wine and Tapas Bar more or less by accident, when the restaurant we were actually aiming for turned out to be closed; sometimes serendipity is a wonderful thing. Located at the quieter downhill end of the Largo da Academia Nacional de Belas Artes, it's the less-formal sibling of the adjacent Tágide restaurant.  The tapas menu balances creativity with traditional Portuguese flavours and surprisingly generous portions; our table of two only needed three tapas to make a full meal (though we were walking off a generous lunch).  Again, the prices are remarkably competitive by Western European standards.  A dinner of three tapas, including two glasses of wine each, came to under 40euros (AED200) for two.
Finding 100 Maneiras, though, was no accident – we'd booked a table at one of Lisbon's most famous restaurants before flying out. Realistically, 100 Maneiras deserves a 1000-word review in its own right, so it's perhaps enough here to just touch on a couple of key points and to stress it was one of the best meals we've ever had.  There's no a la carte menu at the small and relaxed restaurant; every table is served precisely the same 10-course tasting menu (though the excellent staff do carefully check for allergies and intolerances when you're seated, and adjustments are subtly made). Bosnian chef Ljubomir Stanisic varies the menu daily, depending on what's available at the market, but the restaurant website provides a sample version.  Every dish is explained as served by the charming multilingual staff, and while it's hard to pick out any favourites, the oyster and sea urchin starter was just stunning in both flavour and texture; it just tasted of the sea – a cliché, I know, but a justified one.  The only real choice diners have is whether to order wine, and then whether to order by the bottle, or to trust the excellent sommelier with one of the two wine pairing selections ('classic' is 35euros a person, 'premium' 60euros).  Excluding wine, dinner is 55euros a person, so 110euros (AED550) for two for food.  That's expensive by Lisbon standards, but by global standards is a steal for such an astonishing meal.  But don't confuse the restaurant with its sister Bistro 100 Maneiras – they're run by the same chef, and share a website, but are in completely different buildings.
I've had many excellent holidays with superb food in intriguing European historical destinations (Istanbul and Granada immediately spring to mind), but it's hard to beat Lisbon's combination of interesting local cuisine, varied historic sites, fascinating local wine tradition (if wine's your thing), sunny (but not too hot) climate, and sheer value for money.  Plus Emirates flies direct. Really, I loved it. And not just for the custard tarts…
Bom apetite,
The Man in the White Hat.
So who's our anon guest reviewer, The Man in the White Hat? He has an abiding interest in both history and food; his holidays tend to combine an intriguing local cuisine with a UNESCO World Heritage site, and he's eaten his way across some 50 countries in Europe, Asia, Africa, North and South America, and Australasia.  He currently lives in Dubai, where he edits a couple of academic publications.