What's new for dinner on the Palm?
It's a helluva long drive, by Dubai standards that is, as our car eases its way around the east crescent of Palm Jumeirah passing Atlantis, Sofitel, the Waldorf Astoria construction site, and finally our first destination, Anantara. With typical Thai turrets, it makes sense that Bangkok baby Anantara should manage this resort, not the Movenpick originally on the cards. Gosh Dubai replicates countries so well, I hope some lone nation someday repays the favour…Emirati wind towers in Singapore perhaps?
Anyhow digressing, the Mediterranean restaurant, The Beach House sits unsurprisingly on the man-made shoreline with full view of some seriously stunning over-water villas – Dubai's very own Maldives glistening in the dark. It's a casual spot with wooden-decked terrace seating that's pretty much booked out for a Monday night over Eid (with in-house guests I should add) so thank goodness I did reserve.
Salads, soups and appetisers aside, the menu is mostly Med influenced with meat, fish, pizza, pasta and risotto dishes. My sea bass is baked Catalonian casserole style 'en papilotte' with veggies and white wine. A handful of prawns and mussels are also thrown in, something my waiter is not versed on. Good job I don't have a shellfish allergy. My friend's gambas al ajillo is a typical Spanish tapas dish of prawns marinated in olive oil, smoked paprika, tomato and garlic – here it's served with baguette to mop up the sauce. Nourishing, fragrant dishes, but can't say I am wowed by the flavours or tempted to order again especially with a hefty price tag of AED190 and AED145 respectively. But our third main of pumpkin tortellini is so fresh and al dente, with a delicate yet decadent brown sage butter sauce. Definitely one to return for, and at AED75 much more reasonably priced.
I can vouch for the damn good cosmos, but only after my friend complains that the teeny cocktail glass is half-full, so the next round arrives complimentary and sashaying nearly to the brim. Good service recovery.
Leaving our terraced table, we settle on sofa loungers a step or two from the sand for cheese and vino. The former not on the menu, but our waiter kindly obliges with a platter. Service improves drastically as the beautifully balmy evening wears on. The Beach House scores highly for location and its relaxed, intimate vibe, but I would expect more of a wow factor from the food especially given the high prices, or perhaps it's just a pizza and pasta spot.
A couple of evenings later on a Wednesday night (still over Eid week) I am back on the Palm, but this time at another relative newbie resort, the Polynesian-themed Sofitel. With six main dining outlets – all-day casual Manava, the steakhouse Porterhouse, Bottega for an Italian deli-style fix, seafood Moana, Chinese Hong Loong and French Studio Du Chef – we decide to turn the tables a tad with a progressive dinner.
So with no reservation in hand we commence our soirée on the terrace of Moana overlooking the swimming pool. It's around 7.30 so a tad early for Dubai standards with only a few tables occupied. Whilst European seafood dishes prevail on the menu, Moana has a wraparound sushi and ceviche bar indoors so Japanese appetisers feature strongly. We settle upon a couple of starters to share. The tempura futomaki arrives as four plump nori rolls (AED45) filled with large U10-sized prawns, cucumber, mayo and topped with tobiko fish roe – crispy, crunchy and crackling. Meanwhile, our second choice of lobster, guacamole and roasted tomato salsa is served as a tartare layered with crisp flatbread and topped with a dollop of boursin cheese (AED95). A little more lobster wouldn't go amiss, or perhaps a slither instead of the tartare would allow more of its intense and robust flavour to shine through.
Now here's a little tip – try the excellent and extremely well priced (for Dubai) Bordeaux L'Eglise Saget 2009 wine for AED250 with Cabernet and Merlot grapes. With vino in hand or rather our accommodating waiter's, we venture to our next destination for mains.
Studio Du Chef it is, with its semi circular open-plan kitchen where you literally sit across from the stove and watch the chefs at play. Mind you we settled upon banquette seating, and plenty of that abounds in this stark white and cream dining space with a glass wine cellar. Lights a little too bright though, can you dim pretty please?
An amuse bouche of sherry liver pate sprinkled with pistachios is, for me, like a gooey pot of dessert. I would choose this over a fondant any day. Our cornfed chicken roasted on the rotisserie a deux with sprigs of rosemary is served whole (and carved at our table) with our special request of pan-fried foie gras. The reason being my dining companion is an even bigger fan of La Petite Maison than I am where its signature chicken dish is roasted with foie gras and has to be ordered 24 hours in advance. This bird is a succulent and juicy rival, but I prefer the foie gras roasted ensemble and at AED400 the price is similar (AED300 without the foie gras). A side order each is included. The chickpea fries are baked and sadly lack crispiness. Sorry nothing can or should replace traditional French pomme frites. But the cocotte of vegetables are crunchy, with the intensity of fennel powering through. Love the rustic presentation of the chicken and veggies.
Stuffed to the brim like that plump chicken could have been foie gras permitting, I could only but glance in awe at this mouth-watering French cheese trolley. I would happily return just for that, and its cheese and wine evening.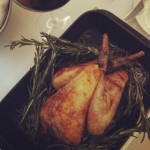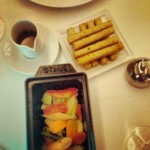 Service in both restaurants is knowledgeable and accommodating. It's just sad that even later in the evening there's only a handful of diners to create that much-needed atmosphere. Sofitel has six restaurants open, versus Anantara's two so perhaps that plays a role. And let's remember Anantara was full with in-house guests, so are Dubai residents not venturing to the Palm? I live very near the entrance and have no qualms with crossing the bridge – but for those living further afield is the journey a hindrance? Or is it just the perception?
Next up for FooDiva reviews are two new Chinese restaurants on the Palm (yes can you believe two new Chinese openings in the same month, in addition to Sofitel's) – first up Yuan at Atlantis with…hurrah a separate entrance at the Avenues, followed by Ba at Fairmont.
Do you choose to dine on the Palm? And if so, have you tried any other newbie restaurants?
The Beach House, Anantara Dubai The Palm Resort & Spa. T; +971 4 5678888. Licensed. Open daily for lunch and dinner. 
Moana and Studio Du Chef, Sofitel Dubai The Palm Resort. T; +971 4 4556677. Licensed. Moana is open daily for lunch and dinner, whilst Studio Du Chef only opens for dinner.
A bientôt.
FooDiva. x