Mireille Giuliano's tuna with 'green' sauce
A new year and a new recipe! Here is another fantastic Mireille Giuliano recipe from 'The French Women Don't Get Fat Cookbook':
Ingredients (serves four):
20g fresh parsley, chopped
1 green pepper, rinsed, seeded and chopped into 5mm dice
50g green olives, pitted and chopped
2 tablespoon capers, rinsed and drained
1 teaspoon fresh thyme
2 tablespoons olive oil
Juice of 1 lemon
150ml white wine
Four pieces of 125 g tuna steak
Salt and freshly ground pepper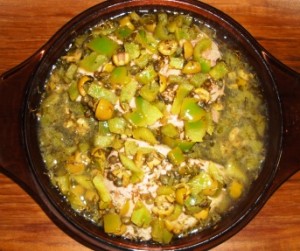 Instructions:
1. Preheat the oven to 190C.
2. In a bowl, combine the parsley, green pepper, olives, capers, thyme, 1 tablespoon olive oil, lemon juice and wine. Pour into a baking dish, place in the oven and bake for 10 minutes.
3. Lower the heat to 180C. Remove the baking dish from the oven, add the tuna, spoon the sauce over, drizzle the remaining tablespoon olive oil and season to taste. Return the baking dish to the oven and cook for 7 minutes if you would like it seared in the centre, and 10 minutes if you prefer it cooked through. Remove from the oven and serve immediately.
I like to serve this dish with sliced green beans, but you can choose your favourite vegetables.
Bon appétit!
FooDiva. x