Chef Osama's Falafel
Egyptian-born Chef Osama, Dubai TV celebrity and also Braun's culinary ambassador shares his recipe for falafel delights: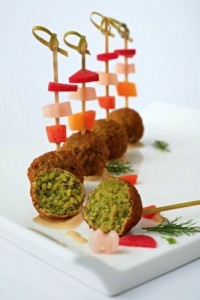 Ingredients:
¾ cup fava beans (skinless)
¾ cup chickpeas
¼ cup fresh parsley
1 medium onion, chopped
¼ cup fresh coriander and dill
½ cup leeks
1 teaspoon dried coriander
salt & pepper
¼ teaspoon ground cumin
oil for frying (FooDiva used walnut oil)
For serving:
Small pitta bread 3 cm – tomato – lettuce – pickles – tahini sauce – thyme or sumac
Instructions:
1. Wash fava beans and chickpeas and soak for a full day (change water from time to time), rinse well and drain. Or else use the tinned variety, but make sure to drain well.
2. Combine all vegetables with fava beans and chickpeas. Mash all the ingredients in the Braun Multiquick, only pulse 2 or 3 times until smooth. [If the mixture is too runny because of lack of starch, add some chickpea flour].
3. Add spices and mix all together.
4. Shape falafel dough into small 3 cm balls. Fry in hot oil for 3 minutes or until golden.
5. Skewer the falafel with pickles, serve on pitta bread with tomato and tahini sauce.
6. Garnish the serving plate with fresh thyme or sumac.
Bon appetit!
FooDiva. x