Masti: the first licensed restaurant at La Mer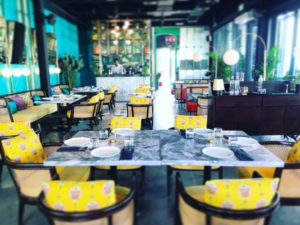 The new al fresco Meraas development in Dubai, La Mer, has opened its first licensed restaurant. Masti, which translates to "fun and mischief", is another new 'Indian restaurant' for this city, but this time round, the cuisine reflects the name with an innovative, fusion-style menu.
The alcohol licensing runs from 5pm onwards on the upper level of this vibrant Instagram-worthy interior and exterior. Upstairs also houses a cocktail bar with panoramic views of Dubai, along with a gin room with, apparently, the largest collection of gins in Dubai. The bold, bright and beautiful design borders more on Peruvian than Indian, a nod perhaps to the fusion theme (with ceviche spotted on the menu too). One façade currently overlooks hoarding that hides a hotel construction site, so don't expect sea views for now.
The Indian chef is a Vineet Bhatia protégée, evident in the quality of the food. With a menu as colourful as the interior, you are inspired to order everything. The menu engineering is focused on small plates – yes, you guessed it, designed for sharing, with two to three dishes, plus a side recommended per person – divided into cold plates; earth (read veggie dishes); poultry; red meat; sea; and sides, with signature dishes and spice levels indicated. We're a large family gathering so we order 19 dishes between us. In the essence of keeping to my word count, I will highlight my selection (for two people), which I feel, are a strong reflection of the restaurant's concept, even though not all are perfect executions.
Let's start with a North Indian dish, bharta (pronounced bhur-tah), where ingredients are roughly mashed. In Masti's case, an eggplant is charcoal roasted to a pulp, and served in two halves. I am not normally drawn to eggplants; there's something about the texture that irritates me, but here, slathered on slivers of toasted sour dough, it's smooth, smokey and addictively delicious.
A steamed bao is always going to get my order. Masti has slightly charred the bun after steaming, and stuffed it with pulled (i.e. shredded) spiced tandoori chicken. The two buns are pierced with a syringe (the latest restaurant trend it appears) of tamarind glaze, which gives the succulent chicken some tangy notes. The baos are a decent interpretation but not as moreish as those at BB Social Dining.
Don't expect a traditional kofta meatball with the quail egg kofta, but a spin on a Scotch egg with kunafa pastry, spiced lamb mince, and a gorgeous runny yolk. I would have liked more of the red pepper mayo that is dotted on the plate for dipping. Lamb chops glazed with sweet chilli are so finger licking tender we order a second portion – served simply on a bed of purple carrot mash with a delicate green apple and fennel salad.
I am a sucker for kheema, and Masti has turned their spicy lamb mince into a popsicle coated in a quinoa crust – again another dish that looks fantastic but is over-charred and therefore too dry. Wonderful textures and spicy notes abound with a prawn dish that is charbroiled in a sundried tomato paste, and served with a lentil chaat.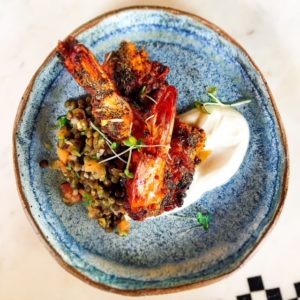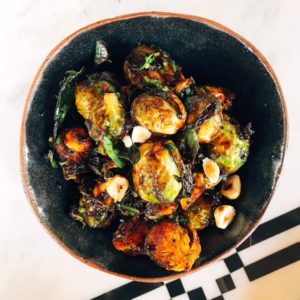 Brussels sprouts are the winning side dish – another one deserving of a second helping. Charred with tempered mustard, soy ginger and sprinkled with toasted hazelnuts, these gems boast a delicious textural bite. The smashed roast potatoes with a heady mix of oregano and chaat masala, as well as the three naan flatbreads each with a different filling – sun-dried tomato, rosemary olive, and creatively, brie – are all served fresh and warm. Oddly, only two desserts feature on the menu, and having stuffed ourselves with savoury, we are too full for more.
Our waiter is well versed, knowledgeable and friendly, however not all dishes arrive in a timely manner and I find myself having to chase a couple. I'll put this down to teething issues in the first week of opening, even though it is pretty quiet for a weekday lunch.
Masti is reasonably priced at AED200-250 per person based on four dishes each. Don't expect a modern Indian experience though; the cuisine would be better described as fusion with strong Indian flavours. 14 out of the 19 dishes we order are well executed, whilst also boasting flavour and an eye-catching presentation. I'd be interested to see if the atmosphere picks up in the evening when alcohol is served. Nevertheless, the eye-popping décor (without the hoarding) makes for a lovely lunch setting. Here's to a three and a half out of five FooDiva knife rating.
Have you tried and tasted any other restaurants at La Mer that either impressed or disappointed?
A bientôt.
FooDiva. x