Bleu Blanc by David Myers: should the gypsy chef have travelled to Dubai?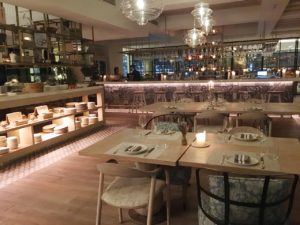 Even though imported 'celebrity chef' restaurant concepts are fast diminishing in Dubai, a few are opening up including David Myers', aka the gypsy chef's two restaurants Basta and Bleu Blanc at the Renaissance Downtown hotel in Business Bay. It's worth noting that ALL his concepts are outside his US home turf, unlike other renowned chefs. Interestingly, chef Thomas Keller refuses to bring his signature concepts to Dubai because of lack of access to fresh ingredients and staff talent. Let's see if the French offering, Bleu Blanc, can pull it off.
A warm and rustic dedicated entrance welcomes you – an intelligent decision on the hotel's part to ensure the guest experience is not compromised by walking through the hotel lobby. Think vintage bicycle, double-fronted azure blue doors, and what feels like someone's home. To be fair, if I had to envision what an ideal farmhouse in Provence looks like, Bleu Blanc far exceeds that. Everything from the rustic wooden floors, cosy couches with purposefully placed teal, chequered cushions and a curtain of wooden spoons segregating the private dining area, are on point. Add to this, a wood-fired grill, and a terrace overlooking Dubai Canal. The decor is absolutely beautiful and nothing short of what I expect. However, the hip-hop and R&B music playing in the background ruins the quaint experience. Nonetheless, breezing through the website, it appears the music is intentional as 'a social spot dishing out eclectic music'. Hmmm…I think Bleu Blanc is more of a date night option, but each to their own.
The service is seamless with, in most parts, minimal waiting time. The transition from hostess to bartender to waitress is smooth, with a good sense of camaraderie and energy amongst the young team. Over the course of our meal, the restaurant manager and chef de cuisine visit our table, with a good exchange of friendly conversation. Chef Alex is an absolute star on the floor, moving from table to table like a shadow, in addition to cooking behind the counter and sometimes even serving guests himself. He romanticises each dish with stories, and offers his recommendations. By this point, I feel like I am in his house for a private dining experience.
We start with his recommendations of charred octopus with pistou and smoked aioli, and basil pesto ravioli with lemon zest. The pistou sauce (cloves of garlic, basil and olive oil) is perfectly executed with balanced flavours, clearly attributed to the fresh quality of ingredients. The smoked aioli on the other hand is a little overpowering. The basil pesto ravioli is the chef's family recipe, and like the charred octopus, uses fine ingredients. The basil is fresh and coupled with olive oil makes the perfect accompaniment to al dente ravioli filled with a light, fluffy goat cheese. Simple, appetising dishes befitting of the concept.
Onto mains, the king crab's meat (Norwegian) is so sweet and soft, it literally falls off the shell. Eaten with capers and a beurre noisette, this dish is an absolute winner. The presentation is simple yet majestic. However, our second main course, lamb kebab with tomatoes, onions and herbes de Provence is dry and is neither exciting nor flavoursome. Even the fancy presentation and generous serving do not salvage the dish. A side dish of sweet jacket potato with crème fraiche, salted plum and veal bacon (no pork licence here) is excellent.
Unlike the rest of the service, our desserts take a long time to arrive. The vanilla pot de crème reminds me a little of custard's texture and consistency and is a tad too sweet for my liking. The ember roast berries arrive with the ice cream melted which is upsetting as the berries are beautifully roasted.
Whilst not my favourite David Myers concept (Adrift in Singapore, a modern Japanese izakaya takes that spot), Bleu Blanc makes a lovely French-Mediterranean addition to Business Bay and Downtown for date night or an intimate dinner with friends. Overall, it provides a sensory experience with a beautiful cosy interior, personalised service, and with most dishes well executed. However, at a pricey AED330 per person based on three courses without alcohol, I give Bleu Blanc a 3.5 out of 5 FooDiva knife rating.
How do you rate imported 'celebrity chef' restaurant concepts in Dubai? Do you think the dining experience can be successfully tailored to the market here?
Jovel.
Who is FooDiva's guest reviewer? Jovel has lived in some of the world's best culinary destinations including Paris, Hong Kong, Singapore, Bangkok and Switzerland working as a marketing and PR professional in the F&B industry. On the weekends, Jovel works off her Dubai dining by teaching indoor cycling classes and practising yoga.