Kohantei: Dubai's first Japanese kaiseki restaurant
Dubai has its first traditional Japanese restaurant, Kohantei at Dubai Opera, that embraces 'omotenashi' hospitality through a formal multi-course 'kaiseki' menu focused on beef from Japan. This particular experience from my travels in Japan is all about harmony and balance in cooking style, flavour and colour. Frankly, as all cooking should aspire to. Interestingly, kaiseki is the forerunner to French nouvelle cuisine, and what we now consider fine dining. The executive chef, Hisao Ueda moved across from Tomo, one of my favourite Japanese restaurants in Dubai, so my expectations are high when I make a dinner reservation for a Friday night.
On arrival at the Dubai Opera concourse, we are asked to remove our shoes at the entrance before being escorted to one of three private dining rooms reserved for the two of us, even though it can seat four. A private area for shoe removal and storage should be considered. There's an additional dining room, with the whole restaurant only catering for 28 covers. That explains why when I first try to make a reservation earlier last month, Kohantei is fully booked. The décor is pretty non-descript and humble in traditional Japanese style – sliding shoji doors and tatami flooring are the only highlights. I complain that the air-conditioning is too strong, and the waitress promptly lowers the temperature – the first of many instances demonstrating seamless service.
The drinks menu naturally focuses on many a sake tipple. I pick an affordable and mellow 180ml Rihaku Junmai for AED85 (prices rise into the thousands!) which I request warm. Yes, I realise Japanese etiquette dictates cold but my body needs warming up from the initial AC blast. The warm hand towels also help. The wine list is decently priced.
Five different kaiseki menus are on offer priced from AED350 for six courses, rising to a staggering AED1,100 per person for eight all-Japanese beef courses – in addition to a la carte. I order the first kaiseki menu at the entry-level price point – surely six courses would suffice?
Our first starter of two deep fried Wagyu cubes may not sound appetising, but a sweet vinegar marination and the melt-in-your-mouth beef, alongside aubergine, bonito flakes and kelp give an explosion of delightful flavours and abundant textures. Our soup takes into account dietary requirements. Luscious, velvety puréed edamame with a cube of minced Wagyu. For sashimi, we are presented with slices of succulent salmon and yellowtail amberjack. What stands out at Kohantei is the use of fresh wasabi which is much more potent than the industrialised stuff – in some dishes a combination of root and stem wasabi is offered.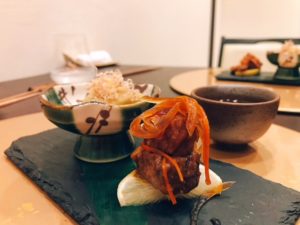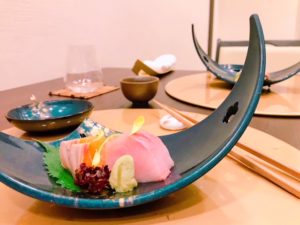 Our main course showcases two breeds of Wagyu beef – on the Japanese front  (pictured in the foreground here), we are offered an A3 grade cut, which denotes the yield (from premium A dropping to C) and the quality (from inferior 1 rising to extremely good 5). A5 is the crème de la crème of Wagyu grades. From Australia, the breed is from Stockyard's Kiwami range with a different grading system to the Japanese. Our cut boasts the highest marbling score of 9 (ranges from 0-9). The chef recommends a medium cooking temperature which we agree too. I prefer the Australian cut for its buttery, fatty flavour, which is much sweeter and more fibrous than the Japanese cut – and therefore boasts more flavour. Next time I am trying the more expensive A5 grade for a fairer comparison. Simply served with soya and ponzu dipping sauces – along with moreish shishito peppers and roasted sliced potatoes. The next dish is a rice bowl with four types of umami-loaded stewed Wagyu, and some miso soup – the rice helps fill us up. The rather sloppy presentation of this dish does not compare favourably to the stark simplicity of the other plates.
Dessert is a simple scoop of what has to be the most gorgeous ice cream I have eaten lately – smooth and addictively delicious black sesame. I order a wonderful roasted Japanese tea for digestion. The whole meal is well paced taking roughly two and a half hours – expect much longer for the other multi-course menus. What strikes me as odd though, is the location at Dubai Opera which would demand short and sweet meals that can fit around a performance. So I am not sure how much business Kohantei will pull from this specific location – other than the central Downtown Dubai crowd.
Service from reservation right through to paying the bill is faultless. Our Japanese waitress is polite, attentive and extremely knowledgeable on every aspect of the menu, taking the time to answer all my questions with authority – even presenting the Wagyu cuts before the chef cooks them. She really lives and breathes the Japanese hospitality term of omotenashi.
As for atmosphere, it depends what makes or breaks this aspect of the restaurant experience for you. Kohantei is a quiet, subdued, uninterrupted affair – perfect for date night. For the first time in a restaurant review, we talk endlessly about so much more than the dining experience because of the privacy the private room provides. You would choose to eat here to soak up authenticity, not because of a rocking vibe that modern Japanese restaurants bring to Dubai.
As an aside, the wash rooms feature Japanese Toto wonder toilets, however individual slippers should be provided for each guest, not a sole shared pair that sits at the entrance.
With a starting price point of AED350 per person, Kohantei is a special occasion restaurant in Dubai, in particular if you want to splash out on the pricier menus. However, it's worth every dirham – an experience that is on a par with many a similar meal I have eaten in Japan. And for that, I give it a high 4.5 out of 5 FooDiva knife rating, which only three other restaurants in Dubai have ever scored. Yoku yaru (well done)!
Would you spend good money on a formal kaiseki experience in Dubai?
A bientôt.
FooDiva. x